Case of the Mondays: No Real Playoff Run for Chargers, Cowboys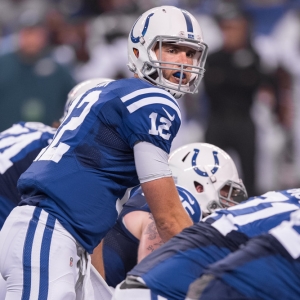 The playoff road came to an end for the four road teams this past weekend, as the Colts, Cowboys, Chargers, and Eagles exited during NFL divisional-round action. Thus, the title wait continues, especially for the Chargers and Cowboys. Meanwhile, Duke escaped defeat on the hardwood against Florida State; Jordan Spieth's struggles continued on the golf course; the Australian Open is going on-with or without Andy Murray.

All odds provided by Bovada Sportsbook .

Philip Rivers . A Super Bowl appearance will still have to wait for Rivers. The 37-year-old led Los Angeles to a 12-2 record in its last 14 games, but the Patriots were too tough on Sunday. Tom Brady and company handed the Chargers a 41-28 loss that was nowhere near as close as the score suggests. "It's tough," Rivers admitted. "I think like every team, when you go into the game, you expect to win and I certainly thought we were going to have a better outing. But we didn't. So it is emotional because I think you know how hard it is to get to January the 13th and be in a playoff game. You're talking a nine-month deal and to come up short again is tough. (There was) a lot of good this year; I think as the dust settles you can appreciate more of that-but certainly a disappointing finish." New England is a +3 underdog at Kansas City in Sunday's AFC Championship.

Dallas Cowboys . A trip to Los Angeles as opposed to New Orleans seemed like an ideal divisional-round draw for the red-hot Cowboys. Instead, they could not replicate the magic that had carried them to an 8-1 record in their previous nine outings. The Rams dominated the second quarter by a 17-0 margin, led 23-7 midway through the third, and for the most part coasted to a 30-22 victory. It was the running game in every way that undid Dallas. While the visitors rushed for a mere 50 yards, L.A. abused them to the tune of 273 yards on the ground. The Rams are +350 to win the Super Bowl.

James Harden . Harden has been a scoring machine, averaging 34.2 ppg this season while pouring in more than 30 points in 16 consecutive contests. But that is just about where the good news ends for the Rockets' star guard. Harden lost the head-to-head MVP battle with Milwaukee's Giannis Antetokounmpo last Wednesday, and he went a laughable 1-for-17 from three-point range during Sunday's loss to Orlando, tying an NBA record for most threes missed in a game. Houston is a +750 second choice to win the Western Conference.

Anaheim Ducks . Not one, not two, not three, not four...not nine, not 10…. No, the Ducks have lost a ridiculous 11 games in a row following Sunday's overtime setback against the Jets. If head coach Randy Carlyle wants to be put out his misery with a firing, general manager Bob Murray is not complying. "While it's not my preference to make comments on this topic during the season, our recent play has led to many questions," Murray noted. "Our fans are frustrated, rightfully so, and deserve a response from me. At this time, I am not considering a coaching change. I am more focused on our players, specifically with who is going to step up in this situation…. We have higher expectations for this group, and they should expect more from themselves." Anaheim is 19-18-9 and tied for eighth in the Western Conference. Winnipeg is a +1000 fifth choice to win the Stanley Cup.

Florida State . The Seminoles generally play Duke tough, and Saturday's showdown in Tallahassee was no exception. They led by one point before a scramble for a loose ball under Florida State's defensive basket resulted in an out-of-bounds call that went the Blue Devils' way. After all kinds of reviews and timeouts, Duke finally ran a play in which Cam Reddish was left wide open behind the three-point line. Reddish delivered just before the final buzzer to give the visitors an 80-78 victory. The Blue Devils are -16.5 home favorites over Syracuse on Monday, and they are +170 favorites to win the National Championship.

Jordan Spieth . Admitting that he is simply working on tweaks for his game right now and not comfortable over the ball, Spieth floundered again at this past week's Sony Open in Hawaii. The 25-year-old American opened with a 73 and didn't do enough on Friday to get back inside the cut line. Matt Kuchar ended up winning the tournament, holding off Andrew Putnam by four strokes with a scorching-hot back nine. In his last three events, Spieth has two missed cuts and a T55 finish. Nonetheless, he is a +1000 co-favorite along with Tiger Woods to win the Masters.

Andy Murray . In a tearful pre-tournament press conference, Murray announced his upcoming retirement from tennis last week prior to the Australian Open. The 31-year-old Scot has been unable to make a full recovery from 2017 hip surgery. He hopes to be able to play Wimbledon this summer but admitted he may be done now. "I spoke to my team and I told them I can't keep doing this and that I need to have an end point, because I was just playing with no idea when the pain was going to stop," Murray explained. "I said, 'look, I think I can kind of get through this until Wimbledon.' That is where I would like to stop. I'm also not certain I'm able to do that." The former world No. 1 lost in the first round on Monday to Roberto Bautista Agut, staging a dramatic mid-match comeback before falling 6-4, 6-4, 6-7(5), 6-7(4), 6-2. Novak Djokovic is a +120 favorite to win the Australian Open; Murray is a +1000 fourth choice to win Wimbledon.


Read more articles by Ricky Dimon