Case of the Mondays: Auburn's Run Ends in Controversial Fashion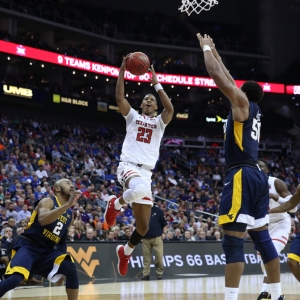 There are only two teams left standing as Monday night approaches fast. One could have been Michigan State; one probably should have been Auburn. But the Spartans' anemic offensive performance was preceded by the Tigers' heartbreaking loss to Virginia. Meanwhile, the regular season is wrapping up in the NBA, and it's the best week of the year in golf-the Masters.

All odds provided by Bovada Sportsbook .

Auburn . Auburn, a fifth seed, knocked off Kansas, North Carolina, and Kentucky to reach the Final Four. The Tigers appeared to be going one step further when they led Virginia by four points with less than 10 seconds remaining. But Kyle Guy drained a three-pointer, Jared Harper missed one of two free-throws, Ty Jerome got away with a double-dribble, and Guy sank three controversial free-throws with 0.6 seconds left to give the Cavaliers a stunning 63-62 victory. "We weren't supposed to be here," head Auburn head coach Bruce Pearl assured. "This will be a memorable game, and I'd like it to be remembered for a great game. Let's not remember this game because of just how it ended; let's remember two teams that played really hard that only had 13 turnovers combined…. Give Virginia credit-they won the game. It's a 40-minute game. I don't want a couple of calls to be…defining." Virginia is a -1 favorite over Texas Tech.

Tom Izzo . It's safe to say that Izzo has overachieved by taking Michigan State to an incredible eight Final Fours, especially given that they had no business being in a few of those. The Spartans upset No. 1 overall seed Duke, for example, en route to the promised land this year. But Izzo owns just one national title, and he will have to wait until 2020 to get another shot at No. 2 after Michigan State fell to Texas Tech 61-51 on Saturday night. MSU shot a horrendous 31.9 percent from the floor and 29.2 percent from three-point range. The over/under for the National Championship is 118.

Miami Heat . You can just about stick a fork in the Heat following Sunday's overtime loss to Toronto, which dropped them to 10th place in the Eastern Conference. Miami must win its last two games and get major help from Detroit and Charlotte (the Pistons have to lose their last two; the Hornets have to lose at least one of two). That means Dwyane Wade's career will likely come to an end at Brooklyn on Wednesday, preceded by Tuesday's home finale against Philadelphia. "I'm thankful for that drive up (to the stadium)," Wade reflected. "It's been a [constant] in my life for a long time. (I'm) definitely going to be emotional if it's my last drive away from that arena (on Tuesday), if I'm not coming back to it. Hopefully things go our way where we can come back to the arena for the playoffs." The Bucks are +180 favorites to win the Eastern Conference.

Montreal Canadiens . The NHL's final playoff race featured Montreal and Columbus, and it went the way of the Blue Jackets. A 3-1-0 closing stretch is nothing to sneeze at, but the Canadiens needed help from the Blue Jackets and that did not happen. Columbus won its last two games to finish an awesome 7-1-0 in its last eight outings. Thus the Canadiens have missed the playoffs twice in a row and in three of the past four seasons. They haven't won a postseason series since 2014-15. Columbus is a +180 underdog at Tampa Bay in Game 1 on Wednesday.

Chris Davis . The Orioles' first baseman isn't just bad; he's making history. Davis is 0-for-44 in his last 44 at-bats dating back to Sept. 12 of last season, including 0-for-23 with 13 strikeouts this year. He is just two away from the MLB record for consecutive hitless at-bats by a position player, held by Dodgers infielder Eugenio Valez (2011). "I understand the frustration," Davis said following the Orioles' home opener this past Thursday. "Nobody's more frustrated than I am, especially a day like today, the kind of game that we were having. It was a frustrating day for me personally and the team collectively. But you've got to move on." Baltimore (Cashner) is a +113 home underdog against Oakland (Estrada) on Monday night.

Arsenal . Arsenal had gone six English Premier League matches without a loss (5-0-1) before suffering a costly 1-0 setback against Everton this past weekend. The Gunners gave up a goal in the 10th minute and never recovered, thus squandering a chance to climb above Tottenham on the EPL table. They are tied for fourth with Chelsea, one point back of Tottenham and 19 behind league-leading Liverpool. Arsenal's Pierre-Emerick Aubameyang is +600 to finish as the top goal-scorer in the Premier League.

Si Woo Kim . It was a rough Sunday at the Valero Texas Open for Kim, who led Corey Conners by one shot after three rounds. Kim suffered an apparent oblique injury on the back nine and couldn't get back in it after falling well behind Conners-and others-midway through the round. The South Korean dropped to T4 with an even-par 72, while Conners captured the first win of his PGA Tour with a 6-under 66 to finish at 20-under (two strokes better than Charley Hoffman). Rory McIlroy is a +650 favorite to win the Masters this week; Tiger Woods is a +1200 fourth choice.



Read more articles by Ricky Dimon