This Week in Sports Betting, A-Z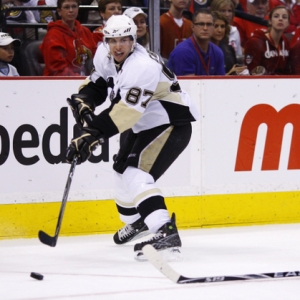 A. All-Star Game . "If a tree falls in a forest and no one is around to hear it, does it make a sound?" People may be asking similar questions about last week's alleged NHL All-Star Game. But Sidney Crosby has tangible evidence in the form of the MVP award, so it must have happened. Crosby led the Metropolitan Division to a 7-4 semifinal win over the Atlantic Division (two goals, one assist) before taking the Metropolitan to a 10-5 triumph over the Central (two goals, three assists). Pittsburgh is a -105 home underdog against Tampa Bay (-115) on Wednesday, per MyBookie.ag.

B. Braxton Beverly . There have been some stunning comebacks on the college hardwood of late, not many crazier than N.C. State's against Clemson this past weekend. Tigers senior guard Marcquise Reed missed four free-throws in the last 13.8 seconds, including with 7.5 seconds left. That opened the door for the Wolfpack to recover from six points down in the final 20 seconds-capped off by a Beverly three-pointer at the buzzer to give the home team a dramatic 69-67 victory.

C. Curry brothers . Steph Curry and Seth Curry will be two of the competitors in next month's NBA all-star weekend three-point contest. Curry-Steph, that is-won it in 2015. BetOnline Sportsbook has Golden State as a -250 favorite to capture another NBA title.

D. Djokovic, Novak . Djokovic was a shadow of his former self early in 2018 when he returned from various 2017 injuries. In fact, the Serb even dropped out of the top 20 in the rankings. But he is back and perhaps better than ever now, winning the Australian Open this past Sunday for his third consecutive Grand Slam title (also Wimbledon and the U.S. Open). The world No. 1 lifted the Aussie trophy for a solo record seventh time after hammering second-ranked Rafael Nadal 6-3, 6-2, 6-3.

E. English Premier League . It looks like Liverpool has the inside track on the Premier League title, especially after Tuesday was a rough day at the office for the two Manchester teams. Second-place City fell to Newcastle 2-1 and United drew 2-2 with Burnley. Well, at least the Sky Blues still have the Champions League on which to focus. GT Bets has City as a +320 favorite to win the UCL.

F. FA Cup . These are also tough times for Everton on the English pitch. The Blues are tied for eighth on the EPL table and they were unceremoniously bounced out of the FA Cup by Millwall last Saturday. Millwall prevailed 3-2 after scoring its tying 2-2 goal following what the club later admitted was a handball.

G. Grundstrom, Carl . It did not take a whole lot for the Maple Leafs to get defenseman Jake Muzzin from Los Angeles on Monday (a future first-round pick, Grundstrom, and one other prospect to be exact). Muzzin has four goals and 17 assists in 50 games this season.

H. Harper, Bryce . It sounds like we're about to get a different kind of Philly Special, but for now Harper remains unsigned. So does Manny Machado, for that matter. Get on with it!

I. Irving, Kyrie . Irving is taking his acting talents from "Uncle Drew" to an upcoming movie about the alleged haunted Oklahoma City hotel at which NBA teams stay when they are visiting the Thunder. He will the film's executive producer, as well. That is, of course, if he and the rest of the cast and crew live to tell us about Skirvin Hotel.
J. Jones, Tre . Duke's freshman point guard suffered what was thought to be a significant shoulder injury during a home loss to Syracuse on Jan. 14. Once expected to miss at least a month, Jones returned following a two-game absence and led the Blue Devils to recent victories over Georgia Tech and Notre Dame. Syracuse is a -3 favorite at Boston College on Wednesday, as indicated by BookMaker.

K. Kase, Ondrej . The Ducks' 23-year-old forward is out for the season (five to six months, to be exact) after sustaining a torn labrum earlier in January during a win over Minnesota. Kase had 11 goals and nine assists for Anaheim, which is only one point out of a playoff spot in the Western Conference despite a recent 12-game losing streak.

L. Lakers . Will they or won't they? That is the question. Or will someone else? That's also a question. L.A. is considered the frontrunner in the Anthony Davis sweepstakes, but plenty of other teams are also in the mix after the star big man recently demanded a trade from New Orleans. Bovada Sportsbook has the Lakers as -125 favorites to have Davis on their roster at the start of the 2019-20 season.

M. Mahomes, Patrick . Mahomes is going to win NFL MVP and he now has a postseason MVP to his credit, as well. No, not Super Bowl MVP; Pro Bowl MVP! Who cares? He surely doesn't. After all, dodgeball during the skills challenge was more competitive than the stupid Pro Bowl.

N. Nickell Robey-Coleman . The Rams' cornerback was fined $26,739 by the NFL this past week for his helmet-to-helmet, should-have-been-pass-interference-but-wasn't hit on New Orleans receiver Tommylee Lewis late in the fourth quarter of the NFC Championship. As everyone knows, the no-call allowed Los Angeles to force overtime and eventually prevail 26-23. Of course, it's not like Robey-Coleman cares about $26,739; just ask defensive coordinator Wade Phillips. When asked how his CB was handling the fine, Phillips quipped, "I think he's going to the Super Bowl." 5Dimes Sportsbook has the over/under at 56.5.

O. Osaka, Naomi . Osaka captured her second straight slam title (also the U.S. Open) by beating Petra Kvitova 7-6(2), 5-7, 6-4 in the Australian Open final. As if her marketing potential in Japan weren't enough already….

P. Pity Martinez . The MLS defending champion Atlanta United lost Miguel Almiron to Newcastle of the English Premier League. Enter Martinez, who should be an ample replacement as the reigning South American Player of the Year. The 25-year-old Argentine joins reigning MLS MVP Josef Martinez on a loaded Atlanta squad.


Q. Quickley, Immanuel . Kentucky's bench scored a grand total of zero points against Kansas this past Saturday. That's right; not even Quickley could put the ball through the net. No matter; the Wildcats still picked up a big 71-63 home win in the SEC-Big 12 Challenge. Kentucky is +1400 at XBet.ag to win the National Championship.
R. Rose, Justin . In a performance that has propelled him to Masters favorite ahead of Tiger Woods and Jordan Spieth, Rose won at Torrey Pines last week. The top-ranked Englishman finished at 21-under par, two shots head of Adam Scott.

S. Super Bowl . Can we finally put the NFC Championship debacle to rest and focus on Super Bowl LIII? Okay, no, we can't; the Saints and their fans won't let us. But whatever the case, New England is a 2.5 favorite over the Rams, according to BetOnline Sportsbook.

T. Thon Maker . It's that time of year for NBA trade demands, and Maker has issued one of his own. The Bucks have said that everyone except Giannis Antetokounmpo would be available in a deal for Davis, so is this a match made in heaven? Stay tuned….

U. UTSA . If you thought Clemson's collapse was bad, think again. In last weekend's game at UTSA, Old Dominion led the Roadrunners by 17 points with a little more than three minutes left and by 14 with a little more than two minutes left. After all kinds of missed free-throws, missed shots, and turnovers by Monarchs, UTSA stunningly pulled off a 74-73 victory on a Keaton Wallace three-pointer with 15 seconds remaining.

V. Victor Oladipo . Oladipo is out for the season after rupturing a quad muscle during Indiana's home victory over Toronto last Wednesday. He was averaging 18.8 points, 5.6 rebounds, 5.2 assists, and 1.7 steals per game during the 2018-19 campaign. "No matter how much hard work and effort you put into perfecting your craft you cannot predict the challenges you'll face ahead," Oladipo posted on Instagram. "The confusion, the contemplation, the anger, the sadness and the tears that flow frequently come, but they never last…. It's going to be tough but tough times don't last tough people do." YouWager.eu has Indiana at Washington on Wednesday as a pick 'em.

W. Woods, Tiger . Tiger never contended during his first 2019 appearance at his old stomping grounds of Torrey Pines, but the week wasn't necessarily a bad one. The 43-year-old started somewhat slow, but he was never in danger of missing the cut and he eventually closed with a Sunday 67-making birdie on five of his last eight holes. That tied him for 20th place, 11 strokes behind Rose. Tiger is +150 at MyBookie.ag to win at least one major in 2019.

X. X-Games . Chloe Kim won women's halfpipe gold at the X-Games in Aspen, Colo last weekend. In news that may or may not be related, sky is blue, 2+2=4, and Pope Francis I is Catholic.

Y. Young, Trae . "I think at the end of the day it worked out for both teams. That's how I look at it. I mean, Luka's doing really well. I feel like I'm doing really well, as well." That's what the Hawks' rookie point guard said last weekend regarding the draft-day swap with Luka Doncic and Dallas. For now, it doesn't look like Atlanta has a Sam Bowie situation on its hands…but it doesn't look great, either. Atlanta is a +5.5 underdog at Sacramento on Wednesday, per Bovada Sportsbook.

Z. Zero . That's the percent chance Super Bowl LIII has of being Tom Brady's last game, according to Brady himself. That's also the percent chance any other AFC team has of playing in a Super Bowl before Brady retires. The 41-year-old is a -130 favorite at BookMaker to be MVP.
Read more articles by Ricky Dimon