This Week in Sports Betting, A-Z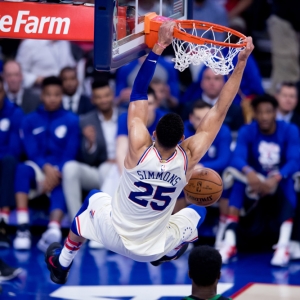 A. Antonio Brown . The Raiders' receiver got hit with a case of extreme frostbite by spending too much time in a cryotherapy machine. You can't make this stuff up, folks. That was actually the cause of his foot injury. Head coach Jon Gruden is anticipating Brown's return "like waiting for Santa Claus." Oakland is a -5 home favorite over the Rams on Saturday, per Bovada Sportsbook.

B. Ben Simmons . Simmons recently made a now-deleted Instagram post suggesting that he and two black friends were required to show proper ID to enter a Melbourne casino, while a white person in their party was not. Whatever the case, the 76ers better check to see if he has a proper jump shot when he shows up at camp this fall.

C. Chris Steele . USC's freshman cornerback has been granted immediate eligibility after transferring from Florida in June. Maybe the Trojans argued that it was a hardship issue after losing five members of their defensive backfield with starting experience from last year's roster. BetOnline Sportsbook has USC's over/under win total at seven.

D. Dabo Swinney . Dabo is dismissing the idea that Alabama being worn out from the SEC grind contributed to the Crimson Tide's loss to Clemson in the National Championship. And he's obviously right, too, given that 'Bama had four weeks off between the SEC schedule and the College Football Playoff semifinals, plus another week off between the semis and the title game.

E. Estate . Tom Brady's estate...er, more like Gisele Bundchen's estate that she shares with Brady...is on the market for close to $40 million. Patriots fans are in a panic given that he may be leaving his Boston-area mansion. New England is a +600 Super Bowl co-favorite along with Kansas City at MyBookie.ag.

F. FedEx Cup Playoffs . It was already a year ago that Tiger Woods and his army of fans marched down the 18th fairway in Atlanta? Well, close to a year. The FedEx Cup Playoffs are a month earlier this season, and they are underway in New Jersey with The Northern Trust. Tiger has already withdrawn due to injury.

G. Gordon, Josh . The suspended Patriots receiver has applied for reinstatement--again--to the NFL. His most recent ban came last December for violating--again--the terms of his previous reinstatement under the league's substance-abuse policy. How many more chances is Gordon going to get? With Roger Goodell running the show as commissioner, who knows....

H. Houston Texans . The Astros aren't the only Houston team making moves. On Thursday, the Texans traded for running back Duke Johnson from Cleveland. The Browns, who have Nick Chubb and Kareem Hunt, got a 2020 conditional fourth-round pick in return.

I. Indians . Right-hander Shane Bieber's latest Topps card shows his first name as "Justin" instead of "Shane." To be honest, I'd rather be like that Frank Thomas 1990 Topps card: No Name on Front. 5Dimes Sportsbook has the Indians (Bieber) as -140 favorites at Minnesota (Smeltzer) on Friday.

J. Jacksonville Jaguars . The Jaguars were not exactly deep at linebacker to begin with, and now James Onwualu is out for the year due to a knee injury. Onwualu, listed as a co-starter on the depth chart, suffered a non-contact injury in practice earlier this week.

K. Kemba Walker . Going all Herb Brooks' "This is our time!" speech, Kemba says that throng of Team USA World Cup dropouts provides an opportunity for himself and others. "I think a lot of us are happy those guys pulled out because this is our chance," he said. "It's a once-in-a-lifetime opportunity." The Celtics, meanwhile, are +750 at XBet.ag to win the Eastern Conference.

L. Los Angeles Angels . Not even Pittsburgh and St. Louis (five) have lost as many games in a row as the Angels. They are in the midst of a seven-game losing streak to fall 10 games out of a wild-card spot in the American League. How can a team with Mike Trout be that bad?

M. Max Kellerman . On ESPN's First Take earlier this week, Kellerman said that Kobe Bryant did not belong on any of the three NBA all-decade teams. After receiving backlash from his fellow members on set, Kellerman doubled down and argued that Kobe belongs on the all-decade worst team. In the mold of Skip Bayless, there's no way he actually believes some of the stuff he says.

N. Nadal, Rafael . With Novak Djokovic and Roger Federer out of this week's Rogers Cup in Canada, Nadal is the obvious favorite. He currently finds himself in the quarterfinals, with a showdown against familiar foe Fabio Fognini set for Friday night.

O. Ozil, Mesut . Wayne Rooney will be out of D.C. United at the end of the MLS season. Will Ozil be in? The 30-year-old German owns a coffee shop that will come to Audi Field this fall. Perhaps Ozil, himself, will come with it. The Arsenal midfielder's representatives are meeting with D.C. United management this week.

P. Parra, Gerardo . Parra continues to play well for Washington, his new team that he joined in May. Perhaps it's all about his walk-up song, the viral kids show theme "Baby Shark." The veteran outfielder homered against his former club, San Francisco, in Wednesday's 4-1 victory.

Q. Quintana, Jose . The Cubs have won seven straight starts made by Quintana since he jokingly ordered a pizza from the Cincinnati bullpen in late June. The pizza saga a bizarre story that is hard to understand. But it's not as bizarre as Chicago actually winning seven straight starts made by Quintana. Nobody could have seen that coming when his ERA ballooned to 4.50 with a nine-run disaster against the Mets on June 22. GT Bets has the Cubs at +650 to win the National League.
R. Rich Paul . There's nothing like a "Rich Paul Rule" to keep the NBA in the news during the dog days of summer. It's actually more of an NCAA issue, as that is the organization that is requiring agents for prospective NBA players to have a bachelor's degree. Paul does not. Needless to say, a lot of people aren't happy. Is anyone ever happy with the NCAA?

S. Sun . Not one, not two, not three, not four, not five, not six.... No, the Connecticut Sun have won seven games in a row to surge to the top of the WNBA standings at 16-6. They are -2 favorites at Minnesota on Friday, as indicated by BetOnline Sportsbook.

T. Taco Tuesday . LeBron James has taken "Taco Tuesday" to a whole new level. I mean it was borderline out of control earlier this week. And we're all jealous.

U. U.S. Open . The U.S. Open begins later this month in New York, where Djokovic and Naomi Osaka are the defending champions. Osaka famously--or infamously--upset Serena Williams in a controversial final last year. They will meet again in the Toronto quarterfinals on Friday. Bovada Sportsbook has Osaka as a -115 favorite.

V. Vince Carter . Channeling his inner Tom Brady, the 42-year-old Carter is back for a 22nd season in the NBA. After re-signing with the Hawks, he will become the first player to play in four different decades if he sees the NBA floor in 2020.

W. White Sox . There will be an actual Major League Baseball game played at the actual Field of Dreams in Iowa next season. The White Sox being involved makes sense, given their role in the movie. The Yankees being makes sense because, well, they're the Yankees. Get your popcorn ready for Chicago vs. New York on Aug. 13, 2020!

X. Xander Bogaerts . As for the Red Sox, you can just about stick a fork in their 2019 campaign after they got swept by the Yankees in four straight games last week. Bogaerts, Mookie Betts, and Rafael Devers went a combined 4-for-46 in that series. Boston is 16 games behind New York in the AL East and 5.5 games out of a wild-card spot. The Red Sox (Johnson) are -160 home favorites over the Angels (Barria) on Friday, according to MyBookie.ag.

Y. Yankees . Still, all is not perfect in the Bronx. The Yankees have dealt with all kinds of injury problems this season, and now Gleyber Torres is sidelined by an abdominal issue. He appeared to be headed for the injured list but instead is day-to-day.

Z. Zack Greinke . Can we go ahead and pencil in the Yankees and Astros for what would be a blockbuster ALCS? Houston already had Justin Verlander and Gerrit Cole at its disposal before landing Greinke at the trade deadline. In other words, their playoff pitching rotation will go kind of like a Federer service game: ace, ace, ace, ace, ace, ace, ace, ace....
Read more articles by Ricky Dimon