This Week in Sports Betting, A-Z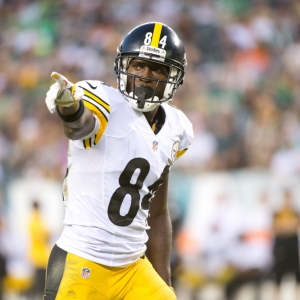 A. Antonio Brown . Brown continues to demand a trade from the Steelers, seemingly taking every second of every day to do so. His latest plea came while running on a treadmill, which he posted on Instagram Live. Pro tip to AB: trying to impress other teams when it looks like you're about to pass out while jogging at what looked like a 10-minute mile pace probably isn't the way to go.

B. Buzzer-beaters . On Feb. 10, Iowa beat Northwestern 80-79 on a Jordan Bohannon three-pointer with three-tenths of a second remaining. Last Saturday, the Hawkeyes edged Purdue 71-69 on a three-pointer by Joe Wieskamp-also with less than a second left. Iowa is a -2 home favorite over Maryland on Tuesday, per BetOnline Sportsbook.

C. Colin Kaepernick . Kaepernick and Eric Reid have settled their collusion grievances against the NFL. There may not be much spending going on in baseball these days, but you can bet a whole lot of it just went down in football.

D. Denny Hamlin . The team of Joe Gibbs Racing got the job done at the Daytona 500, but some friction was created in the process. Kyle Busch was leading before the penultimate restart with nine laps remaining, at which point Hamlin wanted to "race it out" instead of working together. Hamlin eventually took the lead heading into a final restart with two laps to go. At that point, according to Busch, Hamlin wanted to "go back into teammate preservation mode," which Busch called "kind of funny." Hamlin held on for his second triumph at Daytona in the last four years.

E. Embiid, Joel . Embiid wasn't at last week's press conference following another loss to the Celtics just so he wouldn't get fined. He got fined because was there-or for what he said, to be more exact. The 76ers' all-star center indicated that the referees were not good at their job in no uncertain terms while also throwing in a choice participle that starts with 'f.' Philadelphia is a +240 fourth choice at Bovada Sportsbook to win the Eastern Conference.

F. Free agents . Pitchers and catchers have reported in advance of spring training. Bryce Harper and Manny Machado are not pitchers or catchers, but they wouldn't have reported if they were. That's right; two of Major League Baseball's most prized free agents in recent memory remain conspicuously unsigned. "I hate the negativity that surrounds the coverage of the game right now," commissioner Rob Manfred lamented. "I think once we get out and start playing the game, the glow of positivity will reemerge."

G. Gerard Pique . Channeling his inner Gregg Popovich, Pique was not happy despite FC Barcelona's victory last week over Real Villadoldid. "We didn't play well," he admitted. "It was not a good performance. We weren't the Barcelona that we want to be. The only good news is the win."

H. Hamidou Diallo . In the third straight boring Slam Dunk Contest since the 2016 showdown between Zach LaVine and Aaron Gordon, Diallo (who?) took home the trophy. Diallo delivered the only spectacular dunk of the night, leaping over Shaquille O'Neal and then sticking his elbow through the hoop a la Vince Carter. Oklahoma City is +850 at GT Bets to win the Western Conference.

I. Ichiro Suzuki . At 45 years old, Ichiro is currently present for Mainers' training camp. If healthy, he will part of Seattle's expanded 28-man roster for two regular season-opening games in Japan against Oakland.
J. Joe Harris . Stephen Curry got upset by Harris in the Three-Point Contest, but it was still a great all-star weekend for the Charlotte native. Curry lived it up with the Davidson student section in the Wildcats' win over St. Joseph's on Friday night, he donned the same style jacket that he famously wore while tagging along with his dad during all-star weekend back in the day, and he threw the alley-oop bounce pass to Giannis Antetokounmpo that broke the internet.

K. Kevin Durant . Durant earned his second NBA All-Star Game MVP award by helping Team LeBron erase a 20-point deficit and defeat Team Giannis 178-164. He finished with 31 points on six three-pointers. Durant is +3300 at MyBookie.ag to win NBA MVP; James Harden is a -250 favorite.

L. Losing streak . The Hawks are actually trying to win basketball games (it's unclear why); the Knicks are not. Nonetheless, losing streaks have to end sometime and New York's 18-game skid did just that with a 106-91 victory at Atlanta last Thursday.

M. Matt Kuchar . You know it was a slow news week (the end of football season and the NBA all-star break) when Kuchar failing to pay a caddie more than a previously agreed-to amount at a tournament that happened several months ago was on ESPN's main page for multiple days.

N. New Orleans Pelicans . After failing to deal disgruntled star Anthony Davis prior to the trade deadline, Dell Demps got the boot as general manager of the Pelicans last week. New Orleans reportedly trolled the Lakers to make them look incompetent, never intending to make a move unless it acquired basically L.A.'s entire organization-plus multiple first-round draft picks-other than LeBron James. But the final joke ended up being on Demps.

O. Ohtani, Shohei . Ohtani said last week that he hopes to return by May following Oct. 1 Tommy John surgery. The Angels' two-way player won't pitch this season because of the injury but his bat would bring a big boost to the lineup. BookMaker has Los Angeles at +2200 to win the American League.

P. Pacers . Just go ahead and hand Nate McMillan the NBA Coach of the Year of the ward. Even without star guard Victor Oladipo, the Pacers recently won six in a row before finally losing to Eastern Conference-leading Milwaukee last Wednesday.


Q. Quintero, Juan Fernando . Quintero, who starred for Colombia at last year's World Cup, helped River Plate beat Superliga Argentina leader Racing Club 2-0 last week with a strike from 30 yards out. He also scored Plate's lone goal in a 1-1 draw with Rosario Central.


R. Riviera . Justin Thomas took control of last week's Genesis Open with rounds of 66, 65, and 65 for the tournament's 54-hole scoring record. But he wasted no time blowing all of a four-shot lead over Sunday playing partner J.B. Holmes, who carded a 1-under 70 in tough conditions and benefited from Thomas' disastrous closing 75 that included a trio of three-putts. "J.B. won; he played great," Thomas praised. "But it's always a bummer to hand him a tournament. I feel like I should have won that thing." Thomas is a +1000 favorite at XBet.ag to win this week's World Golf Championship in Mexico.

S. Silver, Adam . In news a lot less surprising than Michelle Obama's Grammys appearance, the NFL owners don't like Roger Goodell. According to reports, not only do some (if not most) of them want Goodell out but they also want Silver to replace him. New England is a +650 favorite to win next season's Super Bowl, according to Bovada Sportsbook.

T. Talbot, Cam . The Flyers are one of the NHL's hottest teams these days, but Stolarz won't be around to see it if they make a surprise run to the playoffs. Stolarz, who recently lost the primary goalie job to rookie sensation Carter Hart, was dealt last week to lowly Edmonton for veteran netminder Cam Talbot. YouWager.eu has Philadelphia as a +130 home underdog against Tampa Bay on Tuesday.

U. UK . Tennessee had won 19 games in a row and went into last weekend ranked No. 1 in the nation. That proved to be of no concern for Kentucky, which took care of business inside the friendly confines of Rupp Arena to the tune of an 86-69 beatdown. The Wildcats climbed to fourth in both polls, while the Volunteers fell to fifth and Duke assumed the top spot. 5 Dimes Sportsbook has Kentucky as a -11 favorite at Missouri on Tuesday.

V. Velasquez, Cain . Velasquez's nickname is "Cardio Cain." Neither he nor his opponent needed any kind of endurance in last weekend's UFC bout. Francis Ngannou beat Velasquez in a mere 26 seconds.

W. Winning Streak . Not one, not two, not three, not four, not five…. No, the Blues have won an incredible 10 games in a row. They have even produced three consecutive shutouts, blanking Arizona, Colorado, and Minnesota on the road. St. Louis is a -125 home favorite over Toronto on Tuesday, as indicated by MyBookie.ag.

X. Xavier . The Musketeers were supposed to be good this season. Well, they aren't. On the bright side, Xavier has halted a six-game losing streak with recent victories over Creighton (in overtime) and Providence (75-61 this past Saturday). The Musketeers went on a 40-14 run at the Friars' expense spanning the first and second halves.

Y. Young, Cameron . Quinnipiac's senior guard poured in a ridiculous 55 points during a 107-100 triple-overtime defeat of Siena this past Sunday. It is the most points by a Division I player since December of 2008 and Young is the first Division I player in more than 20 years to go for at least 50 points and 10 rebounds in a single game.

Z. Zion Williamson . When Duke trailed Louisville by 23 points with nine minutes remaining last Tuesday, Gonzaga probably figured all it needed to climb to No. 1 was a Tennessee loss to Kentucky. But Zion and company had other ideas. The Blue Devils engineered a comeback for the ages to prevail at Louisville 71-69 before taking care of N.C. State 94-78 later in the week. Zion had 27 points against the Cardinals and 32 against the Wolfpack. BetOnline Sportsbook has Duke as a +200 favorite to win the National Championship.
Read more articles by Ricky Dimon