2014 World Cup Futures Odds and Betting Predictions
by Trevor Whenham - 5/23/2013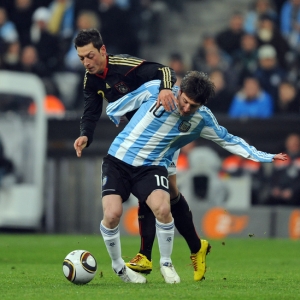 It seems hard to believe, but we are already just over one year from the start of the next World Cup. The 2014 edition, to be held in Brazil, starts on June 12 of next year and runs until July 13. As of today the only team that has qualified is the host Brazil. Eighty-five teams have been eliminated from contention, and 118 teams are still in the hunt for one of the 31 remaining spots in the field. There will be some surprises along the way, but the field is slowly starting to take shape.
The closer we get, the harder it is to resist making a few futures bets. Here's a look at the 2014 World Cup futures odds that stand out as interesting at this point in the process (all odds are from Bovada):
Brazil (10/3)
The hosts are favored, but it is all but impossible to assess where they really stand right now — and therefore impossible to find anything remotely resembling value here. Because the team has already qualified they aren't playing qualifying games. That means that they haven't yet had their backs against the wall and won't until next month's Confederations Cup. The team is facing unimaginable pressure — perhaps more than any host in recent memory, and that includes Germany. The process hasn't been without distractions — long-time star Ronaldinho has been left off the Confederations Cup squad, though he vows to be back for the World Cup. Can Brazil win this tournament? Absolutely. With so much to overcome, though, and no way to measure their progress yet, it is very tough to accept this price.
Spain (5/1)
The defending champions are obviously and understandably a popular choice here. After all, besides the World Cup, they have won each of the last two European Championships. At this point, though, there are a few reasons to be somewhat cautious in our blind love for this team. Their qualification process has been far from the undefeated tour de force that led them to the 2010 World Cup. They haven't lost yet, but they have come close. They struggled to beat Georgia, 1-0. They played France to a 1-1 draw at home and somehow managed the same result against Finland in Spain as well. Their focus leading into the 2010 World Cup was staggering. Now it is easy to question. What does that mean in the long term? Perhaps nothing, but couple it with the advancing age of the core and the inevitable complacency that success breeds, and there isn't a whole lot of value here.
Argentina (5/1)
I have fewer reservations here at this price than I do with the previous two teams. They are a very talented team that will be playing close to home and will enjoy plenty of support. They have a bad loss to Venezuela in the qualifying process. That was all the way back in October of 2011, though, so it is hardly cause for current concern. They are in very good position to win their region and will all but wrap it up by June 11 if they beat Colombia and Ecuador by then. This price is about where it should be.
Netherlands (18/1)
The Dutch find new and unique ways to crush the souls of their fans and bettors every time they play in a major international tournament. They always build huge expectations then fail to meet them in often spectacular and occasionally just pathetic fashion. Well, they are back at it again. They are currently undefeated through six games in qualification. Sure, Group D is far from a group of death. Still, they have scored 20 goals in those six games while allowing just two. Impressive stuff regardless of who you are playing. The Dutch will fall short because it is what they do, but if you like them then this price is likely better than what it will be closer to the tournament if they stay strong. Depending on your view, then, there could be relative value here.
United States (80/1)
Most of you reading this are Americans. Under no circumstances should you make a serious bet on your team. Don't take it personally — there is and never will be a circumstance in which you should bet on my home country of Canada, either. The American team is not in a good place right now. The roster is in flux, the coaching is questionable, and the talent just doesn't seem to be there. They are probably going to qualify for the World Cup, but they are flailing through a very underwhelming CONCACAF group this year, and it would take a serious miracle for them to do anything remotely resembling damage. Incidentally, I wouldn't bet on Mexico at 33/1 or any other team from CONCACAF, either. The region is far from its peak.
Get free picks from any Doc's Sports handicapper – there is no obligation for this offer and no credit card required. Just sign up for an account, and you can use the $60 in free picks for any Doc's Sports Advisory Board handicapper and any sport. Click here to get started now.
Read more articles by Trevor Whenham