Boxing Betting Strategy and Expert Tips for Knocking Out Your Sportsbook
by Doc's Sports - 6/21/2019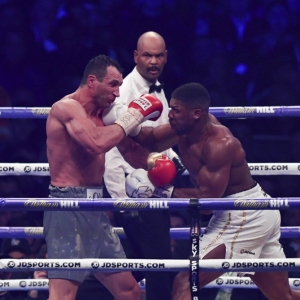 Sport is a beautiful thing. On any given night, two teams chock-full of the best athletes in the world, or two single competitors, face off against each other in hopes of beating their opponent and claiming victory. Most of the time the better team/player prevails. However, sometimes, when you least expect it, something insane takes place that leaves everyone scratching their head and wondering what the hell just happened. For many boxing fans, that night was on Feb. 11, 1990.
It was a night no different than the night before, or a random night two weeks before. At least until the bell rang and the fight began. In one corner you had Mike Tyson; the undisputed heavyweight champion of the world. In the other corner was some 42-1 chump named Buster Douglas. Ho-hum, right? Not so fast. Not only did Buster Douglas stun the champ and pull of the miraculous victory, but he also knocked "Iron" Mike Tyson out cold.
As I write this in 2019, some 29 years later, I haven't come across one person who said they saw that result coming. No expert gave Douglas a chance, and neither did any serious bettor. You might have had a few tickets on Douglas at 42-1 for a few bucks, but nothing substantial.
As we progress through the years, boxing has become less mainstream and more niche in the sports betting market. There is no craving or appetite for huge boxing cards like there was when the likes of Floyd Mayweather and Manny Pacquaio controlled the sports. Today, we have dominant forces like Anthony Joshua, Tyson Fury, Deontay Wilder, GGG and Canelo Alvarez, but it's simply not as appealing. That is until the festivities get underway, and then we want to consume all the boxing odds we can get.
The purpose of this article is to help you better your boxing betting skills and build your bankroll up for the main sports you focus on. If you need a refresher on how to bet on boxing and what kind of betting options are available, click here.
Before we get into some tips and strategies for turning boxing wagers into profit, you must understand that there are 17 different boxing weight classes and way more than 17 titles because of the different sanctioning bodies that are allowed to promote the sport. The four major sanctioning bodies are the IBF, WBA, WBC, and the WBO. Winning a belt under one of these banners is considered a major accomplishment. However, each sanctioning body is comprised of different fighters, and the style of fights have a direct impact on what kind of research goes into handicapping boxing.
The Style Makes the Fight
I'm sure you've heard this expression numerous times, not only in boxing but in other sports where two teams face off that have contrasting styles of play. In boxing, the style of a fighter is paramount in determining how they will fare in their upcoming bout. If you are serious about turning a profit while betting on boxing, you must understand the fighting style of the boxer you are going to bet on. Is he always the aggressor? Is he more conservative and selective with his approach? Is he a righty or does he swing southpaw? Does he have the stamina to wear down his opponent? Does he finish fights? Does he typically go the distance?
These are all important questions to ask yourself because every single one of those questions matter. If you got two aggressive fighters going at it, one of them is going to have to take a backseat and let the fight come to him (conserve their energy). How does that fighter react to not being able to dictate like he is used to? Always, always, always understand your fighter's style and then you can come up with a guess on how you believe the fight will go and if your fighter's style will help him flourish or hinder him.
Statistics Are Your Best Friend
This essentially goes hand in hand with the style of your fighter, but the numbers simply do not lie. By digging deep into the numbers, you'll be able to see your fighter's stats on everything from wins and losses to rounds completed, to the type of punches thrown, punches landed, hit percentage, headshots, body shots, TKO's, fights that went the distance, and everything in between.
These stats should help you evaluate how a fighter approaches his bouts. And if you see a strength in what your fighter does well vs. what his opponent struggles with, there could be an opportunity to exploit that mismatch and profit.
Pay Attention to Training Camps
This is a vital piece of the puzzle when handicapping boxing. However, just because one boxer should win his upcoming bought because he's simply better, doesn't mean he's going to and the reason for that could be what happened in the lead up to the fight. Training camps are important for a number of reasons. They get the boxer prepared for 12 rounds of intense physical and emotional stress, and they also help the boxer shore up some of his skills. If the lead up to the fight has nothing worth noting, then that's all fine and dandy. However, you should always dig a bit deeper to find out how the boxer is faring against his sparring partner and if he's getting along with this team or if any new or older injuries have come to the forefront. Teams practice to get better, and boxing is no different. Always pay attention to what's going on behind the scenes because you could catch onto something that could be the difference between winning and losing your bet.
Doc's Sports is offering $60 worth of member's picks absolutely free - no obligation, no sales people - you don't even have to enter credit card information. You can use this $60 credit any way you please for any handicapper and any sport on Doc's Sports list of expert sports handicappers. Get $60 worth of premium members' picks free .