Vegas Sports Informer is Raphael Esparza, Former Sportsbook Head at Aria
by Doc's Sports - 8/12/2013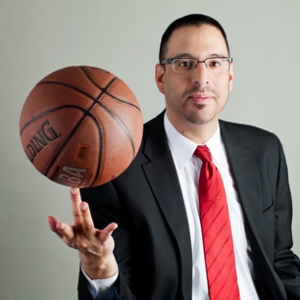 Doc's Sports Service has remained the premier selection company in the sports gaming industry for well over four decades through our ability to deliver a consistent stream of proven winners for all the major sports to an extremely loyal customer base. While we attribute a good deal of our success to the use of our Unit Betting System as a valuable money management tool, another big reason for our unparalleled longevity in a very competitive industry is an ongoing relationship with some of the best sports handicappers in the business. For the last seven years one of our top performers has been the Vegas Sports Informer. He has spent the past 15 years behind the counter of some of the biggest sportsbooks in Las Vegas and has been able to use this insider's edge to build a successful track record of winning selections in a wide array of sports.
For almost a year, Doc's Sports has been sitting down with The Informer on a weekly basis to gain insight into some of the hottest trending topics in the sports gaming industry today. After a long and successful career in Las Vegas, he is finally ready to reveal his true identity as none other than professional handicapper Raphael Esparza, former race and sportsbook manager for Aria and New York – New York in Las Vegas. The following is this week's discussion with Esparza as he transitions from his past role as the Vegas Sports Informer.
Doc's Sports: Now that the cat is out of the bag, can you give us some detail about your history in the sportsbook industry and how this experience has helped your clients over the years?
Raphael Esparza: I started in the industry as a ticket writer and probably worked every job right up to managing my own book. In all of these roles, I had access to first-hand information on where the money was going, unpublished injuries, up-to-the-minute line movements etc. This was all factored into my selections, which, in-turn, enabled me to release a number of winning selections for my clients.
Doc's Sports: Do you think that retiring from the Las Vegas sportsbook industry will have an impact on the relationships you have developed with your insider contacts in town?
RE: The one problem with working behind the counter was that oftentimes it limited my ability to get the most out of my contacts due to time constraints. I will now have that time to not only improve my relationships with my current contacts, but work the town to develop new ones.
Doc's Sports: What are some of the most important things you learned about betting on sports working behind the counter over the past 15 years?
RE: One of the most important things that I learned was using the betting public as means of tracking the money and the line movements for a number of major sporting events. Oftentimes they push things one way or the other, which sets up tremendous opportunities to bet the other way. To put it in simple terms, I learned how to follow the money and follow the lines.
Doc's Sports: One of your best attributes as a professional handicapper is the ability to spot a weak line. What are the weakest lines in Las Vegas and how do you identify and attack them?
RE: This is how I first started expanding my offerings as a professional handicapper. I would focus my energy on the fringe sports that were out there as opposed to racking my brain trying to uncover weak lines for the NFL or even NBA. With today's level of sophistication in setting lines, they really do not exist in these sports. The weakest lines exist in areas such as mid-major matchups for both college football and basketball, all levels of professional soccer, and even MLB games once football starts back up. Once you develop a level of expertise handicapping these types of sporting events, identifying and attacking the weak lines for some of the matchups is the easy part of the job.
Doc's Sports: As previously mentioned, you have gained a reputation for handicapping a wide array of sporting events. Moving forward, are there any specific sports that you are looking to expand your expertise and efforts in?
RE: The WNBA has always been one of my favorite leagues to handicap, and now that I have the added time I will look to delve deeper into professional soccer as leagues and tournaments continue to spring up all over the globe. I will also gravitate more towards professional tennis as many of the major books in Las Vegas continue to expand their offerings for head-to-head matchups in both ATP and WTA tournaments. One of my other favorite sports is horse racing. I never had the time to properly handicap major stakes races, but that will definitely be part of my selection package from here on in.
Click here to visit Raphael Esparza's Insider's Page at Doc's Sports for more information on his amazingly-profitable sports handicapping picks. Also, get $60 worth of Esparza's member's picks absolutely free – no obligation, no sales people – you don't even have to enter credit card information. You can use this $60 credit for any sport Esparza handicaps. Click here for $60 worth of free picks from Raphael Esparza.