2022 World Cup Betting Predictions and Futures Odds to Win in Qatar
by Spencer Toth - 11/15/2022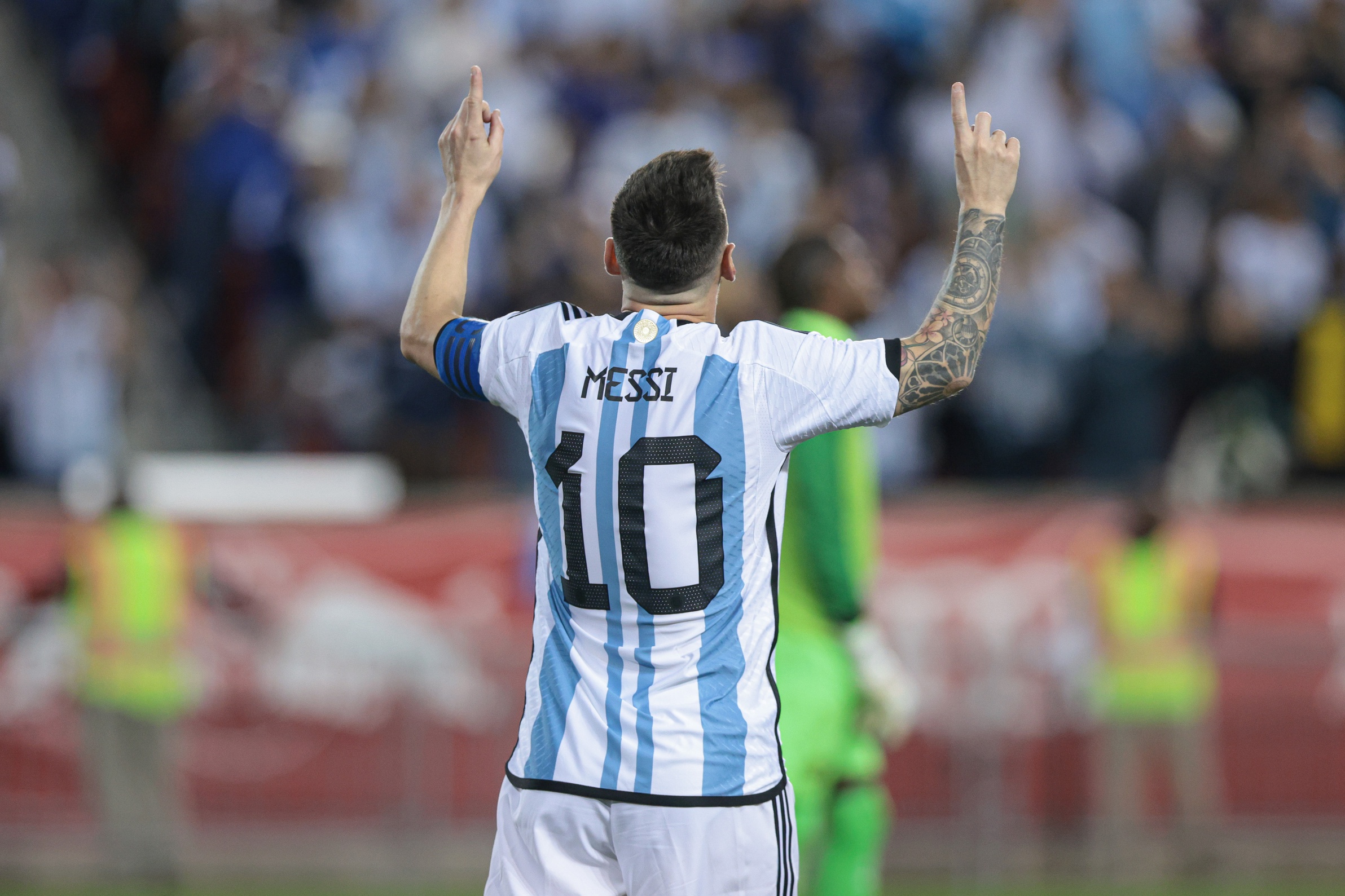 The biggest sporting event in the world is just days away, and the world's best players will all be looking to lift the lucrative World Cup. While there are 32 teams heading to Qatar on November 20th, the betting odds indicate less than a 3rd of them have a realistic (+5000 or shorter) chance of winning the ultimate sporting prize. Separating the contenders from the pretenders is no easy task, but the betting opportunities in this month-long tournament are plentiful. Let's get into it.
Get sports picks for every league and nearly every matchup on Doc's free picks page.
Brazil +400
Brazil is the only country to win the World Cup five or more times, and they will be looking to add a sixth cup to their mantle in 2022. They are entering the tournament as the odds-on favorites to do so and are bringing a very talented squad to Qatar. After being embarrassed by Germany, losing 7-1 on home soil in 2014, Brazil were not able to redeem themselves in 2018, falling in the Quarter-finals to Belgium. However, the optimism in Brazil has never been higher, as their certified star players such as Neymar Jr. and Casemiero are surrounded by young talent. Arsenal star Gabriel Jesus will look to center the front 3 of Neymar and Vinicius Jr, as the former Premier League winner will be looking to find success on the international stage. This Brazil squad is certainly top heavy, as an aging back line could fall victim to the rising stars of fellow nations, but the talent and depth Brazil possesses in the midfield and attacking line is second to none. This team deserves to be the title favorites and is certainly worth a bet at +400 odds.
Brazil: Contender
Argentina +550
One more chance. This will be Lionel Messi's final chance to bring home the World Cup for Argentina. Messi has dominated the club scene for the better part of two decades, but international glory has evaded him throughout his career. In 2014, they were so close to fulfilling Messi's dream but fell to Germany in the extra time of the Finals. In Qatar, Messi will have to be at his best to compete with the world's best, but he will not be able to do it alone. Argentina have had a serious issue regarding defenders throughout Messi's career and have been forced to leave stars at home to make room for mid-tier defenders. Qatar is no different, as once again Argentina is loaded with attacking talent that will have to outscore their defensive issues. Central defender Lisandro Martinez has been immaculate for Manchester United this campaign and will be critical for Argentina's success. In the midfield, Rodrigo de Paul will be forced to play more defensive, and there will be holes in their defensive line against the top contenders. Manager Lionel Scaloni will have a difficult job naming the top of the team sheet each game, but I expect a consistent back 4 throughout the tournament. The hearts of billions around the world will be rooting on their lifetime hero, but it will ultimately end in heartbreak as Messi and Argentina are sent home in tears. Argentina's defensive lapses have cost them in the past and will once again be the root of their demise in Qatar.
Argentina: Pretender
France +650
Defending champions France head to Qatar with the third best odds to become the first team to become repeat champions since 1962. Kylian Mbappe did what Messi and Ronaldo failed to do and won the World Cup, at only 19 years old. Adding a second trophy to his cabinet would be a spectacular feat, but France's injuries just days before kickoff have cast a dark shadow on the French team. A few weeks ago, France were the favorites to lift the trophy, but the odds have since shifted. Paul Pogba and N'Golo Kante will miss the entire tournament. And while Raphael Varane and Ballon D'or winner Karim Benzema have been named to the squad, they will not be 100% fit. Saying all this, France still has a very strong squad and remains a favorite to find success in Qatar. The young talent coupled with a few veterans to guide the youngsters, ensure France remains among the elite. The weakness in this squad is the midfield, especially going forward. The depth among the forwards and defenders is plentiful, but the lack of creativity in the midfield will leave France struggling to create solid scoring chances. I'm not throwing in the towel with France yet. However, considering the odds are still only +650 despite the injury concerns, I can't put my hard-earned cash on this team.
France: Contender; but not worth +650.
England +800
Could it be coming home? England has some of the most passionate fans in the world, and they certainly feel as though this could be the year they taste World Cup glory for the first time since 1966. The talent up and down the England roster is brimming, and leading scorer Harry Kane will step up to the plate and deliver. In attack, Kane, Bakayo Saka, Phil Foden, Marcus Rashford, Raheem Sterling, Jack Grealish, and others will leave manager Southgate with some difficult decisions. The midfield is stacked with jubilant youngsters such as of Jude Bellingham, Declan Rice, and Mason Mount, and there are a plethora of quality defenders for the 3 lions. While England have the pieces to win the World Cup, they have been unable to build chemistry among the squad. A fairly easy group could result in some positive performances early on and may propel England into a deep World Cup run. The chemistry and fluidity within the squad remains a concern. However, if England can get off to a good start, the rest may just fall into place.
England: Contender
Spain +800
Spain dominated the international stage from 2008-2012, winning the World Cup in 2010, sandwiched between back-to-back Euro Cup trophies. As the core of their team has moved past their prime, it has given new opportunities for Spain's next generation. Heading to Qatar is a team of youngsters who grew up watching Spanish legends bring glory home. Headlining this fact is that David De Gea, Thiago, and Sergio Ramos all missed out on call ups, truly signifying the end of an era. While it is disappointing to see the former stars not get another chance, the talent is absolutely brimming for Spain. In attack, Marco Asensio, Ansu Fati, and Ferran Torres are eager to prove they belong with the best. In midfield, youngsters such as Gavi and Peri will be surrounded by veteran talent like Rodri and Sergio Busquets. At the back, a similar story is told as Cesar Azpilicueta and Jordi Alba will play full back, while the youth is given the keys to the heart of the defense, led by Pau Torres. Overall, Spain has a roster filled with young talent and veteran experience. The combination of this will lead to an extraordinary learning experience for the young Spaniards, but I see them ultimately falling short of lifting their second World Cup in 12 years. There are too many other squads in their primes, while Spain feels as though they are still missing pieces to compete.

Spain: Pretender
Dark Horses:
Portugal +1400
One last dance. Christiano Ronaldo is getting a final chance to best his longtime rival, Lionel Messi, and bring home the ultimate prize to Portugal. This team knows how to win and won the Euros in 2016. They will be hoping to use that experience to bring Ronaldo the only trophy missing from his cabinet. There is a solid amount of talent joining Ronaldo in Qatar. And while Portugal may be missing depth, they own one of the strongest starting 11's in the tournament. If they can stay healthy over the month-long sprint, +1400 will be the longest price we'll ever see.
Denmark: +2800
The Danish national team has had quite the story. After losing Christian Eriksen to an almost fatal heart attack in Euro 2020, the team rallied behind him and was able to progress to the semi-finals. At the World Cup, Denmark has a fairly easy group and should be able to beat Tunisia and Australia with ease. Once in the knockout stage, this price will fall into the +2000 range, making it critical to grab it now. There are no certainties, but a +2800 ticket heading into the later stages of the tournament may result in some excellent hedging opportunities.
Canada +20000
Canada is heading to their second World Cup in their history and will be looking to score their first goal in the process. While backing such an inexperienced nation has risk, the upside for the Canadian team is immaculate. Canada qualified for the World Cup after finishing first in the CONCACAF region, easily topping perennial contenders Mexico and USA. All of this was done without their best player, Alphonso Davies. Equipped with a healthy squad, who are well rested compared to the big nations, Canada certainly holds value at +20000. They may crash and burn, and are +275 to emerge from Group F, but the sky's the limit for the hungry Canadians.
Get expert sports picks on every game, or if you want our very best bet premium picks by the experts, sign up for your free $60 account with a guarantee.