NFL ATS: What to Look for when Betting Against the Spread
by Chris Vasile - 9/25/2018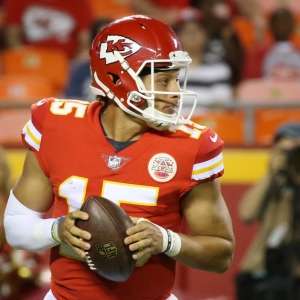 Football is king. That we know. What we should also know is that while the NFL takes the honors in terms of coverage, revenue, and everything in between compared to the NCAA, the on-field product is suffering from a lack of clarity and consistency pertaining to the rules. Since each game is officiated by a different crew, there is almost no consistency on what rules are being enforced correctly and what rules are being forced incorrectly. Because of that, teams need to adjust on the fly and bettors need to do the same if they want to keep their bankrolls intact.
If you are reading this, I'm going to assume you wager on college football as well. It's vital that you understand the difference between the two sports. In the NFL a win is a win no matter how big the margin of victory. Teams do not get rewarded for demolishing opponents like they do in college. Thus, teams only care about winning, and a two-touchdown spread is considered large in the NFL. The most common spreads in the NFL sit around three to six points.
The NFL has a plethora of options to bet on, and the many options available can take your focus away from what's really important and the betting options that's going to make you the most amount of money consistently. Sure, prop bets are great and all and offer up some juicy odds, but winning consistently by betting 4/1 or 10/1 odds is a tricky proposition. Sportsbooks want you to take the bait. However, if you are serious about betting on the NFL, the only way to wager on it is via the point spread.
Here are some ATS tips and tricks to help you maximize your profit during the NFL season.
Get Your Bets in Early
Whenever you spot a line that makes you question the sanity of the linemakers, you should get your action in sooner rather than later because the rest of the betting industry will and then the value will no longer be there for the taking. This is especially important when betting on a favorite.
The earlier you jump on a line the better, as these lines tend to be the softest lines put out by the sportsbook. Sportsbooks are typically quick to put out lines for the following week on a Sunday night (around SNF) or early Monday morning. If you see a good line, jump on it, because the chances of that line being available come kick-off next week is slim to none. All lines tighten up as the week goes on and can move a point or two based on what kind of action it's receiving.
If you want to take your betting to the next level, you need to understand where the "smart" money is going. This means understanding line movement . Line movement is the product of a handful of things, most important being injuries, weather and action. It's imperative that you closely monitor the injury report all week, and the weather, to get a full understand of what you're going to be investing in.
Divisional Showdowns
Rivalries are a common thing among every professional sport. Whether it's Ohio State vs Michigan, Barcelona vs Real Madrid, Tiger Woods vs Phil Mickelson, Pittsburgh vs Philadelphia in the NHL or Boston New York in the MLB. Every sport has its rivalries, and football is no exception. Teams in the division play each other twice a year. And when they finally meet, it almost counts for double because of how short the season is. Team's must win these division games if they want to capture the division crown, so it's imperative you handicap division games in a different fashion than you would if the 49ers were playing the Browns. Division opponents are so familiar with each other that they negate all advantages they have. Teams will be prepared and fully aware of what the other team is going to try to do, so it's on the coaches to mix in a few wrinkles and change up the game plan.
Because of that, it's very rare to see a division game with a higher spread than a touchdown. Most division games have a smaller spread and are therefore have very little value and are generally harder to handicap. I would recommend avoiding these kinds of games and focusing on the other dozen games going on.
I can't stress this enough. Creating your own power rankings will give you a better indication of how a team is performing. Power rankings can be as simple as you'd like them to be or as complicated and as layered as you can make them, including stats, DVOA, SOS, and every other football-related statistical category that you feel inclined to use.
Power rankings will also help you keep track of teams that are good at covering spreads and teams that are a bad ATS bet. Because the NFL is such a parity-driven league, it's tough to really get a gauge of who the good teams are and who the bad teams are. Power rankings allow you to analyze each team in a way that only you would understand and in a language that is your own.
You could find about 100 different power rankings online. However, unless you created them, the chances of you understanding (or agreeing) with the creator's thought process on why a team is ranked where they are is very slim. Everyone sees the game differently and will have differing opinions, which is why sportsbooks attract action on both sides of a game.
Premium Handicappers
At the end of the day, handicapping football should be fun and entertaining. After all, football is a sport, and sports are meant to bring people together for entertainment purposes. If you are a serious about wagering on football, it's imperative you devote time to it and practice hard at honing your craft. If you want to be a serious NFL bettor but just don't have the time, I would recommend looking into buying picks from a premium handicapper who knows the NFL inside and out. This will allow you access to some of the greatest football minds, and it will save you time to devote to other things in your life. We here at Doc's Sports have been in the game for more than 45 years and have some of the best football minds working for us.
Want free NFL picks? Doc's has you covered. New clients can take advantage of this great offer of $60 in free Doc's Sports members' picks for any handicapper on Doc's Expert Handicapper list. Just check out these guys' pages and see what great work they have done making money for themselves and their clients over the years. Get $60 worth of premium members' picks free . Also, get three handicappers for the price of one when you sign up for a full-season football package! Click Here for details . Get free NFL picks weekly on Doc's Sports free football picks page.