48th-Year Anniversary - Football Picks Special
by Doc's Sports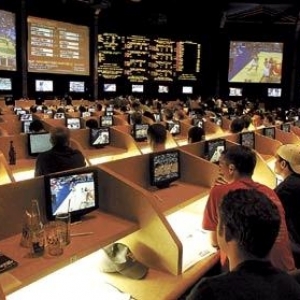 It was 1971 when Doc's Sports first opened for business, and while a lot of things have changed over the course of the past 47 years, there is one thing that has not: our commitment to our clients to provide great value and excellent customer service.
hen it comes to value, you will find that our 48-year anniversary 3 for 1 football picks special fits the bill.
If you purchase the football season, we'll give you access to THREE of the top handicappers in the country for all of preseason, the first three weeks of NCAAFB and first two weeks of NFL so that you can compare service, style and performance.
After the trial you simply let us know which one of the three handicappers you want to continue with for the remainder of the season. Or you may decide that you want access to two or all three of them, in which case we will give you a discount on those services when the time comes.
Many of our clients use multiple handicappers for the season since it's a great way to diversify, just as you would while investing in the stock market. This is also a great way for you to be able to compare handicappers, analysis, style, perfomrance and not get locked into one set handicapper or service right out of the gate.
New clients can sign up for the early bird football picks package on this page. After you have signed up for one of the handicappers of your choice, e-mail us at service@docsports.com with you second and third handicapper choices and we will open those up for you for two weeks.
Existing clients log in here with your username and password and purchase one of the handicappers of your choice early bird football picks packages on "the grid." After you have signed up, just e-mail us at service@docsports.com with you second and third handicapper choices and we will open those up for you for two weeks.
If you have any questions or would like to sign up by phone, call 1-866-238-6696. We are looking forward to another profitable football season and would love to have you on board with us.
Wade
GM
1-866-238-6696

PS: Below you will find some additional information about each of the handicapper football programs. If you require further information about which one of handicappers will best fit your personal betting style, call us at 1-866-238-6696.
Doc's Sports is one of the gold standards of sports handicapping, having been one of the most well-regarded and successful handicapping services for 48 years (yes, we started in 1971!). Doc's employs a team of specialists that are among the best NFL and college football handicappers in the country. Doc's has posted back-to-back winning football seasons and went on a dominating +8,360 four-month run last season. Doc's closed the season with a 7-Unit win in the Super Bowl and 9 of 11 winning weeks, and they plan on picking up where they left off. Known for their overwhelming knowledge and success of Midwestern football, Doc's is a coast-to-coast force in the industry specializing in the Big Ten, MWC, & ACC. Doc's Sports' documented success continues the legacy of one of the greatest sports handicappers the country has ever seen.
Robert Ferringo did it again, posting another winning football season in 2018 that featured a jaw-dropping +10,200 run and 8 straight winning weeks. Robert has posted three straight winning seasons and 7 of 9 winning years. Over the last eight seasons, Robert has posted an average profit of +$4,400 per season and has been the most consistent long-term football profit producer in the country, posting 50 of 76 winning football months. That's a profit in two of every three months for 12 straight years! His one-of-a-kind Ferringo Method and proprietary KING College Football Betting System are the keys to a successful football betting campaign. Robert is also one of the top football futures bettors in the country, hitting 67% of futures rated 5.0 or higher (14-7) in his career. Robert is looking forward to meeting or exceeding his own lofty numbers, and you want a spot on The Victory Train today!
Allen Eastman is one of the most popular and successful football handicappers in the country – coming off another winning (+5,660 season) – and his expert football picks against the spread have been making money for four decades. Eastman is known for his revolutionary NFL 411 System, which has hit an astounding 60 percent (196-134) for $25,610 profit over the last 11 years. No other football handicapper in the world has a 60 percent NFL system for over 11 years! The NFL 411 System is THE best pro football betting system in the country and is found EXCLUSIVELY at Doc's Sports. Eastman has earned 20 of 25 winning NFL years and is one of the only handicappers in the nation with two Top 5 finishes in the Las Vegas Super Contest. You can join him in a partnership in profit today!
Vernon Croy is ready for his fifth season at Doc's Sports and will put his vast knowledge and experience to work for you today. Croy uses his personal private football systems that he has developed over the course of the last 18 years to give him a huge edge over the books. Croy has posted four straight winning NFL seasons and has gone 63-40 (65%) for +$9,890 with his NFL plays over the past three years. Croy banked +9,390 with his NFL selections in 2018-19 and he also went a dominating 18-6 for +8,080 on his football plays rated 7.0+ last year. He is looking for that big play success to translate again this year. Get on board today and don't miss out as he continues his outstanding work on the gridiron!
Raphael Esparza has more than 13 years experience as a Las Vegas sportsbook manager and is now one of the most well-connected handicappers on The Strip. Now he's on our side and is helping bettors beat the books. This fall Esparza will try to make it five of eight winning years on the gridiron. As in all sports, Esparza is one of the best big-play handicappers in the country, including an easy 8-Unit NFL Game of the Year winner (Minnesota-New England 'under') last December. Esparza is one of the few handicappers in the country that releases picks on every single bowl game each winter. Sign up today!
Strike Point Sports is absolutely one of the best football handicapping groups in the country. They have posted four of five winning years and have beaten the books for seven of eight winning NFL seasons. SPS has been fantastic with their top plays, going 118-83 (59%) the past five seasons on plays rated 5.0 or higher, including a 3-0 mark on 8-Unit GOTY plays last year. You can expect two or three prime college football picks followed by two or three top NFL predictions each week, and SPS's selectivity is perfect for bettors who like to focus their action. SPS has chalked up $14,300 in total profit the last seven seasons and are known as "Mr. Saturday" thanks to their outstanding college football work. Don't miss out as they go for winning year No. 5 of 6!
Jason Sharpe is known for his incredibly fast starts to the football season and is one of the best NFL Preseason bettors in the country, going 14-4 in Week 1 of NFLX over the past eight years. He is an outstanding 67-37 (65%) with his college football picks the first two weeks of the year, and Sharpe has gone 43-11 (80%) with his Week 2 college football picks – including 5-1 last year as part of a +1,800 overall weekend! Sharpe has beaten the books for more than +$8,500 in overall football profit in three straight winning years. He has worked his way to six of seven winning college football seasons and four of five winning NFL years. Don't wait around! Sign up and get off to another blistering start with this razor-sharp bettor.
Scott Spreitzer has more than 25 years of betting and handicapping experience, and he is coming off one his best football seasons ever. Spreitzer banked an astounding +9,760 last season and is looking to pick up right where he left off. Spreitzer has gone 149-99 with his last 248 college football picks, and he is the only handicapper to advance to three straight finals in the Station Casinos Football Invitational. In fact, he's the all-time Station Casinos Win Champion. Spreitzer released more than 500 college football and NFL plays combined over five seasons and finished with an awesome, documented 59% ATS winning mark, as documented by the Station Casinos and the Las Vegas betting public. He's also placed in the Top 20 in the world-famous Westgate NFL Super Contest.
Alan Harris put together one of the best football runs in Doc's Sports history in 2016, exploding for +$15,500 in profit from mid-October through January. Harris won 9 of 14 winning weeks and more than doubled his clients' bankrolls during that three-month streak. Harris had another stellar three-month run last year, closing the season on a +6,100 rush. He is looking to beat that number this year after a disappointing 2018 effort. Harris cut his teeth in Las Vegas, working at some of the top books on the Las Vegas Strip for more than seven years. He left the industry and is now part of the sports betting community on the other side of the counter. Harris relies on systems and power ranking formulas as the basis for how he does his handicapping. Sign up now!
Doug Upstone is coming off a winning 2018 football season, going 50-34 (59.5%) and earning his clients +1,260 in profit. Upstone has six No. 1 monitored titles dating back to 2006, including a 53-29 (63.8%) campaign back in 2016. Upstone is an accomplished handicapper and the newest edition to Doc's Sports Services. He is the quintessential grinder, eschewing big runs in favor of a more stable approach that add up to stacks of cash. Sign up and put him to work for you today!
Tony George has 27 years of football handicapping experience, and the NFL has always been his top sport. George hit 64 percent of his NFL plays in 2016, and he is looking for another dominating season. George has gone 23-15 (61%) with his NFL Preseason selections the last three years. He has a nationally syndicated radio show on Sirius XM, and George is a selective, low-volume player. This is George's third season releasing plays at Doc's Sports. And you can expect the NFL run to continue, as his numerous hours of study in the offseason should pay off handsomely.
Indian Cowboy is one of the most flamboyant handicappers around. He generally only releases a select few total college and NFL plays per weekend and is quick to unload big-money plays with his selective approach. He is looking for a big bounce-back season. When he gets hot, he is capable of exploding for profit in a hurry. He generally releases just 3-5 picks per weekend in college football and the NFL combined and is the perfect option for bettors that only want limited exposure with the cream-of-the-crop picks each week. He also produces daily videos and free plays on his Insider's Page. Sign up today!