Why Key Numbers are So Important for NFL Betting and Wagering
by Chris Vasile - 8/8/2019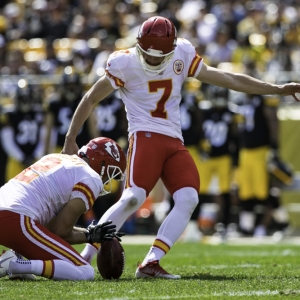 It's one of the most important factors to consider when placing a wager on a particular NFL game. No, I'm not talking about which side you like, I am talking about the line you are getting. The point spread in the NFL is among the most popular sports betting options in North America, so the point of this article is to help you understand something called Key Numbers.
When you hear a handicapper talk about "key numbers" in reference to NFL point spreads, they are referring to the most common margins of victory in NFL games. Because football is such a unique sport in the way the scoring system works, you must understand how key numbers play a role in whether your bet is graded as a winner or a loser.
If you want to be successful NFL handicapper who wins more bets than you lose, it's vital to understand the concept of key numbers in sports that allow point-spread wagering. The most important key numbers are within NFL betting. NFL games land on the key number of three more than any other number. What I mean by "land on three" is the difference in the scores, whether it bet 30-27, 17-14, 10-7, etc. So many football games end on a game-winning field goal, which makes three the most important number. The next "key" number in the NFL is seven, since that is the difference in games decided by a touchdown and extra point.
Related: Experts Offer 12 NFL Handicapping Tips
How Often Do Key Numbers Hit?
Three and seven are the strongest and most important key numbers, but expert sports bettors have been compiling data for years and have a list of the most common margins of victories. Here is a quick look at the Top 10 NFL key numbers:
Three points: 15.81 percent
Seven points: 8.80 percent
10 points: 6.06 percent
Four points: 5.41 percent
Six points: 5.41 percent
14 points: 4.77 percent
One point: 3.93 percent
17 points: 3.85 percent
Two points: 3.58 percent
Five points: 3.15 percent
As you can see, after the first trio of key numbers (three, seven and 10), there is a huge drop off in occurrence. However, that doesn't mean that you should throw those number out the window all together. You should be wary about these numbers and understand how line movement can affect - both positively and negatively - the line you are trying to wager on.
Related: Why Point Spreads Change
What to Do with Key Numbers Pertaining to Betting
Since sportsbooks are in the business of making money, there is no chance they will allow bettors to buy points off the key numbers of three and seven for the standard 10-cent price . The value of turning a three-point line to +3.5 for the underdog or -2.5 for the favorite is too much for the sportsbooks to handle. Most books don't even allow you to buy off of three in the NFL because of the statistical advantage. For the books who do allow this, they will likely charge no less than 20 cents. So, a standard -110 line at -3 would become +3.5 or -2.5 (-130) depending on the book you are playing at.
The problem with betting the NFL is that point spreads of 2.5 or 3.5 normally don't stay available for public consumption too long. These lines are almost always bet to the key number of three, or else they go the other way and get bet off those numbers to two or four. In terms of bookies , they generally have a lot of risk when taking wagers at 2.5 or 3.5, so to be safe they normally move their lines to three unless there is very heavy action on one side of the number.
In terms of other secondary key numbers, shopping around for the best lines is always the ideal method. If you aren't afforded the luxury of being able to shop around, you may still be able to get half-points off four, six, 10 and 17 at a decent price. However, if you are in such a desperate state that you need to pay such a high-price to get a key number, passing completely on the game may save your bankroll from going up in flames.
There is an opportunity called " middling a line " available to bettors who lay down a wager on a specific line in hopes the line increases to buy back the other side and have the spread land somewhere in the middle.
Let's say you are looking at the Monday Night Football game between the Broncos and Raiders, which has the Broncos favored by four points, you immediately determine you are laying the points with the Broncos. As the game approaches, the public action is all over the Broncos as well and now the sportsbooks are forced to raise the odds significantly. The Broncos are now up to seven-point favorites. You now have a "middling" opportunity. To middle, you would need to bet the Raiders +7 for the same amount as you bet on the Broncos. This is a dream scenario for bettors, and here is why.

If the Broncos win by five or six points, then your bet on them is a winner - and so is your bet on the Raiders at +7. Two wins on the same game with different lines, double the profit. However, if the Broncos win by exactly four or seven points (which are key numbers), then one of your bets will be a winner and the other will be a push, meaning you still profit. However, if the Broncos win by less than four points, you would split the bets and go 1-1. Typically, you would just lose the juice on the Broncos bet, so the win from the Raiders +7 would cancel out the loss.
Want free NFL picks? Doc's has you covered. New clients can take advantage of this great offer of $60 in free Doc's Sports members' picks for any handicapper on Doc's Expert Handicapper list. Just check out these guys' pages and see what great work they have done making money for themselves and their clients over the years. Get $60 worth of premium members' picks free . Also, get three handicappers for the price of one when you sign up for a full-season football package! Click Here for details . Get free NFL picks weekly on Doc's Sports free football picks page.