Expert MLB Betting Tips: Under-the-Radar Pitchers to Build Bankroll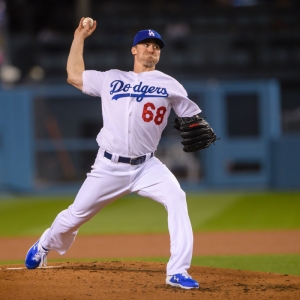 The biggest factor in handicapping baseball is the starting pitcher. And the best way to find big paydays and strong value is to spot pitchers who are pitching better than people think and who can offer nice value as a result. It's early, but here are five guys who stand out to me so far as guys definitely worth a lot of attention.
Brandon Woodruff, Milwaukee Brewers: Woodruff has taken his time evolving as a starting pitcher. He is 26, but he made just eight starts in 2017 and four starts and 19 appearances last year. That amounted to only 85.1 career innings, and he felt like he was facing an uphill battle to make the rotation in the spring on what is expected to be a pretty good team. But make it he did, and his first start was a solid one. He went five innings, allowing just two runs and striking out five while walking just one. It was only one start, and those aren't going to be Cy Young numbers or anything, but it was an impressive outing for a guy who could be capable of exceeding expectations this year.
Domingo German, New York Yankees: German made 14 starts and 21 appearances last year for the Yankees but wasn't intended to be a starter this year - at least not yet. But CC Sabathia and Luis Severino are out, so he has stepped in. And his first start was more than solid. He allowed just one hit and no earned runs in five innings against the Tigers, and his WHIP of 1.20 was more than solid. He wasn't consistent as a starter last year, but when he was on, he was impressive. He's in a low-pressure role on a team that should provide a lot of run support for him. He could be useful for bettors when he finds starts this year.
Zach Eflin, Philadelphia Phillies: Eflin only turns 25 this week, yet he already had made 46 career starts before this year - 11 each in 2016 and 2017 and 24 last year. His numbers have been up and down, but he took steps forward last year. Not enough strides to be noticeable, but enough to make us think that there is real upside. His WHIP was the best it has been last year, and his WAR took a nice leap up. He made his lone start so far this year in Washington, and it was a gem. In five innings, he allowed just three hits and no runs, striking out nine with only one walk. And he got those nine strikeouts throwing only 85 strikes. He obviously won't be able to put numbers like that up consistently. But if he can show improvement again this year, then he can be a profitable and useful pitcher.
Ross Stripling, L.A. Dodgers: Stripling is in his fourth year with the Dodgers and has been working hard to find his way out of the bullpen and into the rotation consistently. After making only two starts in 49 appearances in 2017, he was up to 21 starts in 33 appearances last year. His stats have all been trending in the right direction over his career, and he has a chance now at 29 - in his prime for his position - to really take strides towards being a guy in the top half of the rotation for a contender. His first two starts this year have been very solid. In 11.2 innings, he has allowed just nine hits and three runs while striking out eight and only walking two. That's a WHIP of just 0.94. It has only come against San Francisco and Arizona, so he needs to prove himself against better teams. But there is a lot to like here, and I am optimistic about him.
Chris Paddack, San Diego Padres: The Padres are looking to take another step forward this year, and they are aggressive about it. They are relying on some young pitching, and the guy I have my eye on is 23-year-old rookie Chris Paddack. He missed 2017 recovering from Tommy John surgery, but he rocketed through the minor leagues last year. The Padres are high on him, and he was brilliant in the spring to earn a rotation spot - probably earlier than expected. He made his debut against the Giants on March 31, and he certainly showed why he is liked by his team. In five innings he allowed just two hits and one run while striking out seven with only one walk. It was a strong start, and there is a lot more impressive potential for him to tap into. I have my eye closely on this guy.
Read more articles by Trevor Whenham
Get all of Today's MLB Picks
Get all of Today's Guaranteed Expert MLB Picks