Eagles vs. Suwon Predictions, Picks, Betting Tips 7/15/20
by Jon Bateman - 7/14/2020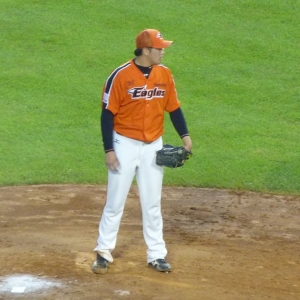 Match Details
League: Korean Baseball Organization League 2020
Match: Hanwha Eagles vs. KT Wiz Suwon
Date: Wednesday, July 15, 2020 at 05:30 ET
Location: Suwon Baseball Stadium, Suwon, South Korea
Odds: Hanwha Eagles +175, KT Wiz Suwon -256; O/U 10.5
The Hanwha Eagles' series clash against the KT Wiz Suwon in the KBO League continues tomorrow at the Suwon Baseball Stadium in Suwon.
The Hanwha Eagles sit at the bottom of the table with a 16-44 record in the regular season and a winning percentage of 0.267. Coming into this game, the Hanwha Eagles lost the first game of their series against the KT Wiz Suwon, their 4th loss in 6 previous games. In the game, Kim Ji-soo and Choi Ji-Heung drove in one run to record a 7-2 loss against the Suwon.
Kim Bum-soo will start the game for the Hanwha Eagles. After throwing 100-plus pitches in his last two starts, the 24-year-old showed an impressive performance by throwing 93 pitches in last week's game. However, the southpaw gave up multiple homers to Dong Hee Han that counted for all four runs scored against him. He has sported an ERA of 3.95, 1.51 WHIP, and a 2-5 record. On offense, Lee Yong-kyu will hold the Hanwha Eagles' center-field. Yong-kyu has recorded a batting average of .272, one home run and 16 RBIs.
On the other hand, the KT Wiz Suwon recorded their third win in a row after a victorious series-opening game against the Hanwha Eagles, their 9th win in 11 previous games. The KT Wiz Suwon occupy the 7th position with a 30-29 record in the regular season and a winning percentage of 0.508. In their last game, the KT Wiz Suwon thrashed the Hanwha Eagles by 7-2. Mel Rojas and Park Kyung-soo sported two RBIs, two hits, and drove in two runs.
Kim Min-soo will start the game for the KT Wiz Suwon. While Kim has posted a respectable 3.82 ERA over his last five starts, his 4.1 K/9 and 1.53 WHIP during that stretch make it difficult to rely on him continuing to prevent runs at this sort of level moving forward. He has recorded 5.72 ERA, 1.83 WHIP, and a 2-2 record. Bae Jeong-dae will hold the Suwon's center-field on offense. Bae has only six home runs on the season, but half of that total has come in the Wiz's last five games. He has also sported .335 batting average and 29 RBIs.
In their previous 8 meetings, the KT Wiz Suwon have recorded 6 wins and won all the 6 games by at least 7 runs, while the Hanwha Eagles won only twice. The Hanwha Eagles have recorded the worst pitching and offensive performance in the league. At the bottom of each stat, the Hanwha Eagles have recorded an ERA of 5.55, 72 home runs, .242 batting average, and 204 RBIs. In contrast, the KT Wiz Suwon has excellent offensive performance but a poor pitching performance. The Suwons have recorded .298 batting average, 328 RBIs, 5.38 ERA, and 62 home runs in 59 games.
Lineup
Hanwha Eagles
Out-Fielders are Lee Yong-kyu, Choi Jin-haeng, Lim Jong-chan and Yoo Jang-hyeok
In-Fielders are Jung Eun Won, Kim Tae-kyun, Ha Ju-suk and Oh Sun-jin
Pitcher: Kim Bum-soo
Catcher: Choi Jae-hoon
KT Wiz Suwon:
Out-Fielder: Jo Yong-ho, Kang Baek-ho, Mel Rojas, Yoo Han-joon and Bae Jeong-dae.
In-Fielders are Sim Woo-Jun, Park Kyung-soo and Hwang Jae-gyun
Catcher: Jang Sung-woo
Pitcher: Kim Min-soo
Predictions: Take KT Wiz Suwon -256
Get all of Today's MLB Picks
Get all of Today's Guaranteed Expert MLB Picks