Free Picks
»
CFL Picks
» CFL Canadian Football 2019 Predictions with Futures Odds and Betting Advice
CFL Canadian Football 2019 Predictions with Futures Odds and Betting Advice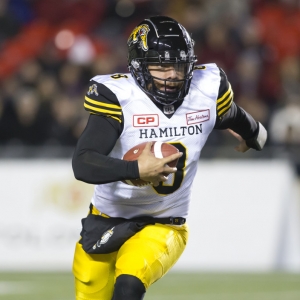 The Canadian Football League starts their latest season this week. Between now and November, the nine teams in the league will play 18 regular-season games, and then the top six will play down to the finalists for the Grey Cup, which will be awarded for the 107th time this year. I'm sure most of you don't watch the league regularly - and maybe never have. The football, while quirky - three downs instead of four, a point for a missed field goal - is much more competitive and exciting than you probably think. And more and more players in the NFL got their start up here in the Great White North. As with all good things, you can also bet on the league. Here's a look at the Grey Cup futures on offer at BetOnline:
Calgary Stampeders (+300): The Stampeders, my beloved hometown team who play about a mile from my house, are the defending Grey Cup champions. But, to be honest, this price feels light. Really light. They have re-signed QB Bo Levi Mitchell. He's the best player in the league, and I'll fight you if you don't agree. But 11 of their 24 starters - yes, the CFL has 12 starters per side because it's that awesome - from last year are gone, with several either in the NFL or moved on in free agency. The team is the master of reloading, but there is a lot to make up. And they lost an offensive lineman very early in practice, which hurt as well. The coaching is stellar, and the upside is here. But they have too much to prove to justify this price. They do host the Grey Cup this year, which would be a big advantage if it came to that.
B.C. Lions (+325): The Lions haven't been relevant in a long time, but they had a very strong offseason. They grabbed Calgary's defensive coordinator to be their head coach, and then they spent like crazy in free agency. The jewel is Mike Reilly, the second-best QB in the league. They made big moves, and I like the direction, but they weren't building on much, and it feels like more than a one-year process. I don't love either of the favorites here.
Winnipeg Blue Bombers (+600): The Blue Bombers are always in a tough spot. They never seem to be quite good enough to beat out either Calgary or Edmonton - whichever one is at their peak at the moment. This may finally be the year they could break through with Calgary making adjustments. But the team has major questions in the secondary and offensive line after some offseason losses. This is a good team with upside, but it will come down to luck - and, as usual, how they match up against Calgary.
Hamilton Tiger-Cats (+700): The best team - by a wide margin - in the East is only the fourth choice overall. That's the CFL in a nutshell. They have the best QB in the East in Jeremiah Masoli. And the best offseason move was stealing the very good Ja'Gared Davis from Calgary. They will probably win the East, but it isn't likely that they go further than that - the gap between them and the West is not shrinking.
Ottawa Redblacks (+800): The Redblacks have taken advantage of being in the lousy Eastern Conference, playing in three of the last four Grey Cups, winning one. But they had a horrific offseason. Coach Rick Campbell, a great coach, is still around. But the team let a whole lot of talent leave - most notably QB Trevor Harris - and didn't do nearly enough to replace them. The East still isn't great, but they are well behind Hamilton at this point.
Saskatchewan Roughriders (+800): The Riders, who have fans who are both the most obsessed and the most delusional in the league, could have the best defense in the league. They spent heavily up front. The defensive line is old and expensive, but if they hold up, they should do some damage. But they got left behind on offense. Zach Collaros, their quarterback, is as fragile as tissue paper and far from reliable when he is healthy. Saskatchewan should fall well short - and few things could make me happier.
Edmonton Eskimos (+1000): Edmonton had QB Mike Reilly last year, and he played absolutely out of his mind, and they missed the playoffs. Now they have exchanged Reilly for Trevor Harris - which is a massive downgrade - and haven't added a lot of talent to make up for that. They should struggle as well - which will make me even happier than Sakatchewan. The good news for those two teams, though, is that there are only five teams in the West. Three make the playoffs for sure, and if the fourth-place team is better in the standings than the third place team in the East - which usually happens - then they are in as well. Edmonton and Saskatchewan both have a real chance even if they can't match up to the top three.
Toronto Argonauts (+1200): The offense should be the second best in the East. But the defense was truly horrifying last year, and it doesn't immediately seem likely that they have taken a dramatic step forward. I'm not a believer.
Montreal Alouettes (+1400): After finishing their preseason, they fired former NFL and college head coach Mike Sherman before he started his second regular season. Reason? A total failure to adapt to the CFL game. Last year they traded away much of their future to acquire Johnny Manziel from Hamilton. He did little, and now he's gone. Those two things alone should tell you what a mess this team is. They were once the proudest franchise in the league, but now things are really bad and are only going to get better.
Doc's Sports expert handicappers will have Canadian Football League picks every week of the 2018 season. Our experts that will offer picks are: Doc's Sports , Indian Cowboy , Raphael Esparza , Vernon Croy, Scott Spreitzer , Alan Harris, and Strike Point Sports . CFL is one of the easiest sports to beat as the sportsbooks just don't spend much time setting the lines. But our experts do take the time needed to beat the books on a weekly basis. Get $60 worth of premium members picks free .
Read more articles by Trevor Whenham
Get all of this Weeks Free CFL picks
Get all of this Weeks Guaranteed Expert CFL Picks