2019 Army Black Knights Football Predictions and Odds to Win National Championship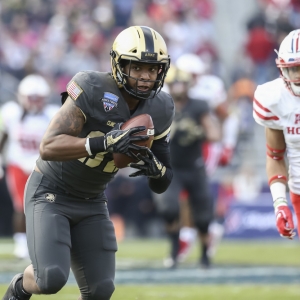 Jeff Monken is a very good coach. Two years ago, he won 10 games with Army, and last year he won 11. No Army team in a history that dates back to 1890 had ever had consecutive double-digit win seasons. Heck, the program had only had one 10-win season ever. Monken has now won three straight bowl games - with a team that had played in only three bowl games in the previous 35 years. They finished last season ranked 19th, which is the high-water mark for the team since 1958.
He's entering his seventh season at Army, and he was very good in three years at Georgia Southern before that, so you can be sure that the offers he gets are going to be harder and harder to resist each year. He just signed an extension until 2024, but we know how much that really means. Sure, he runs a triple-option attack that big schools won't want any part of. But at the next tier there would be lots of programs that would love the success and chance for upsets that he brings. Before he eventually leaves, though, he has a good chance of extending both the double-digit wins streak and the bowl wins streak. Monken is sitting on another live one here.
2018 in a Nutshell
The team lost pretty badly against Duke in their opener then beat Liberty and Hawaii at home. It was in their fourth game, though, that people sat up and took notice that something was really going on here - even though they lost. Oklahoma was an eventual playoff team, and people had extremely high hopes for them all year. So, when Army went to Norman and took the Sooners to overtime, it was a shock for everyone. It wasn't just that it went to OT, either - for much of the game Army was in control. A combination of the confidence built from that effort and a schedule that got much softer led to the team not losing again. The won at Buffalo and on a neutral field against San Jose State. They beat Miami of Ohio at home in overtime and won at Eastern Michigan. They beat Air Force, Lafayette and Colgate, and then won the Commander-in-Chief's Trophy for top service academy team in consecutive years for the first time ever by beating Navy. The 10-2 mark earned them a date with a Houston team that was going through a coaching crisis, and Army made them suffer, winning 70-14 in about as lopsided a bowl game as you can get.
Key Additions and Departures
The team, not surprisingly, didn't have to worry about guys leaving for the draft. And they return a significant portion of their talent. There are some guys who will be missed, though. Running back Jordan Asberry was one of a large committee of productive runners with the program. He was also the leading receiver - though with just 11 catches for 219 yards and four scores. Fullbacks Calen Holt, Andy Davidson and Darnell Woolfolk are all gone. As an aside, name a major program that has three fullbacks on the roster, never mind three graduating at the same time - I dare you. Woolfolk was the second-leading rusher on the team behind QB Kelvin Hopkins Jr., and his 956 yards and 14 touchdowns will have to be made up for. Davidson was next in rushing, but with just 330 yards. Holt was a little further down the list but had a higher per-carry average than anyone above him and scored on 10 percent of his carries. Center Bryce Holland, a three-year starter, is also going to leave a hole. Defensively, they lose their leading tackler, linebacker James Nachtigal, DBs James Gibson and Mike Reynolds, and linemen Raymond Wright and Wunmi Oyetuga. They have some holes to fill, but have fairly equivalent depth coming up and play with a deeper bench than a lot of teams do, so they should mostly be fine.
There was a little change on the coaching staff, as Mack Brown poached both defensive coordinator Jay Bateman and strength coach Brian Hess to join him at North Carolina. Safeties coach John Loose, who filled in for Bateman in the bowl game, has the coordinator job full time now.
Service academies face more recruiting challenges than anyone. Add in the quirks of recruiting for an option scheme and Monken faces an uphill battle. His class ranks 98th in the nation this year, which is a significant improvement over recent years. He signed an impressive 13 three-star players.
Biggest Area of Concern
Replacing Darnell Woolfolk. This is a team that was second nationally in rushing yards per game. Woolfolk took just over a quarter of all carries and had just under a quarter of all yards. When a guy is used that heavily in a system like this, he clearly has a strong understanding of the option and excellent chemistry with his quarterback. There are plenty of other guys still on the roster who have played, but someone will have to step up into that lead role as effectively as Woolfolk did.
Army Black Knights Schedule Analysis
The first thing stands out about this schedule is that they have 13 regular-season games. That's because of the quirky Hawaii Exemption. Teams that play a game in Hawaii are allowed to schedule a 13th game if they wish - a home game. It was designed to offset the cost of travel to Hawaii back in the day, and it still is on the books. If teams don't want the extra game, they can schedule an extra bye week instead.
They open at home against Rice. Then it's a game that, as a Michigan fan who watched the Oklahoma game last year, leaves me filled with intense amounts of dread as the Knights head to Ann Arbor. At UTSA, then home for Morgan State and Tulane is manageable, as are trips to Western Kentucky and Georgia State. They host San Jose State before visiting Air Force. UMass and VMI visit Army before the Knights head on that trip to Hawaii. Then they have a bye before the Navy game, which takes place really late this year - December 14. Last year, Army's bowl game was on Dec. 22, so they could be in the odd position of playing just a week before their bowl. The Michigan game will be really tough - I hope. But the rest of the schedule is manageable enough, and 10 or more wins is certainly in play again.
2019-20 Army Black Knights Betting Odds and Trends
As an independent who obviously isn't a national title contender, it's tough to find meaningful futures odds for the team. Bovada has them at +25000 to win the national title, but you would have to really hate money to bet that price.
2019-20 Army Black Knights Predictions and College Football Picks
I have faith in Monken, and the schedule is fine. He'll win 10 or 11 games and frustrate several opponents.
Read more articles by Trevor Whenham
Get all of this Weeks College Football Picks
Get all of this Weeks guaranteed Expert College Football Picks