Georgia Bulldogs vs. Florida Gators Betting Picks and Predictions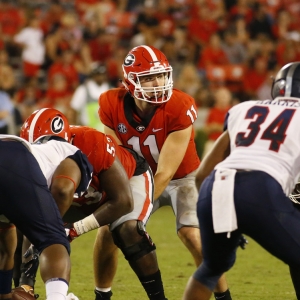 Florida Gators vs. Georgia Bulldogs, Saturday November 2, 3:30 p.m. ET
This obviously isn't technically a playoff game. It's a couple of months too early for that. But this one comes as close to replicating the traits of a playoff game as you can get. The winner of this game will all but certainly go on to win the SEC East - or at least it will be theirs to lose. Both teams have one loss, and those losses came in the SEC in both cases - Florida at LSU, and Georgia, inconceivably, against South Carolina. Missouri is the only team in the division with only two losses, and both of these teams have an upcoming chance to play the Tigers and wrap things up. And neither team has to play Alabama, and Georgia avoids LSU, so the rest of the schedule is very manageable in both cases. So, basically, this is a playoff game for a berth in the SEC Championship Game - a game either of these teams would probably lose, but that's beyond the point here.
Florida vs. Georgia Betting Storylines
In the last 13 years, six different coaches have coached at least one game for Florida. Georgia, a school allergic to coaching changes - they are only on their fifth coach since 1964 - is still on their second in 13 years. No matter how many different coaching combinations we have seen over 13 years, though, one thing stands out - the team that has rushed for more yards in this annual showdown has won each of those years. If that trend were to hold, then it would give Georgia a distinct advantage here. They have the best running attack in the SEC and have averaged 96 more yards per game on the ground than Florida has. And Georgia has a much better run defense this year as well - they rank fifth nationally in yards allowed, while Florida currently ranks 35th. So, the better run attack will be facing the lesser run defense. If you believe that this trend is meaningful, then your handicapping job just got a whole lot easier.
If you think, though, that the passing game is going to be important in this one, then that is much worse news for Georgia. Expectations heading into this season seemed to widely be that Jake Fromm would take a big step forward. But it just hasn't been the case. In fact, lately he has been awful. Last time out against Kentucky, he had only 35 passing yards. Heavy rains hampered that game, though, and neither team could pass. But the game before that against South Carolina, he threw three picks, and two of them were just plain lousy. Neither of those games give us much confidence for him coming into this game against a team that is clearly better than the last two he has faced.
It's worth noting that this is not the first time in recent memory that these teams have both been ranked in the Top 10 when they met. In fact, it happened last year. And back then Georgia walked away with a truly dominant 36-17 win - their second straight win in the series. It's tough to draw meaning from one season to the next in college ball, but I wouldn't have too many issues if you wanted to make the argument that Florida was dangerous in more ways last year than this year. You have to take this with a grain of salt, but you still need to consider it.
Florida vs. Georgia Odds and Betting Trends
The game opened with Georgia favored by as few as 3.5 points. It climbed quickly, though, and now the Bulldogs are favored by six , with 6.5 available in some spots. About two-thirds of bets have been on Florida to this point, so the line movement suggests that sharp money has hit the Bulldogs hard. The total opened at 47.5 and has since fallen to 44.5 in early action.
The Bulldogs are 7-1 ATS in their last eight neutral-site games, 5-1 ATS in their last six games in November, and 6-2 ATS in their last eight conference games. They are 11-5 ATS in their last 16 games against teams with winning records. The Gators have covered the spread in their last four games in the SEC, and in four of their last five overall, but are just 1-4 ATS in their last five neutral site games. The favorite has covered the last four spreads in the series.
Florida vs. Georgia Predictions and Picks
At less than a touchdown, I have to take Georgia, and not just because of the big run game dominance. I'm not crazy about Fromm, but Georgia's coaching is better, their defense is tighter right now, and they feel more impressive overall. Georgia's loss was much worse, but I'm willing to bet they have learned from that. The Bulldogs are the pick.
Get all of this Weeks Free College Football Picks
Get all of this Weeks Expert College Football Picks