NCAA Football Week 11 NFL Week 10 Free Picks by Handicapper Doug Upstone
by Doug Upstone - 11/8/2019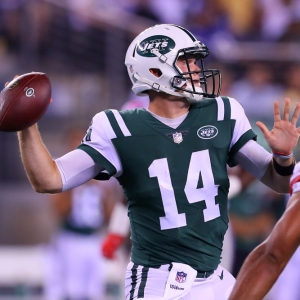 We have a big weekend of college football in Week 11, but few line moves in the biggest games. We'll cover those that do in college contests and in the NFL. Take a minute to review all the betting trends, our free picks and predictions (150-122-3 of late) to see what we are thinking about today. See you back here next week.
CFB - (121) GEORGIA TECH at (122) VIRGINIA 12:30 ET ACC-EX
In this ACC encounter, the total has jumped three points from 43 to 46. Georgia Tech averages only 17.1 PPG, but Virginia's defense seems to have worn down a bit in giving up 28 or more points in three of their last five outings. It would not be a surprise to see the Yellow Jackets at 20 points. The rest seems easy with the Cavaliers at 30.8 PPG and Georgia Tech conceding 29.1 PPG, obviously placing Virginia at around 30 points for a total of 50 and an "Over".
Betting Trend - 92% backing Over
Doug's Doc's Take - Play Over
CFB - (125) LOUISVILLE at (126) MIAMI-FL 3:30 ET ESPN2
Even though it appears to be a weekly question is if Miami will come to play, if they do, scoring points on them is no simple task. That is why despite Louisville ringing up 32.7 PPG, the total has come down from 53 to 49.5. Here is what I'm wondering: after two focused efforts at Pittsburgh and at Florida State, are the Hurricanes really the kind of team that can do this again? Let's go with no with the sportsbooks college football odds more likely correct, and the Cardinals are 25-9 Over in November road games.
Betting Trend - 97% backing Over
Doug's Doc's Take - Play Over
CFB - (143) VANDERBILT at (144) FLORIDA 12:00 ET ESPN
Florida's chances of winning the SEC East are virtually over after Georgia loss, making the next best reach a Super Six Bowl with a 10-2 record. No doubt they could start slow against Vanderbilt , but the Commodores have beat the spread only once this year. Those making college football picks are thinking the same as I am in lifting Florida from -24.5 to -27, as once the Gators find the end zone, they will be hungry for more. The Vandy offense, which scores only 17 PPG, will have many drives of six plays or fewer and set up Florida to keep finding pay dirt in Gainesville and the 'Dores will fall to 5-16 ATS after a loss by 17 or more points. Chomp, Chomp!
Betting Trend - 76% backing Florida
Doug's Doc's Take - Florida covers
CFB - (163) EAST CAROLINA at (164) SMU 12:00 ET ESPNU
Raise your hand if you didn't even think for a second the total in this AAC contest would not go up? (It did from 69 to 72.) Good, we agree, as SMU off their first setback of the season will keep scoring all afternoon long on East Carolina. Look for the Pirates to top out at 27 points, which means if the Mustangs score like they normally do at home (46 PPG), they move to 9-0 Over this season.
Betting Trend - 89% backing Over
Doug's Doc's Take - Play Over
CFB - (177) GEORGIA SOUTHERN at (178) TROY 3:30 ET ESPN+
This is not your typical Troy team that is competing at the top of the Sun Belt. Instead, because their defense is allowing 32.6 PPG, they have been elevated from +1 to a +3-point home underdog versus a Georgia Southern bunch that is on fire. The Eagles are on a four-game winning streak and in this stretch are averaging 338.7 rushing yards a game. That is no fun to have to defend something like that all four quarters, especially with a mediocre defense. The visitor is 8-1 ATS after running for 300 or more yards and cover again.
Betting Trend - 71% backing Georgia Southern
Doug's Doc's Take - Georgia Southern covers
NFL - (257) N.Y. GIANTS at (258) N.Y. JETS 1:00 ET FOX (side and total)
This matchup of Big Apple teams is nationally viewed as just another rotten apple. But because the city of New York and the surrounding area is filled with so many who have allegiance to one team or the other, their sheer vastness makes this confrontation of two crummy clubs (3-14 combined) seem like its important. Because of this, that is how a team like the New York Giants could go from a Pick to -2.5 over their city rivals. Though the G-Men are nowhere close to a quality outfit, after the Jets lost to then-winless Miami, they are considered a laughing stock. Once you know Gang Green is 0-6 ATS having lost four out of their last five, you will think about betting against them for NFL picks. The total has gone up from 41 to 44.5 with both defenses permitting 26 or more points, yet, I have a system that fits the Jets on the Under with a 26-6 record.
Betting Trend - 62% backing N.Y. Giants, 67% on Over
Doug's Doc's Take - N.Y. Giants cover, Lean Under
NFL - (263) CAROLINA at (264) GREEN BAY 4:25 ET FOX
After Green Bay played such an abhorrent game in Carson, Calif., and Carolina had a nice bounce-back victory over Tennessee, there are sharp and public bettors alike who more than willing to take the Panthers against the NFL odds. The 'Cats opened at +6.5 and as of Friday afternoon were down to +5. While this makes sense in theory, Aaron Rodgers very discreetly and purposely called out his teammates in the postgame press conference. History shows his voice carries a lot weight in the Packers locker room, and look for a completely different Green and Gold team to show up at Lambeau.
Betting Trend - 73% backing Green Bay
Doug's Doc's Take - Green Bay covers
NFL - (265) DETROIT at (266) CHICAGO 1:00 ET CBS
The average score of Bears game this season is 35.1 total points. Chicago is not permitting many, and Mitchell Trubisky's woes are well documented. This has sent the total from 44 to 41.5. Detroit, however, is just the opposite, they do keep the scoreboard operator busy because they score, and they have problems keeping the opposing team out of the end zone at 52.6 total points. With the total now this low, the value is in taking a higher score. Look for Chicago to feature RB David Montgomery, which helps Trubisky and this NFC North conflict lands on 43.
Betting Trend - 67% backing Over
Doug's Doc's Take - Lean Over
Public Consensus Record (2019) - 51% to 79% - 200-193-6 ATS
Public Consensus Record (2019) - 80% or Higher - 62-70-1 ATS
Line Movement Direction Record (2019) - 247-250-7 ATS
Doug Upstone is the newest handicapper at Doc's Sports and he brings years of experience with him. Doug has 21 documented No. 1 titles and finished in the Top Ten 80 other times in a distinguished career. Doug as a professional handicapper/writer, has written for various well-known sports betting websites and several of the football newsletters you have read before.
$$ Doug's excited for this weekend football releases, nine in all, with a 42-30 record the last seven weeks, good for $2,870 in profit. - New Customers, use $60 Free Money to get my Hot Picks for a week or a month.
$$ Doug has his first-ever 8-Unit Winner coming in College Football (11/09) and 6-unit NFL Winner (11/10).
$$ Doug has won seven of nine NFL weeks and was a sharp 4-2 last week in college football and his members picked up $910 based on units.
$$ Doug's on a 73-52 NFL run and is 2016 Monitored Champion
$$ Doug has 21 No.1 monitored titles and 80 Top 10 finishes!
Check out Doug's Winning Plays! Click Here
Get all of this Weeks College Football Picks
Get all of this Weeks guaranteed Expert College Football Picks