NCAA Football Week 7 NFL Week 6 Free Picks by Handicapper Doug Upstone
by Doug Upstone - 10/11/2019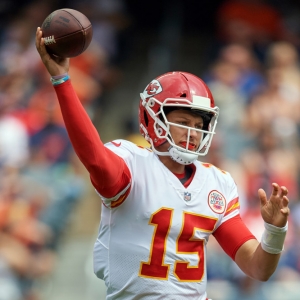 When reviewing the line moves for college football and NFL odds, we ended up with a total of eight games that were the biggest and did not involve injury or weather. Take a minute to review all the betting trends, our free picks and predictions (131-106-3 of late) to see what we are thinking about today. See you back here next week.
CFB - (133) GEORGIA STATE at (134) COASTAL CAROLINA 5:00 ET ESPN+
In early evening action in the Sun Belt Conference, college football handicappers have shifted the college football odds in this contest and lowered visiting Georgia State from +6.5 to +4.5. The Panthers have already claimed a win at Tennessee, and last week they knocked off a good Arkansas State team by 14 as 6.5-point home underdogs. However, when breaking the two teams down, Coastal Carolina is the superior defensive squad, permitting 15.2 fewer points. With that large a defensive edge and the Chanticleers at home, I found that Georgia State is 1-9 ATS after allowing 6.75 or more yards a play in their previous game.
Betting Trend - 62% backing Georgia State
Doug's Doc's Take - Coastal Carolina covers
Related: Ricky Offers his Weekly Georgia State Panthers Picks for Week 7
CFB - (137) IOWA STATE at (138) WEST VIRGINIA 4:00 ET ESPN
Last week, West Virginia was a popular choice for sharps making college football picks against Texas, and they came up a half-point short. The public preferred the Longhorns and are backing the favorite again, boosting Iowa State from -8 to -10 at Morgantown. Ultimately, the Cyclones have too much firepower and expose the Mountaineers defense and they are 15-5 ATS when facing winning teams. Additionally, ISU is in the first half of the Big 12 schedule and has an 8-0 ATS record in October since 2017.
Betting Trend - 83% backing Iowa State
Doug's Doc's Take - Iowa State covers
CFB - (171) BALL STATE at (172) EASTERN MICHIGAN 2:00 ET ESPN+
Completely understand the rationale in Eastern Michigan flipped from a one-point underdog to a -1.5 digit home favorite. The Eagles have skilled players on the offensive perimeter that could expose Ball State. However, here is the concern. In either case, Eastern Mich. is not a full home favorite by handicapping standards, as they give 2.5 point in that role. Oddsmakers are suggesting Ball State is the better team and they are built for the short underdog role on the road at 10-2 ATS when the line +3 or less. The capper is the Eagles are 0-6 ATS at home after allowing 37 points or more in last game.
Betting Trend - 71% backing Eastern Michigan
Doug's Doc's Take - Lean Ball State covers
CFB - (171) CINCINNATI at (172) HOUSTON 3:30 ET ESPN2
Cincinnati has proven they are a quality club, beating Central Florida last week, and they were pumped up two points to -7 at Houston. While the line movement is not crazy, trying to figure out who the Cougars are is like trying to understand pass interference in the NFL. Coach Dana Holgorsen is quickly turning Houston into the same messy situation he created as West Virginia, which means predictability is out the window. Cincinnati should win by 10-13 points and cover, but if the Cougs limit mistakes and play wisely, this is a one possession game. A nervous lean with Houston.
Betting Trend - 58% backing Houston
Doug's Doc's Take - Lean Houston covers
CFB - (175) UNLV at (176) VANDERBILT 4:00 ET SECN
Among the largest totals moves was this nonconference clash, with the total dipping from 60 to 57.5. Both these 1-4 teams allow 37.4 PPG, thus, the falling number has nothing to do with the defense. That means it's the offense causing the consternation. The numbers bear it out with UNLV at 23.4 PPG and Vandy hardly dandy at 19.6 PPG. What then is the best course of action? Against these defenses, the quarterbacks and the offenses should be a car that was just waxed and shine. We should have a legitimate shot at the adjusted figure with the Rebels 13-3 "Over" in road games after allowing 7.25 or more yards a play and Vanderbilt 7-0 Over after scoring 14 points or less in last game.
Betting Trend - 95% backing Under
Doug's Doc's Take - Play Over
NFL - (257) HOUSTON at (258) KANSAS CITY 1:00 ET CBS
With Kansas City's Patrick Mahomes dealing with a bum ankle, the offensive line beat up and the Chiefs defense allowing close to 400 yards a game, NFL bettors have shifted them from -7.5 to -4. Is it possible for K.C. to overcome all this against Houston? Possibly. My guess is they will shorten the passing routes to help Mahomes get rid of the ball and prevent him from putting pressure on the foot by having to drive throws. The defense has to play tight early coverage to make DeShaun Watson hold the ball and blitz him to generate pressure. Do this and Houston falls to 0-8 ATS versus offensive teams scoring 29 or more points a game.
Betting Trend - 57% backing Houston
Doug's Doc's Take - Lean Kansas City covers
NFL - (265) SAN FRANCISCO at (266) L.A. RAMS 4:05 ET FOX
This should be the game of the week in the NFL, but television contracts rule the airwaves. The largest amount of curiosity in this NFC West confrontation is on the total, with the NFL odds rising from 48.5 to 50 points. With Todd Gurley questionable and limited if he does play, that curtails what the Rams want to do. The San Francisco pass rush figures to bother Jared Goff along with their team speed. The 49ers will come prepared, nevertheless, a short week after a big Monday night win might not have them at 100 percent energy and questions still surround Jimmy Garappollo. Going rogue here and calling for a 24-23 Rams win and the Under.
Betting Trend - 85% backing Over
Doug's Doc's Take - Lean Under
NFL - (267) ATLANTA at (268) ARIZONA 4:05 ET FOX
This is easy; the first one to 30 points wins. Or, the first team to surrender 30 points loses, take your pick. In either scenario, I'll still support the total blowing up from 47 to 51.5. Each offense has the capacity to make big plays against two of the worst-five scoring defenses. For NFL picks, have to back the Over even with the reduced value. Want a little more proof, how about this: Play Over the total in a game involving two horrible defensive teams allowing 27 or PPG, after one is off a win by six or fewer points. (Arizona in this case). In the last decade, the Over is 21-6, with an average total of 53.9 points.
Betting Trend - 69% backing Over
Doug's Doc's Take - Play Over
Public Consensus Record (2019) - 51% to 79% - 184-183-6 ATS
Public Consensus Record (2019) - 80% or Higher - 58-66-1 ATS
Line Movement Direction Record (2019) - 225-238-7 ATS
$$ Doug is 14-7, 66.6% for 2019 in the NFL, up $2,670 in profit! - New Customers, use $60 Free Money to get my Hot Picks for a week or a month.
$$ Doug the last three weeks in football is 18-10, up $3,420!
$$ Doug has 6-unit Winner coming in College Football (10/12) and 6-unit NFL Winner (10/13)!
$$ Doug's on a 64-41 NFL run and is 2016 Monitored Champion
$$ Doug has 21 No.1 monitored titles and 80 Top 10 finishes!
Check out Doug's Winning Plays! Click Here
Get all of this Weeks College Football Picks
Get all of this Weeks guaranteed Expert College Football Picks