Wyoming Cowboys Football Picks Week 9 vs. Nevada: Specialization Series
by Chris Vasile - 10/22/2019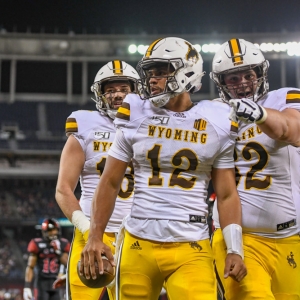 The Wyoming Cowboys are just one win away from the coveted six-win mark and an automatic bowl game berth. They have five games remaining to pick up that lone win, but the Cowboys are looking at bigger and better things, possibly by reaching the eight- or nine-win mark and a better bowl game. Should the Cowboys get the job done this week , they'll guarantee themselves a bowl appearance for the first time since 2017, where they beat Central Michigan in the Idaho Potato Bowl.
The main purpose of this article every week is to better your understanding of what it takes to specialize in one sport, one conference or one particular team. By honing in on a certain team, you'll not only know how they are performing on a weekly basis (one is a lot easier to keep track of than 150), but you'll know how what state of mind they come into the game and if they are ready to take the next step or fall flat on their face. I like to focus on smaller conferences like the MWC since not as many eyeballs are on them compared to the Big Ten or SEC. I know it's not sexy to bet teams that very few people enjoy watching, but there is almost always more line value with these smaller conferences than there are with marquee teams from the Power 5 conferences.
For this weekly article, we are going to take a deep dive into the past game and help you come up with the best way to proceed moving forward. Many people just look at the box score and read the stats, but actually watching these games will give you a better indication on how the team is performing. You'd be surprised at how many times a team's win or loss was justified or not justified based on what the stats say. Once we delve into the previous game, I will give you a play for the next game based on how I believe the team is going to perform. I use the tried and tested Doc's Sports Unit Betting System for each pick, which allows you to gauge how confident I am and track the results.
Last Game
It wasn't pretty, but Wyoming managed to escape New Mexico with a win on their home soil thanks to dominating possession and converting better than 50 percent on third down. When you look at the box score, you'll see that the Cowboys had nearly 11 minutes more possession than the Lobos did and that they completed 11 of 18 third down attempts in the ball game, compared to New Mexico who went 4 for 12. The Cowboys were able to run all over the Lobos defense to the tun of 259 total yards. Xazavian Valladay led the way with 127 yards on 33 carries, and a score, while Sean Chambers chipped in with 117 yards on 18 carries and a touchdown. From a passing perspective, Chambers completed nine of 15 passes for just 86 yards and one touchdown. Something of a concern is the fact that the Lobos still managed to outgain the Cowboys 372-345, despite possessing the ball for 11 minutes less. The total - which we had a 2* play on the under - was never really in doubt as the Cowboys led 7-0 at halftime and 13-0 after the third quarter. It wasn't until midway through the fourth quarter that points were getting put on the board at a good clip. Overall, this game was a solid win for Wyoming, who now inches closer to the six-win mark and a bowl game. They still have work to do in the division and need help from other teams. Nonetheless, straight forward win and we are on to Nevada.
Week 9 vs Nevada
As of writing this, 5Dimes is the only site with a posted lined on this game. The current line is Wyoming -13.5 (-110) and the posted total is set at 44.5 (-110). I told you last week that laying nearly 20 points with a team that can't move the ball through the air is a bad idea, and I'm sticking to my guns once again this week. Nevada has shown the ability, albeit very inconsistently - to move the ball and put a ton of points up on the board. They come into this game off a 36-10 loss vs a good Utah State team, so that loss can be overlooked. This is the game Nevada would have had their sights set on winning, and they come into Laramie ready to attack a vulnerable defense and take advantage of an offense that can't consistently move the ball down field. The low line tells you all you need to know about how this game is likely to be played. Wyoming will try to run the ball down Nevada's throat but will likely have a hard time doing so. The way to beat Nevada is by throwing the football all over their weak secondary, but the Cowboys simply don't have the quarterback or receivers to get anything going through the air. Nevada is a live dog in this one, and we'll be on them to get a big win and take a step closer to that six-win mark.
Series History: This series has seen only seven games previously, with Wyoming coming out on top in four of those games, including the two most recent games - a 28-21 in Laramie in 2015 and a 42-34 win in Reno in 2016.
Nevada at Wyoming College Football Picks
They say, "style makes the fight," and this game is exactly that. Nevada would prefer to play in shootout style games where the ball is thrown all over the field and points are put up by the boatloads, while Wyoming is more of a grind it out, run the football and bleed the clock type football team. Whoever can matriculate in the passing game is going to have the most success, and we believe that Nevada is better set up for that than the Cowboys. The Nevada run defense is solid, while the secondary is iffy. The only problem is that the Cowboys won't be able to take advantage of that, and they'll be stuck being a one-dimensional football team. Give me the Wolf Pack to cover this inflated spread.
Selection: 2-Unit Play. #143. Take Nevada +13.5 (-110) over Wyoming (Saturday at 2:00 pm). Record to Date: 1-2-1 -$20.
Get all of this Weeks College Football Picks
Get all of this Weeks guaranteed Expert College Football Picks