Free Picks
»
NBA Picks
» 2020 Milwaukee Bucks Odds to win NBA Championship with Expert Predictions
2020 Bucks Championship Odds: Solid Core Around Reigning MVP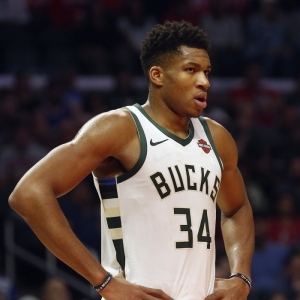 Milwaukee Bucks Betting Storylines
It was a heck of a season in so many ways for the Bucks last year. They won a league-high 60 games in the regular season. Then they rolled past the Pistons without breaking a sweat and had to try only slightly harder to beat the Celtics in the second round. Up to that point, it was about as good as it could be. But that was all just the appetizer. It is the conference finals when things get real. And when that rolled around, the team got to play only six games before falling to the eventual champions from up north of the border. They fell short when it mattered. And surely it haunted them for every day of this summer - especially when Golden State proved to be vulnerable in the championship as they were.
Now they are hungry to do better. But they are a hunted team this year. People know how good they can be, and they won't sneak up on anyone. Are they good enough to overcome massive expectations and take the steps they couldn't last year? Can they contend against the ridiculous arms race that broke out in the West this summer? Coach Budenholzer was named Coach of the Year last year in his first season in Milwaukee. It was in his second year in Atlanta that he really broke through - again winning that award. If he can take a step forward in year two here, things could get scary.
Milwaukee Bucks Additions and Departures
When you bring back the reigning MVP, who is still early in his prime, return the key core around him intact, and add some interesting pieces around him, it sure feels like a recipe for success. Through free agency, the team has really gone all in on the concept of brothers as teammates. They added not one but two sets of chromosome-sharers. The first is a very interesting one, because it is clearly all about keeping their megastar happy and moving closer to keeping him long term. The team added Thanasis Antetokounmpo to join his very famous brother. He's older by two years, but his NBA experience consists of just two games with the Knicks in 2016. He spent the last two years in Greece, and his numbers were just plain pedestrian. I'm not saying that he's only here for one reason, but let's just say that if his last name was Smith, he wouldn't have anything close to this opportunity. The other two go a step further - they are twins. Brook Lopez was with the team last year, and now Robin has left the Bulls to join him. They are the same size, play the same position, and should provide and interesting bit of chemistry. They certainly did at Stanford. Now they have two times the power and toughness to throw at opposing big men, which is valuable now that Al Horford has been added to the mix in Philly.
One big loss for this team was guard Malcolm Brogdon, who wound up going to the Pacers in a sign and trade after scaring up a deal that was too rich for the Bucks. He became only the eighth player in league history to shoot 50-40-90 last year and was really dynamic in the backcourt when he was healthy. They probably should have paid him. In fact, they almost definitely should have. In an attempt to fill the shooting void left by Brogdon, the team brought in the ageless Kyle Korver. They also added Wesley Matthews, who isn't the payer he once was, but he came very cheap, and should be situationally useful as well. The last addition of note was Dragan Bender, who never really found his stride in three years in Phoenix , but at a minimum deal he is no risk at all.
The team only had one draft pick last year, and they chose guard Kevin Porter Jr. with the 30th overall pick. He didn't stick around, though, being sent to Detroit and then again to Cleveland.
Milwaukee Bucks Futures Odds and Trends
Milwaukee Bucks Futures Odds
NBA title odds : +500
Eastern Conference title odds : +150
Central Division title odds: -500
Giannis Antetokounmpo MVP Odds : +350 (favorite)
Season win total: 57.5
Will the Milwaukee Bucks make the playoffs: Yes -1500, No +1000
The Bucks had the best record in the league and were also the best team in the league to bet on. Their 47-31-4 ATS record was very nicely profitable. The big returns did not extend to the totals, though, as they went over just two more times - 42 - than they went under.
Milwaukee Bucks Predictions and Futures Odds Picks
There is a whole lot to like here. They have the best player in the East - and it wouldn't be tough for him to be the best in the whole league given that he is still only 24. They have a window that is fairly wide open this year with Philadelphia still not quite equal to the sum of their parts, Toronto taking a big step back, and Kevin Durant a year away from playing in Brooklyn . If the team doesn't win the East - at least - it will qualify as a massive disappointment. And the title is absolutely in play - especially if all the chemistry experiments in the West don't work out quite as well as hoped.
Read more articles by Trevor Whenham
Get all of Today's NBA Picks
Get all of Today's Guaranteed Expert NBA Picks