College Basketball Predictions: SEC Futures Odds
by George Monroy - 10/17/2013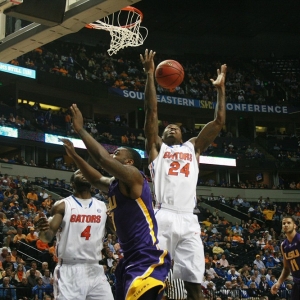 The SEC may be the most high-profile conference in all of college sports. The team is dominant in football and currently has the top-ranked basketball team in the nation. The Kentucky Wildcats had one of the best recruiting offseasons in recent memory and are receiving the best national title odds in all of college basketball. Most experts believe that the Wildcats have NBA-level talent at every position and that come March the path to the national title runs through Kentucky.
The rest of the SEC is filled with the haves and have-nots. There are six to seven teams in the conference that could be invited to the postseason tournament, while the bottom half of conference is expected to have a tough year, to say the least. Kentucky and the Florida Gators are the two teams with legitimate title aspirations, while Tennessee, Missouri, Alabama and Ole Miss all believe they can make the tournament. Let's take a closer look at one of college basketball's power conference and figure out just how good each team will be this season.
Kentucky
Title odds: +400
According to many experts, the Kentucky Wildcats have eight NBA-level players: Andrew and Aaron Harrison, James Young, Julius Randle, Alex Poythress, Willie Cauley-Stein, Dakari Johnson and Marcus Lee. Coach John Calipari's biggest problem is going to be finding minutes for all of these players. The Wildcats not only believe that they will win a championship this season, but they also feel they are good enough to go undefeated. Needless to stay, the team has huge aspirations this year, and barring a disaster of epic proportions should be able to win the conference and at minimum make a deep postseason run.
Florida
Title odds: +1200
Florida is coming off of an Elite Eight appearance last year and is considered to be a Top-10 team this season as well. The Gators are a group that many believe could challenge the Wildcats based off of experience alone. Florida will be returning many of its players from last year's run and is expecting Chris Walker—a McDonalds All-American—to likely enroll at the school in December.
Tennessee: +10000; Missouri: +10000; Alabama: +10000; Ole Miss: +10000
The SEC takes huge drop off after its top-two teams. Tennessee, Missouri, Alabama and Ole Miss are not legitimate title contenders and have little shot at actually winning the Conference. But each is putting a solid group of players on the court this season and should be able to remain competitive and make the postseason tournament. Tennessee has a solid core of Jordan McRae, Jarnell Stokes, and Jeronne Maymon, who are all-conference type of players. Missouri is expected to make the postseason for the third straight year and will be carried by Jordan Clarkson, a transfer from Tulsa, who is an excellent player.
Alabama took a hit during the offseason by losing two players—Trevor Lacey and five-star recruit Devonta Pollard—who either withdrew or transferred from the school. However, the Crimson Tide are still expected to be one of the better schools in the conference and have enough talent to be invited to the tournament. Ole Miss' best player, Marshall Henderson, will be suspended for the beginning of the season because of failed drug tests during the offseason. That loss will hurt the team for the early part of the year, but Henderson is so talented that his presence only will probably be enough to keep Ole Miss competitive and have a shot at the postseason.
LSU title odds: +20000; Arkansas title odds: +20000
Texas A&M: +30000; South Carolina: +30000; Vanderbilt: +30000
Georgia: +100000; Mississippi State: N/A; Auburn: N/A
The bottom-half of the SEC is filled with inexperienced teams that are building for the future. Mississippi State and Auburn are not even receiving national title odds from the oddsmakers and are being placed in the dreaded 'field' category. Two seasons ago LSU hired elite recruiter Johnny Jones, and the team has since been building a solid squad. LSU is still not expected to be a major player in the conference, but most experts believe it is a matter of time before the school puts together an excellent team. LSU already has the foundation in place with a group of talented freshmen that is highlighted by Jarell Martin—a McDonald's All-American. LSU might be a dark horse to end the year with an excellent ATS record.
Read more articles by George Monroy
---
Most Recent FREE PREDICTIONS - College Basketball