What Does Buck Mean In Sports Betting and Wagering?
by Doc's Sports - 10/11/2014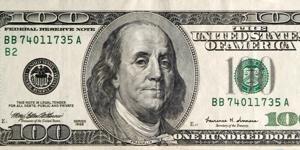 It today's world, the English language has taken a back seat to slang. Whether it be on social media, instant messaging platforms, through text or email, every body is using some sort of slang which saves them the slightest bit of time and makes them sound like a goof. In sports betting, it is no different. There is a short form for pretty much anything you can think of including the currency used to place a bet.
Get free sports picks for every league and nearly every matchup on Doc's free picks page.
What Does Buck Mean?
When you hear someone use the term "buck" they are often referring to a size of bet that is 100 times bigger than an actual buck. If you bet a "buck" on a game, you are betting a minimum of $100. Other sizes of currency that feature unique names are the "nickel" ($500 bet) and the "dime" ($1000 bet). However, nickel and dime wager amounts never change.
Risking a Buck
When you are betting a "buck" on the money line underdog, you are always wagering $100. If the money line was priced at +150, you would profit $150 for every "buck" ($100) you bet. That's the where the simplicity ends.
If you are betting the favorite on the money line, a "buck" can refer to a bet that is greater than $100. For example, if the favorite you like is -180 on the money line, using the term "buck" would tell others that you risked $180 to win $100. If the favorite was -240, a "buck" would then become $240 and the profit of $100 will still remain the same.
Why Does a Buck Make Sense to Use?
Since all money line prices center around $100, a "buck" makes doing the math for the potential return easy to figure out. Most seasoned handicappers will use a "buck" as their standard size bets, which is only a smart move if you have a big enough bankroll to handle it.
Many square bettors often gravitate to this as their size bet, which is a terrible idea. Square bettors do not have the kind of bankroll management and patience it takes find the appropriate spot to risk a "buck". Good bankroll management consists of betting a small portion of your total betting money on each game, so that one loss will not have a significant effect on your bottom line.
Whether you consider yourself a square or sharp bettor, losses are inevitable of the course of a season. The way to survive in this business is to know how much you can comfortable bet without having your entire bankroll washed away. Don't just wager a "buck" because it sounds cool.
Get expert sports picks on every game, or if you want our very best bet premium picks by the experts, sign up for your free $60 account with a guarantee.