What Does Scratch Mean In Horse Racing and Sports Betting?
by Doc's Sports - 10/11/2014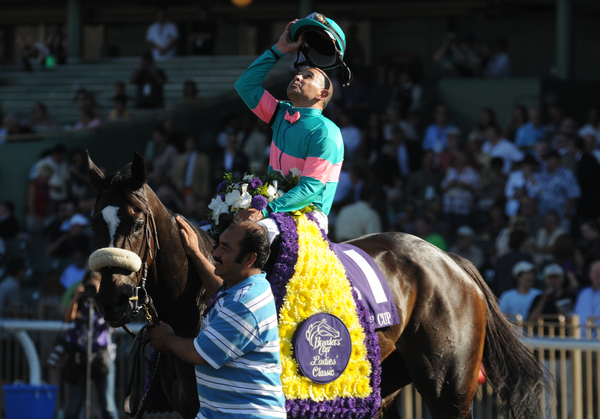 A scratch in horse racing simply means that a horse that was entered to run in a race will not be running in that race.
There are all sorts of reasons that a horse can be scratched from a race. First off is because of a decision by an owner or a trainer. Sometimes a trainer will enter a horse in two or more different races at the same time, and then wait until closer to the day of the race to decide which one sets up better for the horse. Other times, a trainer will scratch a horse if the conditions of the racing surface aren't going to be ideal - like if rain has made a turf course too soft for a horse to run his best, for example. A trainer could also scratch a horse if they aren't happy how the horse has trained leading up to the race, or if they have concerns about his health and readiness.
Get free sports picks for every league and nearly every matchup on Doc's free picks page.
Sometimes a scratch isn't the decision of the connections of a horse. Before each race a horse is inspected - typically by a race official called a steward and a veterinarian. If there is any reason that they believe that the horse will not be able to run his best, that he will potentially create a dangerous situation in a race, or that he is not likely to fairly represent the bettors who back him then they have the ability to scratch any horse. They can do so any time from the day before a race to minutes before the race starts.
A horse can be scratched leading up to the race if there is an accident of some sort. Horses can be scratched because they flip when they are getting saddled, because they throw their rider on the way to the gate, or they are unruly in the gate.
If you have bet on a horse that has been scratched then, in most cases, your ticket will be void and your money will be returned. There is an exception, though. In multi-race bets - like a pick four or pick six, for example - they will not cancel your entire ticket because one horse is scratched. Instead, they will turn your bet on the scratched horse into a bet on the favorite.
Most scratches are available the morning of the race card, with changes updated throughout the day. It is important that bettors pay close attention to those scratches. You don't want to try to bet on horses that have been scratched, or waste time handicapping horses that won't be running. You also want to be sure that a horse that you are relying on to shape a race is actually going to be in the race.
Get expert sports picks on every game, or if you want our very best bet premium picks by the experts, sign up for your free $60 account with a guarantee.