This Week in Betting, A-Z
by Trevor Whenham - 7/20/2009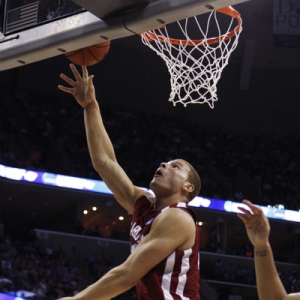 A - Anthony Morrow. Morrow is proof that you don't have to be drafted to be a good scorer in the NBA. As a rookie last year, the Golden State shooting guard scored 37 points in one of his early games. This week Morrow set the all-time scoring record at the Las Vegas summer league when he erupted for 47 points. Morrow has real game, but he likely won't get much of a chance to show it since he's stuck in a backcourt that has Stephen Curry in it now.

B - Blake Griffin. Griffin had his first chance to show that the Clippers didn't make a mistake in selecting him first overall when he made his summer league debut on Monday. He didn't disappoint. Griffin put up 27 points and added 12 boards. Summer league stats mean almost nothing, but it's still a good, though not at all surprising, sign that Griffin looked comfortable and in command against the competition he faced.

C - Ching, Brian. George Orwell wasn't a fan of Big Brother, so he likely wouldn't be a big MLS fan. Houston forward Brian Ching was watching his team play on TV because he was playing for the U.S. team in the Gold Cup later on the same night. He was unhappy with a the refereeing, so he said so on Twitter. Someone at the MLS league office noticed, and they fined Ching for it. It was a small fine, but that's not the point - this just makes the league look ridiculous, and it already has a hard enough time proving that it's not.

D - Dominance. The American League won the All-Star Game again. Don't pretend you are even a little bit surprised. It has been 13 years since the National League has won this mid-summer classic. This one was closer than some have been, but not close enough. It seems impossible that one team could be this dominant when both teams are stacked with stars, the pitchers are always fresh, and there is a different set of managers each time.

E - Evita Argentina. It was a reasonably slow weekend in horse racing, but the star was, like has been the case so often this year, yet another filly. The three year old Evita Argentina beat older fillies in the A Gleam Handicap at Hollywood Park on Saturday - the first time since 1946 that a youngster beat her seniors in that historic race. With the win this classy filly establishes herself as the top sprinter of her class, and positions herself well for a run to the Breeders' Cup Filly and Mare Sprint. I wouldn't be surprised to see here win that big race, either.

F - Fielder, Prince. This was not the most thrilling Home Run Derby we have ever seen, but you can't really blame Fielder for that. Albert Pujols and Ryan Howard failed to thrill their hometown crowd, but Fielder and Nelson Cruz were solid and effective throughout. In the end Fielder was just too strong. The accomplishment is more impressive when you consider just how big Fielder swings every single time - it has to be hard for a guy that big to stay sharp for as long as Fielder had to.

G - Georges St. Pierre. The UFC had to be very concerned coming out of UFC 100 when St. Pierre, perhaps their most impressive current champion, was injured. It was a groin problem, too - a potentially serious, lingering issue for a fighter. After an MRI, though, Dana White and company must be breathing a little easier. It turns out that the groin problem isn't serious, and that St. Pierre seems likely to be ready for a return to action well before he will likely be scheduled to fight again.

H - Howard, Ryan. The Phillies' slugger doesn't believe in wasting any time. After getting to 100 home runs faster than anyone ever had in 2007, Howard this week became the fastest ever to 200 home runs. Though he's not wasting any time, it seems unlikely that Howard will be the one to challenge any of the major career records - he didn't make the majors until he was 25, so he turns 30 this November. That's not old for a slugger, but he would probably need to have more by now to challenge Bonds and company. By comparison, Albert Pujols is two months younger than Howard and he just hit his 350th.

I - Idiot. The Jeremy Mayfield saga continues, and it's hilarious. After fighting to get a positive drug test for meth overturned, the NASCAR driver must have celebrated by doing meth - he tested positive again in a test administered on July 6. That's a damning result, obviously, but Mayfield isn't taking it lying down. He claims that the test was fixed, he says that the NASCAR conspiracy extends all the way to the chairman, and he claims that his stepmother, who has sworn in an affidavit that she has seen Mayfield do meth many times over the years, is a vindictive woman who murdered his father. This story is too good - I hope it never ends.

J - Jodie Meeks. I was one of many who thought that Meeks had made a questionable decision by staying in the NBA Draft instead of returning to Kentucky for a very good shot at a National Championship under John Calipari. He showed on Thursday, though, that he can probably compete at the next level. Playing in the Las Vegas summer league for the Bucks Meeks not only scored 29 points, but did it in dominating fashion - clearly a man among boys on that day.

K - Kentucky. The NFL supplemental draft is rarely much of an event, but then there isn't always a player of the caliber of Kentucky defensive end Jeremy Jarmon available. Jarmon was ruled ineligible for his senior season after testing positive for a diuretic supplement that he says he took without knowing it was banned. The Redskins picked up the potential all-American, and had to give up a third round pick in the next draft in exchange. Five teams were willing to give up a fourth round pick for Jarmon.

L - Larry Fitzgerald. Fitzgerald is unquestionably among the elite receivers in the NFL, and there is no question that his work ethic is a big reason for that. He showed off his determination and willingness to work this week with a camp he organized. He recruited several top receivers in the league to join him at his summer home in Minnesota, and brought in legends like Cris Carter and Jerry Rice to lead grueling on-field sessions to hone his game and those of the other attendees. That's commitment, and it will almost certainly have him more ready for the season that Terrell Owens' time on "The Superstars" will.

M - Moyer. Jamie Moyer may pitch forever. He's 46, but every time you start to think that maybe the end is drawing near he comes up with a performance like he did on Thursday night. Moyer allowed just one hit in seven scoreless innings, and the bullpen kept the door shut as Moyer got the ninth win of his season. Moyer's ERA is still higher than it has been since 1991, but he'll have a job for as long as he wants one if he can win three games for every two he loses like he has this year.

N - Nationals. This franchise is truly pathetic. They used the all-star break to make a chance at manager, replacing Manny Acta with Jim Riggleman. Acta wasn't great, but if this team believes for a second that their struggles were Acta's fault, or that Riggleman will make a difference, then they are just plain stupid. The Nationals are a case study in incompetent management, and it is depressingly hard to see a way out of their current funk.

O - Odom. Lamar Odom played hardball with the Lakers, and it appears to have backfired. The free agent reportedly wanted a contract with four guaranteed years from the Lakers. L.A. was fine with the term, but would only guarantee the first three seasons. Now the Lakers have pulled their offer off the table, and Odom is in flux. He's been rumored to be heading to Miami, but nothing has happened there yet. It still wouldn't be entirely surprising to see him return to L.A. - he's a valuable bench piece for the champs, and Odom won't have a better chance of winning anywhere else.

P - Pedro Martinez. Pedro is back in the majors. Sort of. The veteran was signed by the Phillies this week, but then was immediately sent to the DL until he is ready for major league action. The move could turn out to be a good one for the Phils, but only if expectations are realistic. Martinez has been out of action for he whole season, and he was far from in his prime when we last saw him. He can still probably be effective, but he'll need a lot of rest, and he likely won't be very durable. He was dirt cheap, though, so the risk is low.

Q - Quite a duel. There was one of those epic pitching battles that makes baseball so great on Saturday afternoon at Yankee Stadium when CC Sabathia got the win over Justin Verlander and the Tigers. Sabathia threw seven scoreless innings. Verlander was almost unhittable through six, but got dinged for two runs, including an A-Rod homer, in the seventh for the loss. He was justifiably frustrated that he pitched so well and had nothing to show for it. The most interesting stat of the game was that this was the first win in a daytime start that Sabathia has registered all year.

R - Richest. Terrell Suggs is officially the richest linebacker in NFL history after ending a protracted contract dance with the Ravens. The six-year deal is for $63 million, with $38 million guaranteed. Suggs had been sporting the franchise tag the last two years, so it has to be a relief to both him and the team that he is inked for the long haul. The Ravens continue to be among the best teams in the league at retaining their star players for the long haul.

S - Saskatchewan. Graham Harrell has a job, but it's probably not exactly the one he was hoping for. The Texas Tech star and passing savant was unable to find a gig in the NFL so he has joined the Saskatchewan Roughriders of the CFL. The CFL season is already underway, and the Riders are deep at the position behind starter and former UNC standout Darian Durant, so it seems unlikely that we'll see Harrell in the near future. If he gets a chance, though, Harrell could thrive in the pass happy league with an extra wide field.

T - Tom Watson. Well, that was... uncomfortable. For 71 holes it looked like Watson was going to win the British Open in the biggest fairy tale finish of all time. But then the wheels fell off, and watching it was far from fun. Watson's nerves got the best of him on the 18th, and he bogied to force a playoff with Stewart Cink. Cink was strong in the playoff while Watson was disastrous. You have to feel bad for Cink - he finally got a major win, and everyone watching except his family was sorely disappointed by the result.

U - Unwelcome? Manny Ramirez finally made his return to Dodgers Stadium after his suspension on Thursday, and it was unclear leading in how the fans would react to him. In the end they were warm, but they may not stay that way if he keeps playing like he did to start the homestand - he had just two hits in his first 12 at-bats. He'd been hitting well up to that point, so he is still at .317 since his return.

V - Very ugly. I can't say too much about Tiger Woods' performance at the British Open that hasn't already been said a million times. It was ugly. Very ugly. He was never in real contention, and he looked like he was perched right on the cutting edge of sanity for much of the second round. He hit uncharacteristically lousy shots time and again, and reacted like an infant each time. I know I won't be betting on Woods in a major until he shows us he can win one again.

W - Wrist. Levi Leipheimer was having a very strong Tour de France, but it all came crashing to a halt this week. The American crashed close to the finish line of a stage this week and broke his wrist, so he has been forced to withdraw. It's a blow to his powerful Astana team, but they'll still be just fine without him - Alberto Contador took the lead, likely for good, in Sunday's stage, Lance Armstrong sits in second, and Andreas Kloden is in fourth overall. Astana is like the Yankees of professional cycling, but with one big exception - they win.

X - eXplosion. Jim Thome is probably nearing the twilight of his impressive career, but he showed on Friday that he's not done just yet. Thome had two home runs and a career high seven RBI to lead his Sox past the Orioles in a rout. One of the homers was a grand slam - Thome's ninth of his career, but the first since 2006. There must be something in the water in Chicago - Paul Konerko had two home runs and seven RBI in a game earlier this month.

Y - Yao. Yao Ming has chosen to make an investment in his long-term future at the near certain expense of his upcoming season. Yao has chosen to have a combination of extensive surgeries to repair his twice-broken left foot. The long-term prognosis is good - Zydrunas Ilgauskas played eight years without a problem after similar surgery - but it's all but certain that Yao will be unavailable all year for the Rockets. Houston would happily accept that if they knew they could have him healthy for a long time in the future.

Z - Zach Randolph. To the surprise of no one, the Clippers are clearing the way for Blake Grffin to star for their squad. Zach Randolph was the team's leading scorer last year, but he is, like Griffin, a power forward, so he had to go. He was traded to the Grizzlies this week in exchange for Quentin Richardson, who was in turn traded to the Timberwolves for three players.