24 Seconds Around the NBA Playoffs
by Robert Ferringo and Nolan Sinclair - 05/28/2009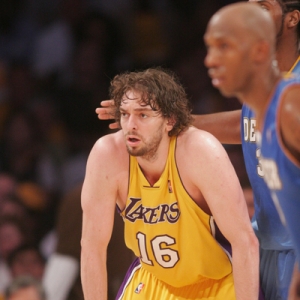 The NBA Finals are quickly approaching and we have been blessed with some outstanding basketball over the course of the last month. The Orlando Magic has the NBA regular season champion Cleveland Cavaliers on the ropes and the Nuggets and Lakers are showing us why they aren't golfing at the moment.
Three things are on many of our minds as the playoffs unfold: One, can Cleveland come back from a 3-1 hole? Two, are Kobe and LeBron going to meet in the NBA Finals? Three, is Stan Van Gundy going to move back to the shire with Gandalf and Frodo Baggins once the playoffs are over?
With that in mind, sit back and enjoy Around the NBA Playoffs in 24 Seconds:
24. Kobe Bryant has stepped up his play during the playoffs as he is averaging 30 points, four assists, five rebounds, and two steals per game. Par for the course. Bryant is also shooting 89 percent from the foul line and 46 percent from the floor. Not only is he getting it done on the floor but also on the bench. During their first quarter TV timeout last night Kobe was drawing up plays and directing his team with Phil Jackson just standing and watching. Way to earn your pay Phil.
23. The LA Lakers need more out of Pau Gasol. Obviously Kobe is their first scoring option but Gasol is an extremely difficult matchup for the Nuggets. If the Lakers get Pau more involved it will open up easier scoring opportunities for the Lakers, and easy points mean easier victories. This was clearly evident in last night's game as not just Gasol but many others contributed big points in the Lakers nine-point victory.
22. LA Lakers are just 6-4 ATS in their last 10 games, including 2-2 ATS in their last four. However, if you are looking for an impressive trend in Lakers games look no further than the total. The 'under' is 8-2 in their last 10 games.
21. This Lakers squad has been all about playing to win in important games and taking it easy in games that aren't as significant. You would think that any time you suit up during the playoffs it would be an important game, but to the Lakers, if their backs aren't against the wall, seem to coast. Remember that when wagering on them from here on out. Denver looks like a solid play in Game 6.
20. Michael Wilbon claimed that the Lakers aren't as good as we HOPE they are. What the hell does that mean? The Lake Show is one of the four teams remaining in the NBA Playoffs and they are playing toe-to-toe with one of the hottest and best teams in the NBA in the Nuggets. How can you say that they aren't as good as we hope they are? They feature Kobe Bryant and Pau Gasol, and they bring Lamar Odom off the bench. You can definitely tell that Wilbon works for ESPN. Just because the Lakers haven't swept every team in the playoffs they aren't as good as we want them to be. What a schmuck!
19. Over the last month home favorites are covering the line just over 55 percent of the time.
18. Carmelo Anthony has taken the Denver Nuggets on his back and announced that they are now his team, with a little help with Chauncey Billups, I guess. Anthony is averaging 27 points, six rebounds, and four assists per game. He has become an absolute beast in the playoffs.
17. Denver is 13-2 ATS in its last 15 games. Even more impressive is its current run on the road. Denver has failed to cover only one of its seven road playoff games after going just 21-20 ATS on the road during the regular season.
16. The Nuggets have been very streaky versus the total these playoffs. After their first two games going 'over,' their next four went 'under', followed by four straight 'overs'. Now four of the last five have gone back 'under' the total with the only 'over' coming in a game in which they scored 43 fourth quarter points. They quickly responded to that 'over' with another 'under' last night.
15. Do yourself a favor and watch the way the Nuggets team completely changes when Chris Anderson, aka "The Birdman," comes into the game. It's AWESOME!
14. The Denver Nuggets bench has developed into an impressive weapon. The Nuggets don't lose a step when Anderson, JR Smith, Linas Kleiza, or Anthony Carter steps on the floor. Smith and Kleiza can score 20 at the drop of a hat, Anderson is a maniac, and Carter does an outstanding job of running the show as Billups gets a breather.
13. George Karl has done an outstanding job of transforming this Nuggets team into a defensive ball club. During the regular season the Nuggets were one of the worst defensive teams in the league but in the playoffs it seems as if they really care defensively. Whether it's playing ball hawking on the ball "D" or blocking shots and grabbing rebounds at the end this Nuggets team is doing what it takes to win.
12. Dwight Howard is man-handling the Cleveland Cavaliers and shot clocks. Not only did Howard rip down a shot clock but he is averaging 20 points, 16 rebounds and 2.5 blocks a game in the playoffs. In the three wins versus the Cavs Howard has averaged 27 points and 12 rebounds. The Cavs bigs have been "good enough" all year but they just cannot stop Howard and that is one of the biggest reasons for this series being 3-1.
11. Mickael Pietrus has done an outstanding job off the bench for the Magic versus the Cavs. His game has actually earned him the title of the "X" Factor in this series, according to Yahoo Sports, and I couldn't agree more. He brings energy and toughness into the game when he steps on the floor and in the Magic's Game 4 win Pietrus chipped in 17 points. If he does this again in Game 5 it could be adios LeBron.
10. In Game 1 and Game 2 the Orlando Magic came back from double-digit deficits. Once they did this you could see their confidence completely change. It was as if a light bulb went off and they realized that they could play with the Cavs. Following that comeback loss in Game 2 the Magic have won both Games 3 and 4, and currently hold a commanding 3-1 lead in the series. I stand corrected that this was going to be an easy series win for the Cavaliers. Now I don't see at all how they can come back because besides playing with confidence the Magic just have too many mismatches that Cleveland can't account for.
9. Hedo Turkey Glue has done an amazing job as the point forward versus the Cavs. All of the analysts that discuss the games have constantly said that the Cavs need to come up with a way to stop Dwight Howard if they want to win. I completely disagree. Cleveland needs to figure out a way to limit Hedo's penetration and his vision. If the Cavs continue to run shorter defenders at Turkey Glue he will continue to attack the rim and get the ball easily to Howard and to open jump shooters.
8. The Orlando Magic are on a six game ATS winning streak, including all four games versus the Cavs. The Magic currently sits as a 7.5-point dog in Game 5.
7. The Magic are 7-10 versus the total in the playoffs with every one of their totals set from 184-194. When the total is set at 190 or higher they are just 2-6 against the total.
6. The Cleveland Cavaliers are currently in a 3-1 hole and this is not a good thing if they plan on playing in the NBA Finals. Approximately 60 percent of the teams that find themselves down 3-1 lose in Game 5, 20 percent lose in six, 15 percent lose in seven, and just five percent come back to win the series.
5. This just in: Mo Williams has decided to give up basketball and take up fortunetelling. The only thing is that he isn't very good at the latter. Someone tell him not to guarantee anything from now on. All he does is give his opponents bulletin board material. And we're past guarantees. It's time for him to simply make some shots.
4. LeBron James has done everything he possibly can to put his team in position to win games versus the Magic. James is averaging 42 points, seven rebounds, and seven assists through four games.
3. The Cavs need one blowout win to get themselves back into this series. If they can go out and win Game 5 by 15+ points the moxy the Orlando Magic have could slowly deteriorate. But I don't see that happening.
2. Someone please tell this Cavs team to get a damn stop! What happened to their suffocating defense? Good Lord!
1. Check back soon for 24 Seconds around the NBA Finals.