Breeders' Cup Preview: Breeders' Cup Classic
by Trevor Whenham - 11/6/2009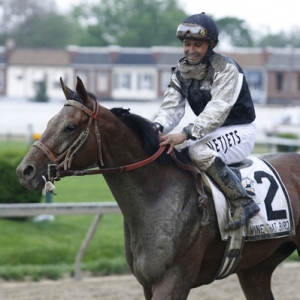 The last of the seven 'real' Breeders' Cup races that we're previewing also should be the best. It's certainly the deepest. This one could go any number of ways. All I hope is that it is better than last year. Watching Curlin flounder on the synthetic surface and disappoint last year took much of the joy out of the event.

The favorite is taking a big risk choosing this spot, but she makes it very interesting. It's very rare to see a female horse run in the Classic, but it's also very rare to see a horse like Zenyatta.
She has run 13 times in her career, and she has yet to lose. All but one of her races have been in California on the synthetic surface, and she has soundly handled every challenge that has come her way. She does it by stalking the pace and then unleashing a devastating kick down the stretch. With apologies to Rachel Alexandra she's the most impressive horse we've seen in North America this year.
That being said, it's hard to trust her as the favorite here at 5/2. There are two main problems - she has never run the mile and a quarter distance that she faces here, and she has never run against the boys. Both of those are big hurdles by themselves, and together they make me nervous.
The price is certainly too low, and it will probably go lower because she's a very recognizable horse running at home so the public will flock to her. Given that, I really wish that I could just ignore this horse entirely, but she's far too good for that. No one said that this was going to be easy.

Second choice at 7/2 is Rip Van Winkle. This European invader is hoping to continue the trend started last year when Raven's Pass came from Europe to win the Classic. This horse is a better runner than Raven's Pass was. Like that horse he won the QE II Stakes in his last outing. He won twice this year, and would have had more if he hadn't run into the great Sea The Stars three times in a row. He's an impressive horse, and there is a chance that he will wind up as the favorite, but I can't help but feel like this horse is too good to be true. Maybe I just think that the Classic should be a race for North American horses, but I'm skeptical.

Summer Bird, the third choice at 9/2, would have a good shot at being Horse of the Year in most years, but won't be this year even if he wins here because of Rachel Alexandra. That's a shame because he deserves it - his Belmont win was impressive, and he followed it up with better ones in the Travers and the Jockey Club Gold Cup. He's the best colt in his class, and he has beat older horses, so he is certainly a factor here. After watching Curlin last year my biggest concern is the surface - he has only ever run on dirt, so there is no way to know how he will take to the synthetics. No dirt horses made the transition well last year, but I'd like to believe that this horse could. He has been working well since he got to California. But then so did Curlin.

I will always have a soft spot for Mine That Bird. His Derby win this year was one of the most incredible things I have ever seen. He was almost as impressive in the last two Triple Crown races as well, but since then he hasn't looked very good at all. He has only run twice, and was sixth at Santa Anita the last time out. He was also a disastrous 12th of 12 in the Breeders' Cup Juvenile on the Santa Anita track last year. Despite that, we know that he can run on synthetics because he did it very successfully in Canada. He has also been training as well as is possible leading up to this race. I made the mistake of counting this horse out once before. Whether he can legitimately win here or not, I don't think that I can count him out here.

Bob Baffert is red hot at Santa Anita this fall, and he has a fantastic set of horses at the Breeders' Cup. Richard's Kid, 12/1, is his Classic contender, and at that price he is certainly worth a look. He pulled off a huge upset in the Pacific Classic at Del Mar this summer, and followed it up with a nice run in the Goodwood at Santa Anita to finish third in his last outing before this one. Like seemingly everyone in this race, Richard's Kid is training very well, and appears to be sharp.

Gio Ponti is yet another intriguing entrant here. This summer he emerged as the best Turf horse in North America, so it seems odd to see him here. The mile and a half distance of the Turf is too long for him, though, and the Mile is too short. This distance is his specialty, and the Pro Ride isn't that far away from turf for a lot of horses, so it probably isn't as crazy as it seems. He's 12/1. So is Einstein, one of the true warriors running today. He has had an up and down year this year, but he posted a career high Beyer on the synthetic last time out in finishing second to Richard's Kid in the Pacific Classic. He's yet another one in this ridiculously deep race that can't be easily ruled out.

I could go on. Colonel John, 12/1, is a 2008 Kentucky Derby runner who was sixth in this race last year, and was a strong second on this track last time out. Quality Road, 12/1, won the Florida Derby, missed Kentucky, but came back to have a solid summer, though he has never run off dirt. Regal Ransom, 20/1, was a disappointing eighth in the Derby this year after prepping well in Dubai. He has run just once since, though it was a win. Twice Over is a Euro who is forgotten at 20/1, but I'm flirting with the idea that I might actually like him better than Rip Van Winkle.

This race just goes on and on and on. It should be, well, a classic.