2020 Rebel Stakes Predictions with Odds and Expert Betting Picks
by Raphael Esparza - 3/13/2020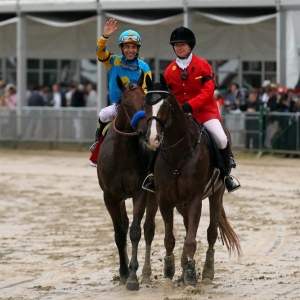 The Rebel Stakes, one of the Kentucky Derby prep races in Arkansas, will take place Saturday with no spectators. Last year at the Rebel Stakes we saw a big upset as Long Range Toddy beat the favorite, Improbable.
The Rebel Stakes has been won by only top Hall of Fame trainers, and it wouldn't shock me to see the same thing late afternoon Saturday. Horse trainers Bob Baffert and Todd Pletcher have been dominant in this race. And, of course, Baffert leads in the win column since 2010. One of the most memorable Rebel Stakes was in 2015 when American Pharoah ran away with the win, and we all know how American Pharoah ran that year.
Saturday's Rebel Stakes edition features eight entrants, including the son of American Pharoah, the (8) horse, American Theorem. A small handful of horses could hit the board. And, let's face it, points are needed in this race if you want to go to the Derby. Here are the highlights of the field (Odds are the morning line track odds).
Nadal (5-2): Wow! What a shock another Bob Baffert trainee is the opening morning line favorite. Nadal has put together a nice resume with impressive two race wins in Santa Anita. And with what I saw in San Vicente, this horse could easily win this race. He will have to go two turns for the first time in this race. However, Baffert has trained this horse, so that shouldn't be a big deal. Nadal is the favorite for a reason.
Excession (30-1): is one of three entries in the Rebel for Asmussen, and this horse has no chance of winning the Rebel Stakes. Excession has one lifetime maiden win, and that 'W' came on a sloppy track at Churchill Downs in November.
Basin (3-1): If you are looking for a nice horse that ran well at Saratoga last summer, Basin is your horse. Basin has been training at Fair Grounds, and he has put up some fast workouts at five furlongs. Therefore, if jockey Jose Castellano can position him well down the stretch, he will hit the board.
Silver Prospector (7-2): All this horse does is hit the board, and it wouldn't shock me to see him hit the board on Saturday. One thing I like about Silver Prospector is that he will be overlooked, and we could get a better price on him before the gate gets released. If you play exotics, this horse has to be in consideration.
No Parole (8-1): No Parole should be named "No Way"! I know this horse is unbeaten and is Louisiana-bred, but he has never faced this much great competition. Three victories for this horse is why No Parole is battling for the Rebel Stakes. However, he is way out of his class, and it will show on Saturday.
Three Technique (7-2): This horse will see some action just because it's owned by former NFL coach Bill Parcells, but that won't be enough to win. Three Technique has either run first or second in all five of his starts. It wouldn't shock me to see this horse hit the board, and I'm very curious to see what the bettors do on Saturday.
Coach Bahe (30-1): Last minute addition to the field from trainer Phil Bauer, and maybe Bauer should have kept this horse at home. No chance for Coach Bahe on Saturday, and I highly recommend tossing this horse out.
American Theorem (6-1): As I already mentioned, this horse is the son of American Pharoah, but I don't see that making a big difference. This horse hasn't raced in over six months, and Saturday he will make his 3-year old debut against a very strong field. I don't see him hitting the board, but I have seen crazier outcomes in horse racing. Maybe throw this horse in the back end of some exotics.
Raphael Esparza is one of the best handicappers in all sports. This weekend Esparza is hoping to have plays from Horse Racing and UFC. New clients can take advantage of Doc's no-hassle $60 free picks offer and get Esparza's weekday picks .