2020 Louisiana Derby Predictions with Odds and Expert Betting Picks
by Raphael Esparza - 3/19/2020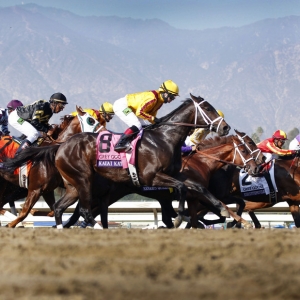 Saturday at an empty Fair Grounds Park is the running of 107th Louisiana Derby, one of the Kentucky Derby prep races in New Orleans. Last year at the Louisiana Derby we saw a big upset as By My Standards rallied to beat the 10 horse Spinoff, and the favorite War of Will didn't even hit the board.
The Louisiana Derby has twice sent winners on to win the Kentucky Derby: Black Gold (1924) and Grindstone (1996). Other notable winners include one of my favorite horses, Risen Star (1988) and recently Gun Runner (2016). If you haven't heard, the 142nd Kentucky Derby has been rescheduled to September 5, 2020, due to the COVID-19 virus.
Saturday's Louisiana Derby edition features 14 entrants, plus two eligible horses, and this 1 3/16 mile race is going to be very entertaining. A handful of horses could hit the board. And, let's face it, points are needed in this race if you want to go to the Derby in early September. Here are the highlights of the field (Odds are the morning line track odds).
Major Fed (8-1): This horse has had some solid workouts as of late, and he finished second in the Risen Star Stakes. Major Fed lost to a $27.00 horse in Modernist at the Risen Star Stakes, and it wouldn't shock me to see Major Fed hit the board.
Mailman Money (15-1): Some horse racing experts believe Mailman Money could have won the Risen Star Stakes if he didn't get bumped early in that race. A little shocked at the morning-line double-digit odds for this horse. However, with this big of a field, he will need a perfect run to win this race.
Wells Bayou (8-1): In the Southwest Stakes, Wells Bayou set the pace early and finished second. However, I do believe the class in the race will be too much. With the lack of speed, this horse probably will get passed by in the stretch, and I don't see him hitting the board.
Chestertown (15-1): Shocking that this horse is 15-1 given his pedigree and good workouts. Chestertown could be the big surprise in this race, and you can guarantee I will have him in my exotics.
Social Afleet (50-1): He's been winning against lesser talent here at Fair Grounds, but Saturday he has no chance at winning the Louisiana Derby.
Shake Some Action (15-1): Jockey Colby J. Hernandez will need to settle the horse early, and if successful then he could be in the running to hit the board. Shake Some Action comes from a good barn, and he could be an additional to some exotics.
Sharecropper (20-1): Don't like the position for Sharecropper, so he will be a throw out for me. However, if you like him, play him.
Royal Act (10-1): This horse came in second at the Thousand Words in the Robert B. Lewis at Santa Anita, and I would be shocked to see this horse at 10-1 on Saturday. The son of American Pharaoh will be a threat in this race, and I would consider him in all exotics.
Portos (8-1): At Aqueduct, this horse finished third in the Withers Stakes. And with the added distance, this horse could hit the board. Backend speed could be the reason this horse hits the board, so keep an eye out on the betting odds.
Enforceable (7-2): The added distance is probably going to suit the favorite here. Hopefully he doesn't come out of the gate slow, because if he does he will be finished early. This horse has speed, and jockey Julien Leparoux should give him an outstanding ride Saturday afternoon.
Ny Traffic (15-1): A speed horse that finished third in the Risen Star Stakes getting no love from the oddsmakers. Ny Traffic is getting blinkers on for this race, and I'm torn to either add him to exotics or throw him aside.
Lynn's Map (30-1): Sorry! No chance of winning or hitting the board.
Silver State (6-1): This horse could surprise a lot of bettors on Saturday. The distance and a favorable outside post could benefit him. Here is another horse that I would highly recommend keeping an eye out for.

Modernist (6-1): Here is your Risen Star Stakes winner! Modernist has great early speed. And as long as jockey Junior Alvarado doesn't go wide, this horse could win this race. Can't wait to watch this horse run on Saturday, because this horse has mystery written all over it. Modernist will be in my exotics.
Mr. Big News (20-1): This horse is on the also eligible list and will need a scratch to run.
Farmington Road (12-1): This horse is on the also eligible list and will need a scratch to run.
Raphael Esparza is one of the best handicappers in all sports. This weekend Esparza is hoping to have plays from Horse Racing and soccer. New clients can take advantage of Doc's no-hassle $60 free picks offer and get Esparza's weekday picks .