10 Reasons The Breeders' Cup is so Hard To Handicap
by Trevor Whenham - 11/3/2009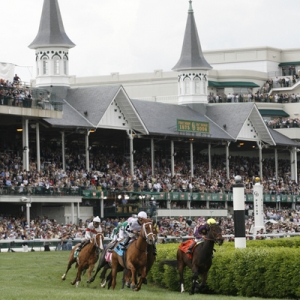 Let's not mince words - the Breeders' Cup is hard to handicap. Very, very hard. That doesn't mean that you shouldn't handicap it, of course. It just means that you need to be prepared. That means lots of study and preparation. It's also a pretty good idea to pay for some advice. I usually buy picks from several sources for the Breeders' Cup. I may or may not use them, but it gives me more of an insight into what people are thinking, and gives me a much better chance of success. Spending a few bucks up front for Breeders' Cup picks always saves me much more in the end.

So, why is the Breeders' Cup so hard to handicap? Here are 10 reasons:

1. The number of races - The event is a marathon. There are 14 races over two days, and each one features big fields packed with top horses. It takes a long, long time to handicap each race - more than a normal race by far. Trying to be ready for all 14 races, or most of them, is not easy. I get tired just thinking about it.

2. Horses try new things - The horses are all top-notch runners that have excelled in some way to get there. In many cases, though, horses are doing things they haven't done before - turf horses trying the dirt, sprinters stretching out to a mile or distance horses shortening to a mile, fillies facing the boys for the first time, and so on. Every time a horse is doing something for the first time we are forced to guess how they will do. Most times we might just discount a horse making a change like this, but these horses are too good to be ignored.

3. Size of fields - It can be hard enough to figure out a typical stakes race with seven or eight horses entered. The Breeders' Cup can have fields as big as 14, and several races will be fully subscribed. Any time a field gets that big there are issues with crowds, post position, and race strategy that are especially difficult to decode. It's especially hard here because most of the horses that are entered belong in the races, so more horses mean more potential winners.

4. Size of betting pools - The Breeders' Cup draws enormous amounts of betting money. That means that the pools are large and reasonably efficient. Fat inefficiencies that can be exploited for profit on a slow Wednesday at your local track just don't exist on these days.

5. East versus West - Top American horse racing exists on both coasts, and the horses often don't co-exist during the year. When they do come together you have to determine the relative strength of the racing in both places so you can guess as to whether the standouts from one coast will be more successful than the other.

6. The Euros - It's not easy to get coverage of European racing during the year here, and it's not easy for us to understand their past performances because they are so different than ours. That means tat we largely have to guess about the quality of the European invaders and their chances. That's especially difficult in years when the host track has a dirt surface - something they rarely see in Europe.

7. Different ages - In many of the races you'll see the top three year olds taking on the top older horses - often for the first time. It's never easy to figure out if a horse is ready for that challenge, or how the three year old class stacks up against the elder statesmen.

8. Surfaces - I get a headache just thinking about this. The Breeders' Cup this year will be on a synthetic track. Many of the horses from the East Coast have run mostly or exclusively on dirt tracks. Some horses make the transition to the new surface easily. Others, like Curlin last year, really don't. Trying to determine the impact of the surface is the biggest single puzzle that handicappers face here.

9. Different trainers, different approaches - You can generally assume that a trainer that has a Breeders' Cup horse is pretty good. You can't assume, though, that they do things in a standard way. With so many talented trainers there are sure to be dozens of different approaches to preparing for these races, so it is harder than usual to determine if a horse is fit and ready to give his best performance.

10. Top jockeys galore - At most tracks during a regular meet you can be reasonably successful just based on jockey handicapping. You know that a decent looking horse with a top jockey on it stands a better chance than average of winning, and that a decent horse with a lousy jockey may not be likely to run its best race. The top jockeys in the world gather for the Breeders' Cup, so that means that there are very few weak riders in each race, and very few horses that you can eliminate on the basis of their likely bad ride.