Breeders' Cup Preview: Ladies' Classic
by Trevor Whenham - 11/4/2009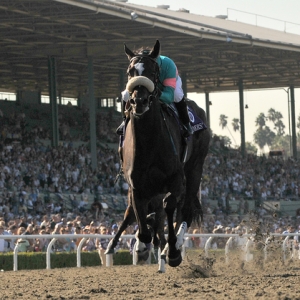 There are 14 Breeders' Cup races, but I'm old fashioned and still believe that there are only seven that really matter. The second of those seven that we will be previewing, and the last of two that take place on Friday, is the unfortunately-named Ladies' Classic - a race that should still be called the Distaff. The race was won last year by the thoroughly dominant Zenyatta. She's moved on to the bigger, tougher challenge of the Classic, the second richest race in the world, so this race is now more wide open than it could be.

Compared to some of the other races on the card the field is a comparatively small eight horses. If you believe what the oddsmakers suggest then it's really only a two horse field - Music Note at 9/5 and Careless Jewel at 2/1 are far ahead of the next best, Rainbow View, at 6/1. As is always the case when a horse or two seems widely separated from the field the trick is to determine if they are worth the focused attention.

Music Note comes from the powerful Godolphin Racing stable. Owned by Sheik Mohammed of Dubai, Godolphin spends more money on horses each year than anyone, and they come to Santa Anita this year with a potent group of runners after having won a stunning number of graded stakes this year. Music Note was third in the Ladies Classic last year, but she got forced five wide for much of the trip and was still hard charging at the finish. She's run just three times this year, but the last two have been Grade 1 wins against strong company. The biggest concern is that she has only run once on a synthetic surface - the third in the Classic last year - so we don't know for sure that she can handle the surface. The trick will be determining whether there is still value in the favorite given that.

Careless Jewel, a three year old filly, hasn't run at Santa Anita before, but her six races have been at five different tracks, including three synthetic surfaces, so she is very well traveled and experienced despite her comparative youth. She has won her last five races, including three by more than seven lengths, so she certainly has game. She's also quite likely to be the lone speed in this race, which means that she'll be able to take the lead early and run with it. That can be a risky tactic on a synthetic track, but she's obviously talented at employing it, so it could work - especially if she can open a comfortable lead before the closing charge. The Pro Ride surface at Santa Anita has been far more kind to speed horses this year than it has been in the past.

Rainbow View, 6/1, is a European invader who ran once at Woodbine in Toronto on her way here. She's a reasonably talented and successful runner, but she has run all of her races on the turf. Given that, it seems like a bit of a mystery as to why she is running here instead of one of the turf races. We have no idea how she will handle being off the turf, so handicapping her takes more than the typical amount of guesswork. Europeans did take well to the Pro Ride last year, though, so you shouldn't use that factor to rule her out if you otherwise like her.

Cocoa Beach is a stablemate of Music Note, and did her one better last year by finishing second in the Ladies' Classic. Despite that, she's at 8/1. Given that price, you can make an argument that she is the better value. She followed up last year's Classic by winning a race on the synthetic at Hollywood. After a fairly cautious campaign this year she came back to Santa Anita and ran her best race of the year in finishing third to Zenyatta In that race she did something that always gets my attention - she lost ground coming into the stretch, but had the heart to fight and gain it back again. She also came out of the gate poorly that day.

The longshot that calls for at least a look is Lethal Heat at 20/1. In her seven starts this year she has yet to win, but she has also finished worse than third just once. In her last race, at Santa Anita, she was sandwiched between Zenyatta and Cocoa Beach. She has never broken 100 on the Beyer rating and that's not ideal, but she is a graded stakes winner last year, and she has consistently got a piece in big races this year. She may not be a prime pick to win, but she could be useful at her price in exotics.