Breeders' Cup Synthetics
by Trevor Whenham - 10/30/2009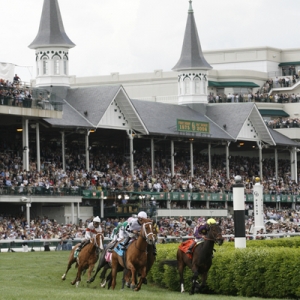 I hate synthetic surfaces, I am sick of talking about them, and I resent that the Breeders' Cup has made them such a significant issue this year and last year. The choice to hold the event on the controversial surface two years in a row adds another level of difficulty to an event that is already extremely difficult to handicap. If you don't spend a lot of time understanding the surface and what it means for handicapping races then you're just not going to be successful.

So, what is a synthetic surface? Basically, it's a man-made surface that replaces sand or dirt on a race track. There are several different types or brands of synthetic surfaces, and the one that Santa Anita uses is call Pro-Ride. It's a mixture of recycled rubber, synthetic fibers, wax, sand, and who knows what else. There are two main reasons why advocates of the tracks tout them - they are supposed to be more consistent in a range of temperatures, and they are supposed to limit injuries and fatal breakdowns.

Those sound like good things, so why do I hate them so much? Synthetic tracks were adopted in a few places in the U.S. quite quickly - most notably in California where the tracks were legislated - in response to a legitimate, important desire to improve horse safety. The problem is that they were introduced before the impact of the tracks was understood scientifically, and the outcomes of the new tracks hasn't been conclusivly shown to be positive.
You can find examples where the synthetic surfaces have improved things, but they are only anecdotal, and there are equally compelling cases to be made for the use of dirt tracks. On top of that, the tracks that have gone synthetic have had a hard time finding a surface that works well for them - Santa Anita completely pulled out the surface and replaced it last year because it wasn't working properly. I would obviously be fully in favor of a track that was safer and more consistent, but I am not at all convinced that that is what synthetics actually offer.

Only a few major tracks in North America use synthetics - all California tracks, Woodbine, Arlington, Keeneland, and Turfway most notably. Not only do they use several different kinds of synthetic surfaces that are all somewhat different from each other, but those surfaces are all very different from the dirt tracks that are used at the rest of the major tracks in North America.
Though synthetics are designed to replace dirt tracks, the problem is that they are actually nothing like dirt. A horse that runs well on turf is, in many cases, more likely to run better on synthetics than a horse that has excels on dirt. If a horse has never run on synthetics before then you have absolutely no way of knowing how they will take to it.
The surface can turn a beast on dirt into a lamb on synthetics - as it did for Curlin last year. It can also allow horses familiar with and suited to the surface to gain an edge - Raven's Pass and Henrythenavigator finished 1-2 in the Classic last year after racing on synthetics in Europe, and I am not at all convinced that they would have done the same on dirt. It goes both ways as well - one of the headaches of the spring is determining how horses that have prepped in California will do in the Kentucky Derby. By having different racing surfaces you are creating an uneven playing surface, and you are making a world championship event that isn't really a true measure of the best horses in the world. The most obvious example of that is Rachel Alexandra, the Preakness winning super filly who is skipping the Breeders' Cup entirely because of the surface.

I wouldn't have as much problem with the synthetic surfaces if the individual tracks themselves were consistent, but they really aren't When the synthetic surface was first put in at Del Mar it was like the horses were running through mud, and it took them more than a year to get it sorted out.
Santa Anita was fast last year. Because synthetics are supposed to be consistent you'd think that that would mean that we could learn a lot about what will happen this year from studying what happened last year. Not so fast. Though it is the same surface, the track is completely different than it was last year. Median times have been significantly slower, and as a result front runners have had a much harder time holding on to their leads. Not only do we have to figure out how horses will respond to this track, but we have to figure out how the track itself will perform. Have I mentioned I hate synthetics?

Determining how to deal with the surface is the single biggest challenge of handicapping the Breeders' Cup. Last year I was far from the only one who made the mistake of underestimating the impact of the track. I deciding to highlight the best horses in the fields, when what I should have been doing is highlighting the best horses for these very unique and limiting circumstances. I plan to adjust for that this year, and that will work as long as I can hit the moving target that these so-called consistent tracks present. The Breeders' Cup is still the fourth best event in North American horse racing, but this setting sure doesn't allow it to be it's best. Thankfully, it's heading to Churchill Downs, one of the world's great dirt tracks, next year.