NASCAR: Carfax 400 Odds and Predictions
by Christopher G. Shepard - 8/14/2009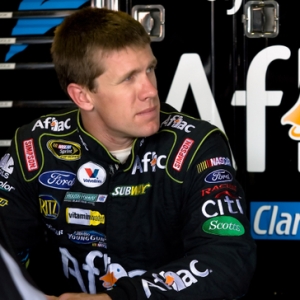 By virtue of winning his third race of the season at Watkins Glen last week all Tony Stewart needs to do is get in his car and start his engine at Michigan International Speedway on Sunday at 1 p.m. for the Carfax 400 and Smoke is guaranteed a spot in the Chase, which means there are 11 Chase spots up for grabs with four races to go before the points reset.
Gamblers looking for an edge this Sunday should note that 64 percent of the races run at Michigan, or 51 of 80 races, have been won from within the Top-5 spots on the grid. However, in recent history at Michigan this has been the exception. Only three races in the past 10 have been won by a driver who started in the Top 10 on the grid while four of the past 10 races have been won by drivers who started 24th or higher. In fact, in the spring race Mark Martin won after starting from 32nd.
Who will win the 2009 Carfax 400?

Carl Edwards kind of figured that Watkins Glen race leaders Tony Stewart and Mark Ambrose would run out of gas and he'd pass them for the win. They didn't and Edwards finished third at the Glen. He needed a strong finish to keep his hold on sixth place in the NSCS standings. This Sunday Edwards has a good chance to improve on last week's third-place finish.

Michigan is the place where it all began for Edwards, who popped his Sprint Cup cherry at MIS. This week Edwards is the Carfax 400 defending champion and it's highly probable that the driver who won six races last year will win his first race of the year on Sunday. How good is "Concrete" Carl at MIS? In 10 races Edwards has six Top-5 and nine Top-10 finishes.
Michigan's second best driver is Stewart with an average finish of 7.40. However, given his position in the NSCS standings I have a hard time seeing the ultra-competitive Stewart pushing too hard for the chance at 10 bonus points. As it is Smoke already will have 30 bonus points when the points reset and while I see Stewart finishing in the Top 10 (or even Top 5) I don't see him taking un-necessary chances to win either; an eighth place finish feels about right to me.
I don't think there is any chance that Kurt Busch overtakes Jeff Gordon for third in the NSCS standings this week, but Gordon slammed hard into the wall last week and he'll have a hard time shaking it off with the damage and pain he's already had in his back. Something tells me he'll be driving to earn points this week rather than to win and I look to Gordon to finish in the high Top 10 to Top 15.

Kyle Busch is set at 8/1 to win on Sunday and really needs to do well at Michigan but if past history is an indication, and sometimes it is, Joe Gibbs Racings' cars and Kyle Busch have not run well at MIS. While Kyle qualifies well at MIS he manages to lose between 5-7 positions during the race and ends up not doing nearly as well as you would expect him to do and this week I don't see Busch improving on 13th in the NSCS standings.

In fact, in the last five races at MIS Edwards is the best driver in the Sprint Cup with an average finish of 4.00. So if you don't like Edwards to win you can hedge your sports investment by backing Edwards to finish in the Top 3 at 2/1 and cover your win market bet as well and have a good chance of both of your bets cashing.
Pick! Carl Edwards, No. 99, (7/1)
2009 Carfax 400 - Lucky Dog Long Odds Special
MIS was the place where Dale Earnhardt, Jr, killed a 76-race winless streak and now he'll hope he can kill another one -- a bad luck streak. To say Junior has weathered bad luck this year is to put it mildly. The fan-favorite is enduring one of the worst years in his racing career. Bad years happen. But when you are driving for a proven winner like Hendrick Motor Sports, who have already had wins with three drivers this year, it is expected that you fix what is wrong quickly. And when you drive for HMS when bad things happen they should not happen for more than a race or two, right? Replacing Junior's crew chief in mid-season this year has not brought the improvement that HMS had hoped; in Junior's last five races he's notched three DNFs and a 15th at the Lifelock 400 and a 28th two weeks ago at Pocono. Junior returns to Michigan as the fifth best active driver at MIS. In 10 races he has one win, three Top-5s and four Top-10s. His average start position is 18.10 but has an average finish of 12.00 at MIS. So this week I am going to take a flyer on NASCAR's most popular driver at tasty 35/1 to win odds.

Pick! Dale Earnhardt, Jr. No. 88, (35/1)
2009 Carfax 400 - Odds for Top-3 Finish
Biffle is the fourth best active driver at MIS. In 10 races Biffle has won twice and posted five Top-5s and seven Top-10 finishes and while his average start position is 14.80, Biffle's average finish is 10.50 -- just slightly worse than Matt Kenseth, who is third at MIS with an average 10.30 finish. Add that to the fact that Rousch Fenway Racing does really well in their backyard (RFR is just up the road from MIS). Biffle won at Michigan back-to-back in August 2004 and June 2005 but hasn't won since. However, Biffle's last two races at Michigan have produced Top-5 results; a fourth in August and a fifth this June. Last week at The Glen Biffle improved on his starting position of seventh with a fifth-place finish, which put him firmly in 10th place in the NSCS standings, with a great chance to make the Chase. Like last week, though, Biffle will feel the pressure from bubble-boy Kyle Busch who is 13th in the standings and looking to make up 57 points for the 12th and final spot. I see Biffle having another great race at Michigan this Sunday. I will also put down a few ducats on Junior to finish the Carfax 400 in the Top-three at 11/1.
Pick! Greg Biffle, No. 16, (27/10)
Pick! Dale Earnhardt, Jr. No. 88, (11/1)

Carfax 400 - Odds* to Finish in the Top 3
Sun. Aug. 16, 1 p.m. Michigan International Speedway
A.J. Allmendinger 22/1
Bobby LaBonte 38/1
Brad Keselowski 38/1
Brian Vickers 6/1
Carl Edwards 2/1
Casey Mears 38/1
Clint Bowyer 11/1
Dale Earnhardt Jr. 11/1
David Ragan 38/1
David Reutimann 27/2
David Stremme 38/1
Denny Hamlin 7/2
Elliott Sadler 38/1
Greg Biffle 27/10
Jamie McMurray 30/1
Jeff Burton 22/1
Jeff Gordon 12/5
Jimmie Johnson 6/5
Joey Logano 18/1
Juan Pablo Montoya 15/2
Kasey Kahne 11/2
Kevin Harvick 15/1
Kurt Busch 3/1
Kyle Busch 5/2
Mark Martin 2/1
Martin Truex Jr. 30/1
Matt Kenseth 13/2
Michael Waltrip 45/1
Reed Sorenson 38/1
Ryan Newman 15/2
Sam Hornish Jr. 38/1
Scott Speed 38/1
Tony Stewart 2/1
Field (Any Other Driver) 9/1
Odds* to win the Carfax 400
Sun. Aug. 16, 1 p.m. Michigan International Speedway

A.J. Allmendinger 75/1
Bobby LaBonte 125/1
Brad Keselowski 125/1
Brian Vickers 20/1
Carl Edwards 7/1
Casey Mears 125/1
Clint Bowyer 35/1
Dale Earnhardt Jr. 35/1
David Ragan 125/1
David Reutimann 45/1
David Stremme 125/1
Denny Hamlin 12/1
Elliott Sadler 125/1
Greg Biffle 9/1
Jamie McMurray 100/1
Jeff Burton 75/1
Jeff Gordon 8/1
Jimmie Johnson 4/1
Joey Logano 60/1
Juan Pablo Montoya 25/1
Kasey Kahne 18/1
Kevin Harvick 50/1
Kurt Busch 10/1
Kyle Busch 8/1
Mark Martin 13/2
Martin Truex Jr. 100/1
Matt Kenseth 22/1
Michael Waltrip 150/1
Reed Sorenson 125/1
Ryan Newman 25/1
Sam Hornish Jr. 125/1
Scott Speed 125/1
Tony Stewart 7/1
Field (Any Other Driver) 30/1
*Odds courtesy of Bodog