2014 NASCAR Sprint Cup Futures Odds and Betting Picks
by Dave Schwab - 2/12/2014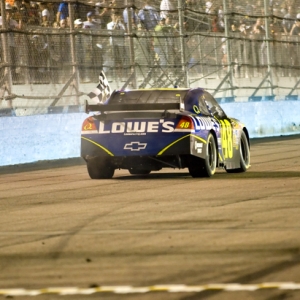 NASCAR is getting ready to fire up its engines for the start of another season of Sprint Cup racing, and Bovada has released its updated futures odds for which driver will bring home this year's title. The following is a look at my betting picks for winner, a few contenders and my top-valued longshot to win this season's Sprint Cup.
Favorite
The driver at the top of just about anyone's list when it comes to Sprint Cup titles is Jimmie Johnson. He has already added six previous Sprint Cups to an illustrious racing career in NASCAR, including last season's title. It is little surprise that he has been opened as a 5/2 favorite to win again this year. Johnson held this title from 2006 to 2010, with five consecutive championships, and after a two-year hiatus from the top spot on the list, he stormed back to the front of the pack with six victories and 10 additional Top-5 finishes in 36 races in last season's run to the Cup.
Looking back at his six career titles, the No. 48 car has posted a grand total of 41 wins during those championship runs, which is exactly what it will take to add a seventh title to the record. NASCAR's recent rule change involving its 10-race Chase to the Cup now puts a premium on winning races as opposed to simply accumulating points. Nobody has done a better job at accumulating checkered flags over the past eight seasons than Johnson.
Contenders
Kyle Busch is listed as a 7/1 second-favorite to win this year's Sprint Cup, but my top contender for the crown is Matt Kenseth at 15/2. He is just one of five drivers to win a title since 2002, and he pushed Johnson to the final race of the 2013 season in an effort to add a second Sprint Cup to his racing resume.

What makes the No. 20 car so attractive at these odds is its driver's ability to win races as well. Kenseth led the field last season with seven checkered flags, with two of them coming in the first two races of the Chase at Chicago and Loudon. He went on to capture four additional Top-5 finishes in the final eight races of the Chase, but a disastrous 23rd-place finish at Phoenix in the second-to-last race of the year all but ended his title hopes.
My other top contender to give Johnson a run for his money this season is Denny Hamlin and the No. 11 race team. The 2013 season was a lost cause for this team after an accident at Fontana in the fifth points race of the season knocked Hamlin out of commission for the next four races, thus ending his bid for a title before he ever got started. He has been opened at 10/1 to bounce back with a big season that ends with a title in hand, which offers quite a bit a value for a driver of his caliber.
Hamlin's best season was in 2010 when he led the field with eight victories. He took Johnson right down the wire that year with a legitimate shot at winning the Cup heading into the final race at Homestead-Miami. He came up just short to finish second in the final point standings. If winning races is the key to winning this year's title, then Hamlin is a proven commodity.
Top Value Longshot
NASCAR is not the kind of sport to wager heavy on longshots especially when it comes to futures odds for a Sprint Cup title. There are only about three or four drivers that have a legitimate shot at winning it all, but if you are looking for a bit longer odds, I would go with Kevin Harvick at 16/1. He is coming off one of his best seasons in Sprint Cup racing with four checkered flags and a third-place finish in the final standings. He has now finished third in points in three of his past four seasons while posting a total of 11 victories in those runs to the title.
The No. 29 car will have little margin for error to make a successful title run this year, but as long as Harvick makes it into the expanded Chase field of 16, he has as good a shot at anyone given the added weight to winning races during this 10-race playoff.
Bovada's futures odds for a few of the other top drivers in the Sprint Cup series include crowd favorite Dale Earnhardt Jr. at 10/1, 2012 champion Brad Keselowski and Kasey Kahne at 12/1 and long-time Sprint Cup veteran Jeff Gordon at 14/1.
Read more articles by Dave Schwab