NASCAR betting: TUMS 500 Odds and Predictions
by Christopher G. Shepard - 10/28/2011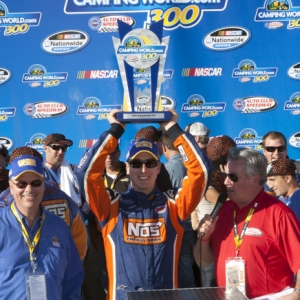 Carl Edwards extended his lead to 14 points last week while Matt Kenseth roared into second place and Brad Keselowski, 18-points behind the leader, rounded out the top-three spots in the Chase for the Sprint Cup as NASCAR heads to Ridgeway, VA for the TUMS 500 on Sunday at 1:43 p.m. at historic Martinsville Speedway.
Gamblers looking for an edge investing in the TUMS 500 should understand that since 2003 only three drivers have won this race; Hamlin ('09,'10); Jimmie Johnson ('08, '07, '06, '); and Jeff Gordon ('03,'05). However, the recent dominance of Hamlin and Johnson at Martinsville came to an end this spring when Kevin Harvick beat out Dale Earnhardt, Jr. for the checkers. Conversely, before this spring Hamlin had won three straight races and has four wins in three years at Martinsville.
While waiting didn't work last week, I'd still wait until qualifiers before backing your favorite driver on Sunday. Consider that the pole is a great place to start at Martinsville as 19 races have been won by the pole-sitter, the last by Denny Hamlin in October 2010. Petty Enterprises leads all NASCAR teams for the most wins at Martinsville with 19, but Hendrick Motorsports can tie them with a win this Sunday.
Who will win the Tums 500?
Apparently Johnson has not out-driven his Sports Illustrated curse. Johnson was allegedly caught on microphone being instructed just before last week's race by crew chief Chad Knaus to wreck his rear bumper if he won the race. Knaus was worried that the two-car drafting that characterizes Talladega could cause the No. 48 to be hundredths of an inch out of NASCAR specs, and that could cost him the Chase -- much like what happen to Clint Bowyer in the Chase after New Hampshire last year.
The good news for Double-J is that he moved up one spot to seventh in the Sprint Cup standings. The bad news is that Johnson is now 50 points behind first place with only four races; a virtually insurmountable points deficit. A sixth consecutive Sprint Cup title is for all intents and purposes out of reach, but the No. 48 team is still racing for pride. If he wins on Sunday it will be a nice bon mot on the season, but hardly the sixth title that Hendrick Motorsports had hoped. If you don't believe in curses then you should know that Johnson has six wins and 13 Top-5s, 17 Top-10s in 19 starts. Johnson has also posted nine consecutive Top-5 finishes from 2005-2009.

The other Martinsville slayer, Denny Hamlin, is currently stuck in 11th place and he gained one spot after last week. Hamlin is in a very different position going in to the Martinsville race than he was last year. Hamlin has been out of the Chase since the Chase began and now faces an 84-point deficit under the revamped points system. Certainly this has been a critically disappointing year for Hamlin, but he can at least salvage something good to take away from this year if he can win at home. Unfortunately for Hamlin, as good as he has been, he finished 12th in spring and could possibly finish outside the Top 10 once again on Sunday.
Meanwhile, in 14 career starts Edwards has only led a total of three laps at Martinsville. Edwards is extending his lead by a few points each race, and as a result the Chase is his to lose. Granted, Martinsville is not Edwards' best track. He finished 18th in the spring and he has never won here Edwards has only one Top-5 and four Top-10 finishes and will look to avoid a wreck and leave Virginia with a Top-15 finish. Whatever happens, Edwards managed to attract UPS as his main sponsor of the No. 99 car next year.
Kenseth is another driver who has found little success courting the 'Lady in Black.' Kenseth was 15th last October and is winless at Martinsville. Kenseth has one Top-10 finish in his last five starts, but then again he wasn't in second place in the Chase last October. Tony Stewart is still in striking distance in fourth place and 19 points behind the leader. Stewart gained one spot last week and has won twice at Martinsville. Unfortunately 'Smoke' hasn't won at Martinsville since 2009, and his last three starts have resulted in high double-digit finishes.
At Talladega Kyle Busch finished 33rd (an improvement of one spot over his starting position) and as a result lost two spots in the standings. Busch dropped to sixth place and is just about out of reach of the Sprint Cup Championship. A lot of weird things would have to happen for him to win at this point. Busch has finished third and fourth in his last two races at Martinsville. In the spring race Busch led for 151 laps but failed to close. While Kyle has never won at Martinsville that doesn't mean he won't on Sunday.
Pick! Kyle Busch, No. 18, (+900)
Tums 500 - Lucky Dog Long Odds Special

Keselowski gained three spots in the Sprint Cup standings and is only 18 points behind the leader. NASCAR's newest young gun should just be happy to be here and enjoy the ride, but basically get out of the way of veterans like Edwards, Kenseth, and Stewart. Keselowski quite simply has become a very consistent Chase driver as Brad has four Top-5 finishes in six Chase races. Keselowski finished fourth at 'Dega, third at Kansas, second at New Hampshire, and fifth at Chicago. Let's see if he can turn the entire Chase on its head with a first at Martinsville.

Pick! Brad Keselowski, No.2 (+2000)
Tums 500 – Odds* to Win
Martinsville Speedway October 30, 2011 1:43 p.m. (EST)
Jimmie Johnson +650
Carl Edwards +1700
Kyle Busch +900
Denny Hamlin +600
Jeff Gordon 6-1+775
Kevin Harvick +650
Tony Stewart +775
Matt Kenseth +3300
Kurt Busch +2800
Dale Earnhardt Jr +1800
Clint Bowyer +1600
Mark Martin +4500
Jeff Burton +3300
Greg Biffle +4500
Joey Logano +4500
Juan Pablo Montoya +4000
Jamie McMurray +4500
Ryan Newman +2800
Kasey Kahne +3300
David Reutimann +4000
Martin Truex Jr +4500
Brian Vickers +4000
David Ragan +4000
Brad Keselowski +2000
AJ Allmendinger +4000

*Odds courtesy of 5Dimes