College Football Power Rankings - The Ferringo 15
by Robert Ferringo - 9/23/2009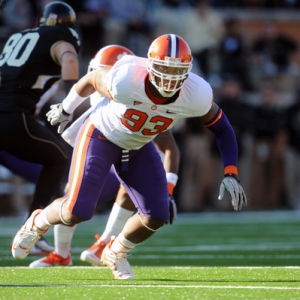 The Ferringo 15 is my Profit-Power Rankings, a ladder or hierarchy based on which teams are the most profitable on the field. I'm not trying to give you some other nonsensical, random, speculative power rankings based on my own biases and conjecture. So instead of Ohio State moving up or down the polls on the basis of how badly they blew out Northwestern the previous Saturday, I'm going to rank each team based on past, present, and projected future achievement against the spread.
And over the past two years they have been on point. In 2007 the teams that finished in the Ferringo 15 had a collective 121-46-1 mark against the spread. Last year the teams that were in the Ferringo 15 each week went 81-63-3 for the season. That means every week when I rotated someone else in I took their performance ATS for that weekend's games. We won 57.6 percent of those situations. Also, after two weeks I had the sport nailed. The teams that were listed in the Ferringo 15 entering Week 3 went on to finish the year a collective 113-67-2 ATS. That's a 62.8 winning percentage and it means that if you had bet $100 per week on only those 15 teams for the whole year you would have finished the season up around $4,000.
Although Washington pulled one of the biggest upsets we're likely to see this year and Clemson came through with a Game of the Year winner for us, overall it was a terrible weekend for the F-15. Our clubs went just 4-9-1 last weekend and in most cases were rocked by their opponents. After two straight winning weeks for the F-15 that is a rare loser. On the season our squads are just 17-17-1 heading into Week 4 so it's time to shake some things up and make some drastic changes. With that in mind, here is this week's Ferringo 15:
1. Clemson (3-0) - While everyone keeps fawning over Miami in the Coastal, Clemson is set to tear up the Atlantic Division of the ACC. I have said it from the start that I love this Clemson team this year and I think that they are far from finished. They have dominated each of the three teams that they have played this year. Their loss to Georgia Tech was a fluke; outside of one 80-yard run and two fluke special teams touchdowns that game was all Tigers. Their front four is among the best in the country. The Clemson-TCU game is one of the best of the weekend. Yet no one picked up the game so it won't be showed on television. Why is this the least bit meaningful to me? Because it tells me that no one is paying attention.
2. Cal (2-0-1) - On one hand, Cal is likely the favorite now in the Pac-10. On the other, no one is really talking about them as a serious national title contender. To me that screams value. They have a tricky game in Oregon this week. Autzen is not the place for looking ahead - you might lose a hand. But with USC on deck where will the Bears' focus be? They have superior talent and are coming off an easier -than-it-looked two-touchdown win at tricky Minnesota. Should roll Oregon and beat USC. But we'll see.
3. Syracuse (3-0) - I have said it before and I'll say it again for the cheap seats: Syracuse is going to win a bowl game in December 2010. Bank it. Mark it down right now, because it's going to be one of my bigger bets of next season. This Syracuse team is absolutely, 100 percent going to be a player in the Big East. Not threatening to win it, mind you, but they will be a thorn in a lot of sides. With the state of that league and their fortunate home slate the Orange still have several chapters to write on this season. And Doug Marrone is a hell of an editor.
4. UCLA (3-0) - Everyone said at the beginning of last year what a magician Rick Neuheisel was. But then it is as if people have forgotten about it. The guy is doing yeoman's work with this team during a roster turnover. And the value on this club has increased because everyone is expecting a huge drop-off because of their injured quarterback. But with Norm Chow running the offense they shouldn't have any troubles.
5. Washington (2-1) - This is how it works at the Ferringo Report: Washington upset USC and they drop in my rankings. The reason is that everyone is now talking up the Huskies, the team that I listed as the No. 1 team in the Ferringo Report BEFORE the season started. Word is out. But I am still not 100 percent sure how much respect they will get from oddsmakers. And we haven't seen them go on the road yet. But they have two bye weeks left in the season, a trip to Notre Dame, and home games against Oregon and Cal. I think we'll get some great numbers on them.
6. Central Michigan (2-0) - This is the value of a great mid-major quarterback. Well, and nine three-year starters. And five all-league players. And a talented coach. Come to think of it, CMU has a pretty good squad, eh? And they have played a relatively strong schedule. The rest of the slate opens up perfectly for the Chips. This week getting a crack at Akron - which is still reeling from the suspension of quarterback Chris Jacquemain - is a gift. The line is thick. But this week is more about Akron than it is CMU. And the Chips have been absolutely amazing at 32-13-2 ATS overall and 21-7-2 ATS in conference games.
7. Auburn (3-0) - As long as the Tigers keep putting up serious points they are still going to be a big factor in SEC betting. All of the love goes to LSU, Mississippi, Georgia and Alabama in this conference. And Auburn gets a crack at all of them. Blwoing out lightweights isn't the true value of this team. Their experience is. The boys on this team have been through a lot. And now that they have their quarterback issue solved they can focus on schemes. And this team is scheming.
8. Purdue (2-1) - The Boilers laid an egg against a pesky Northern Illinois club last week. But they were clearly caught in a letdown after their tough loss at Oregon and in a look ahead before Notre Dame comes calling. Joe Elliot is the next in a line of solid Purdue quarterbacks. But the defense needs to hold up its end of the deal. This is going to be a feisty squad in Big 10 play and they get some teams coming to Lafayette that can be upset prone.
9. Stanford (2-1) - You don't think that Jim Harbaugh has been in his team's ear all week about Washington? Two years ago the Cardinal were the ones pulling the "incredible" upset over USC with an improbable 24-23 win. Now Washington is basking in the glow that Stanford once enjoyed. And Stanford gets Washington at home. Sets up nice, don't you think?

10. Louisiana-Monroe (2-1) - This team isn't that good. And that's why they have the value that they do. Because of their quirky system they are tough to prep for, even for the Sun Belt teams that are used to seeing them. And don't ever forget this: teams with a load of senior starters are always going to be good against the spread. Always. The Warhawks have 15 senior starters. They know how to play and they know how to play together. This will be a tough out and a great dog bet.
11. Michigan (3-0) - I still get the impression that people don't think that Michigan is that good. Frankly, I just don't know if they are this good. But I know this - the uncertainty around how public bettors should play the Wolverines is creating a tornado of value. Remember: their style is unique to the Big 10. Teams don't know how to prep for them. Now, don't be fooled - Michigan isn't a real contender in the Big 10. They haven't played anyone THAT good. And their schedule is brutal once they hit conference play in earnest. Proceed with caution. But this is a team that is going to break a lot of bettors' hearts (for good and ill) this year.
12. Kansas (2-0) - All the Jayhawks have done over the past several years is take care of business. They have had five straight winning years against the spread, which is remarkable, and they are an exceptional 24-7 ATS dating back to the end of 2006. Why question it at this point? They are 21-5 ATS as a favorite and an unreal 10-1 ATS in nonconference games.
13. Wake Forest (2-1) - Miami was in the Ferringo 15 for a couple weeks. But since everyone has been fawning all over them for the past seven days their value has completely dried up. So I'll go with Wake as another sneaky team in the ACC. Being 19-7 ATS against teams with a winning record certainly helps. As does having a veteran like Riley Skinner at quarterback. They are favorites this week in Chestnut Hill, which is a big step. But the line isn't that fat so clearly there is still some cash to bet snuck out of Winston-Salem.
14. Northern Illinois (3-0) - This is what happens when the ball starts to bounce the other way. NIU lost five games last year by less than a touchdown. Then last year they pick up three fluke plays (two fumbled punts and a running into the kicker penalty) that led to scores and an upset of Purdue. But to be honest, I think that NIU's stay in the F-15 could be brief. They are over a two-touchdown favorite this week at home and have never performed well as a thick chalk (1-8 ATS as a DD favorite).
15. Virginia Tech (1-2) - Everyone is falling all over themselves about Miami. North Carolina is lying in the weeds and creating some buzz. Georgia Tech, despite its loss in Miami, is still considered a burgeoning powerhouse. And that leaves us with Virginia Tech, which is the best-coached and most experienced team in the ACC. I still absolutely hate their quarterback situation. And they won't ever fully recover from the loss of Darrell Evans. But they are home dogs to Miami this week. Getting points - in Blacksburg. They have already played and hung with two BCS bowl contenders (Alabama and Nebraska). And they are not getting respect. Tech is 27-11 ATS in its last 38 conference games.
Others Receiving Votes: Iowa, Indiana, Iowa State, North Carolina, Nebraska, Toledo, Akron, Bowling Green, UTEP, Middle Tennessee State, Ohio.
Robert Ferringo is a professional handicapper and you can purchase a full season's package of his football selections for just $25 per week! Click here for details.
---
Most Recent College Football Power Rankings