College Football Power Rankings: Ferringo 15
by Robert Ferringo - 9/10/2013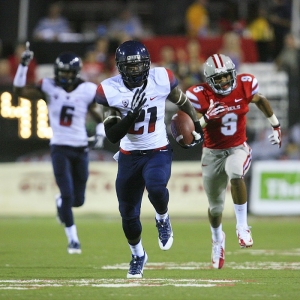 The Ferringo 15 went a solid 9-6 against the spread in Week 1 of the college season. But like I warned against, weeks 2-4 are generally the worst for our ratings as we weed out the non-hackers. Naturally, last week was a down week.
Our teams went 7-7, with Washington having the week off. I stuck with some teams like Iowa that I wanted to give some leeway to. But you'll notice we have some new blood in the F-15 this week, and we'll see if we can get a bounce-back week. Dating back to last year, that is now 9 of 11 winning weeks for the teams listed in my Ferringo 15 College Football Power Rankings.
The Ferringo 15 is my Profit-Power Rankings; a rating of the 15 teams that hold the most value in college football betting at the moment. It is a reflection of past, present, and projected future achievement against the spread. As teams play and betting markets adjust, so to does the perceived "value" of the teams on the list. Consider the Ferringo 15 a list of stocks whose values will fluctuate based on how they perform and also how the public's expectations for them change.
Last year, no college football betting system in the country (except maybe the KING System) was a better bet in the last two months than the Ferringo 15. The F-15 turned a profit in eight of the final nine weeks of the regular season, and the teams on this list went an amazing 75-43-1 against the spread. The top six teams on the Ferringo 15 were a staggering 35-11-1 ATS in the last nine weeks of the season.
Add in last week's results, and the F-15 teams have gone 91-56-1 ATS the last 11 weeks. That is a 61.9 percent success rate. This year the F-15 is 16-13.
With that in mind, here is my 2013 Ferringo 15 College Football Rankings (all records are ATS against the closing line):
1. Arizona (2-0) – Scoring 93 points in two games will turn some heads. But what has been most impressive to me is Arizona's defense. UNLV is not a good football team. But they aren't some overmatched FCS team that just physically can't hold up. Arizona pushed UNLV around. They were swarming, and this defense looks night and day better than last season's hapless movements. Arizona has a bye week after this Saturday's game against feisty Texas-San Antonio, so they shouldn't be holding back.But the visiting Roadrunners are on a 6-0 ATS run themselves and are an honorable mention on this list.
2. Washington (1-0) –I said at the start of the season that I love the Pac-12 this year and that this conference is so much better than people realize. Right now they are 13-7 ATS, and the teams in the Pac-12 South not named USC are 8-0 ATS. The Huskies were off last week and are on the road against an Illinois team that is A) building confidence and B) due for a good ATS season after last year's debacle. The Illini just took down Cincinnati and will be playing close to home with this game on the grass at Soldier Field.
3. Wyoming (2-0) –I don't expect a line in Wyoming's game against Northern Colorado this week. And if this game is lined, there is no chance I would go anywhere near it since the spread will probably be inflated by two touchdowns. Brett Smith is leading a Top-10 offense, and they have a tilt with Air Force on deck.
4. Boston College (1-1) –I really liked Boston College this week. But then USC had its meltdown against Washington State, and the program has been thrown into full-blown crisis mode. I have said numerous times that Lane Kiffin is a mega-loser, but it looks like the rest of the bobblehead media is finally catching on. B.C. is caught in the middle. They are coming off a win, but this has been a terrible road team the last two years, including a 0-6 ATS mark in their last six away from home.
5. Missouri (1-1) – The Tigers absolutely should've covered against Toledo last week, but a fluke final 45 seconds led to them taking a knee instead of either kicking the ATS-winning field goal or scoring a touchdown. The Tigers have the week off before traveling to face high-scoring Indiana next week.
6. Anyone Playing Notre Dame (2-0) – It was almost too easy coming into this season. The Irish are going to be one of the most overhyped teams in college football for this entire season and, most likely, for the next few years. They will be living off that championship game appearance for years. And I will clean up betting against them. I made a big play on Purdue in this matchup last year and easily covered in a game the Irish probably should've lost. I don't know that the Boilermakers have the talent this year. And after last season's near miss, I can see Notre Dame laying the wood. Purdue is 3-1 ATS in the series, and the underdog is 6-2 ATS in the last eight meetings.
7. Marshall (2-0) – Ohio offers a stiff test for the Thundering Herd this week, but Marshall does have revenge after a tough 27-24 loss as a 5.5-point home underdog last year. Now they are eight-point favorites over the Bobcats, which seems like a severe swing. Marshall has laid waste to two overmatched opponents, and Ohio has not looked sharp. But the Herd is just 3-6 ATS in the last nine meetings, and the home team has gone 8-3 ATS in this matchup of former MAC rivals.
8. Bowling Green (2-0) –Each year the MAC is a treasure trove for intrepid bettors, and this season the Falcons could be our ATS machine. One analyst I know thinks Bowling Green has one of the 30 best defenses in the country. They will be tested this week by a high-flying Indiana offense. Bowling Green catches Indiana after a stunning 41-35 loss to Navy as a nearly two-touchdown favorite. Does that make Indiana primed for a bounce-back at home? MAC foe Ball State beat Indiana at Bloomington last year, and now Bowling Green will try to match that. The Falcons have gone 9-2 ATS in their last 11 games overall.
9. Oklahoma State (1-1) –It is going to be very interesting to see what impact the recent scandal allegations against this program will have on this year's team. Sports Illustrated's detailed report of institutional improprieties is going to be a major distraction over the next few months. It will be even more of a distraction than their ongoing quarterback controversy. But this much I know: no matter what winds are swirling around this program, the Cowboys will score, and they will score a lot. I can see them hanging 70 points on Lamar this weekend just to shut up the "haters".
10. Auburn (1-1) –I am furious at myself for using Auburn in a teaser last week but not using them on their own. Now the Tigers open SEC play, and they get a Mississippi State team that has gone just 2-6 ATS in its last eight games. Miss State is making a change at quarterback, and Auburn's defense needs to jump on them early. Auburn has dominated this series, going 8-2 ATS in the last 10. They also have revenge for last year's 28-10 road loss. But Auburn has to learn to handle success; they are 0-8 ATS in the game after they cover the spread.
11. Buffalo (1-1) –The Bulls have had the most difficult opening two games of anyone in the country, popping pads in Ohio with the Buckeyes before traveling down to sweltering Waco for a track meet with Baylor. The Bulls get to regroup this against Stony Brook. They opened as six-point home favorites but are now laying two touchdowns to the No. 17 ranked team in the FCS.
12. Central Florida (2-0) – UCF is playing big boy football. This is a tough, physical team, and quarterback Blake Bortles is a very underrated signal caller. The Knights have a chance to go primetime this week in Happy Valley against Penn State. Remember: the Nittany Lions lost at home to Ohio in last year's opener. And Central Florida is certainly better than any MAC opponent. Also, UCF gave Ohio State everything it could handle in a 31-16 loss last year as a 16-point underdog.
13. Georgia Tech (1-0) – The perfect time to get on board Paul Johnson's team is when everyone is ignoring them. Tech is a healthy road favorite this week against Duke. But I don't know that Tech's eight-point line reflects just what a mismatch this game is. The Yellowjackets are 7-2 ATS in the last nine meetings and won by 18 at home against a much, much better Blue Devils squad. Yes, that game was in Atlanta. But Tech has won the last nine meetings by an average of over 20 points per game.
14. Indiana (1-1) –I'll give the Hoosiers one more game to prove whether or not they will have any ATS staying power in the Big Ten this year. If the Hoosiers have bowl dreams this year they absolutely have to win this week against Bowling Green after giving away a winnable game to Navy last week. Indiana will be the more desperate team this week. But the key for them will be to get something out of a defense that looked lost last week.
15. Northwestern (2-0) –Pat Fitzgerald's team definitely has ATS staying power in the Big Ten this year. This Northwestern team is legit. They have layups against Western Michigan and Maine the next two weeks before opening league play hosting Ohio State. The Wildcats defense needs to tighten up and is currently ranked No. 126 against the pass. It is tough to lay four touchdowns against WMU this week with that feeble of a stop unit. But WMU is also coming off a shocking outright loss to Nicholls State as a 29-point favorite. If Northwestern gets up two scores early, the floodgates could open here.
Honorable Mention: South Carolina, Maryland, Baylor, Texas Tech, UT-San Antonio, Ball State, Washington State
Robert Ferringo is a lead writer for Doc's Sports and a member of the Football Writer's Association of American. He has earned over $12,000 in profit for his clients over the last 16 football months. This week Robert will release selections from his incredible KING College Football Betting System. (Learn more HERE.)He is 8-3 for over $1,600 in profit with these KING System plays and will have more moneymakers this week. We are so confident that you will be amazed by this moneymaking system we are going to give you a free, no-strings-attached $60 credit to use toward a purchase of Robert's football selections. CLICK HERE for $60 absolutely free!
Read more articles by Robert Ferringo
---
Most Recent College Football Power Rankings