2013 Pac-12 Football Predictions and Futures Odds
by Robert Ferringo - 8/19/2013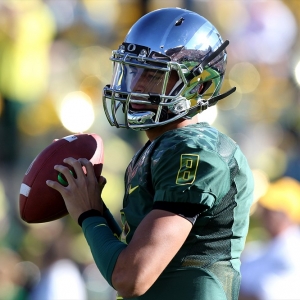 A recent infusion of coaching talent, including the guys tasked with replacing hero coaches Jim Harbaugh, Pete Carroll and Chip Kelly, has helped send the Pac-12 on an upward trajectory. Guys like Rich Rodriguez, Mike Leach, Jim Mora, Sonny Dykes and Todd Graham have their respective programs in the infant stages. But each of those leaders know what they are doing, and it won't be long before the Pac-12 is a high-flying, high-scoring league threatening the Big 12 and SEC for supremacy.
I am bullish on the Pac-12 this season, and I think it will be one of the more entertaining and competitive leagues in the country. While the Big East and Big 12 have been gutted, the Pac-12 has been one of the few BCS conferences that has actually fortified itself over the past three years. The off-field maneuvers are starting to pay dividends on the gridiron and at the window.
Here is a look at my 2013 Pac-12 football predictions and futures odds, with the NCAA football betting odds courtesy of Bovada:
The Favorite: Oregon (-160)
My gut feeling was that Chip Kelly bailed on Oregon last winter because he was expecting the NCAA to drop the hammer on Oregon for its significant recruiting violations. Alas, the NCAA's Wheel of Punishment landed on "negligible sanctions," and the Ducks will remain the league's top program – for now. Former offensive coordinator Mark Helfrich takes the reigns, and the Ducks should maintain their breakneck pace. Sophomore quarterback Marcus Mariota will trigger the attack. But Oregon's offense only has one senior in the fold, so we could actually see a dip in production from a unit that averaged 49.6 points per game last year. Defensively the Ducks have one of their best groups in the last several years. They have five senior starters, and the entire secondary returns intact. The Ducks welcome back 12 of their top 15 tacklers. Oregon has a tricky rivalry game at Washington on Oct. 12. Beyond that, the only game in which they won't be massive favorites is a Nov. 7 trip to Stanford. However, Oregon won 53-30 in their last trip to face the Cardinal, and the Ducks have revenge for a loss last year. Games at Arizona and the Civil War game (played in Eugene) are nominal late-season impediments as well. But Oregon has the talent and the schedule to make the Pac-12 title game, and they are a legit contender for the national title.
The Challenger: Stanford (+450)
The Cardinal have continued to dominate in the Pac-12 despite the loss of Heisman finalists Toby Gerhardt and Andrew Luck prior to the 2011 and 2012 seasons. Stanford is actually 35-5 straight up and 26-13-1 against the spread over the past three seasons, and they are again among the league's elite. However, the "S" on Stanford's proverbial chest may be starting to fade. The Cardinal won the Pac-12 Championship last year thanks to a stunning upset as a 20-point underdog at Oregon. The Cardinal actually had a dreamy season, with four of their 12 wins coming by four points or less and a whopping eight of their wins decided by a touchdown or less. That is not the sign of a team that dominates and more the sign of an experienced, well-coached team. Stanford will remain the latter. And while I don't think they will sink back into the Pac-12 abyss (they were just 1-11 as recently as 2006), I do think Stanford's run at the top of the league is at an end. Road games at Oregon State and USC pose problems, and Stanford's home schedule is the most difficult in the league. I can see them losing three games this year, which would be the most in four seasons.
The Dark Horse: USC (+500)
Haven't people realized by now that Lane Kiffin is a loser? He was a loser at Oakland, a loser at Tennessee and he has been a loser at USC to this point. I have zero faith in him being able to harness USC's talent this season, and I'm not buying into USC as a sleeper national title contender. That said, the Trojans really do have a tailor made schedule. They have tough conference road games at Arizona State and at Oregon State on a Friday night. But the Trojans are clearly more talented than both of those clubs. USC gets Stanford at home in November, and they have the inside track to the South title. Also, I expect USC to take down Notre Dame in South Bend this year (the Irish are going to come back to earth this season). So this team should go at least 11-2 in the regular season. But I don't trust Kiffin not to screw it up, and I wouldn't be surprised if this team, sans Matt Barkley, fell flat.
The X-Factor: Arizona (+750)
Had all-American receiver Austin Hill not blown out his knee back in the spring, I would have Arizona coming out of the Pac-12 South and my sleeper team to win the conference. Rich Rodriguez coaxed eight wins out of Arizona last year, his first season at the helm, and he was just a few plays away from an 11-win season. Arizona has 17 starters back, including all 11 on defense, and they should continue to show progress in Year 2 of Rodriguez's schemes. Arizona has a veteran offensive line, with a trio of three-year starters, and they have an upperclassmen-dominated stop unit. The key will be quarterback play. B.J. Denker is a nominal starter, and the senior will have something to prove. But as long as he has amazing running back Ka'Deem Carey to hand it to the Wildcat offense will find some points. Arizona has bye weeks before its two big early road games, and if they can pull an upset or two there this team will be a major factor in the South.
The Disappointment: Arizona State (+750)
I want to like Todd Graham's team this year. But I felt like their 8-5 record in 2012 was kind of a joke. The Sun Devils' only win over a bowl team was the finale against Arizona. But they won't have a schedule full of cupcakes this year. Their four-game stretch from Sept. 14 to Oct. 5 is the most difficult in the country. ASU hosts Wisconsin, plays at Stanford, hosts USC and then faced Notre Dame on a neutral field (Arlington). If the Sun Devils were to lose all four of those games – which is conceivable – their season will likely spiral out of control. This team is experienced (12 senior starters), and they should be better in Year 2 of Graham's system. I don't see this team as a legit contender in the Pac-12, and they won't be anything more than a spoiler.
The Rest:
UCLA (+2400) –By some Act of God, UCLA actually played in the Pac-12 title game last year. Insufferable Jim Mora did a nice job with a very experienced team last season. But he lost bell cow Jon Franklin along with seven of his top 14 defensive players. As many as half of UCLA's starters this year could be freshmen or sophomore, and the Bruins have the most brutal road schedule in the league with trips to Utah, Stanford, Oregon, Arizona and USC on the schedule. (They also play at Nebraska in the nonconference slate.) I think the Bruins winning six games and stealing a bowl bid would be an accomplishment.
Oregon State (+1000) –Mike Reilly continues to be one of the more underrated coaches in the nation, and he coached a Top 20 season out of the Beavers last year. Now Reilly gets 15 starters back, including his quarterback and two leading rushers, and OSU has a schedule that can make them a factor in the North. If Oregon State plays well on the road (they face Utah, Wazzou and Cal in three very winnable games), they get Stanford and USC at home in back-to-back games. I don't know that this team has the depth to be a real contender for the division title. And they won't sneak up on anyone this year. But I won't underestimate Reilly, and I think he will upset one of the two heavyweights that come to Corvallis.
Washington (+1400) –This feels like an important year for Steve Sarkisian. He pulled this UW program out of the gutter. But this is now his fifth year in Seattle, and Washington hasn't managed better than 7-6. Washington has 18 starters back, including 10 on their potentially high-scoring offense, and there is a total of nine three-year starters taking the field. Senior quarterback Keith Price needs to be more consistent. If he does he has a load of skill weapons to work with and a decent offensive line. Washington has a tough early schedule with home games against Boise State, Arizona and Oregon and trips to Stanford and Arizona all coming in the first seven weeks. If they survive that strip with three wins they will have the school's first nine-win season in over a decade.
Utah (+2800) –Oh, look who it is: it's the Mormons. The Utes – and their delusional followers – have found out that the program's success over the past 15 years really was predicated on the fact that the Mountain West was a feeble conference. Utah is just 7-11 SU and ATS in its two seasons in the Pac-12, and they are an afterthought again this year. Even though their players are all 25 years old, this program still gets pushed around on a week-to-week basis, and they won't be good for more than an upset or two this year. Utah has a brutal schedule with home games against OSU, Stanford and Arizona State balanced by road games at Arizona, USC and Oregon. I will be surprised if they win more than one of those games, and the Holy War in Provo on Sept. 21 may be the game that decides whether or not Utah makes a bowl game.
Washington State (+5000) –Mike Leach fizzled in his first season in Pullman. And he has a long way to go before he can build this roster the way he likes it. Leach's "tough love" coaching style has not been much more popular at Wazzou than it was at Texas Tech. But Washington State has been a joke program for most of the last decade, and I like the Leach is weeding out the weaklings. The Cougars have 17 starters back, including quarterback Connor Halliday and 16 of the team's top 18 tacklers. This is still a young roster. But if guys start to buy in Leach's system, they could be a dangerous opponent in October and November.
California (+5000) –Jeff Tedford bottomed out last season, and Cal bumbled to a 3-9 season. Mercifully, Zach Maynard is gone as well. Sonny Dykes did a marvelous job building up the Louisiana Tech program, and he will try to work his magic at Berkley. But Cal has just 11 starters back, just one three-year starter, and only two senior starters. This young team is learning new systems on both sides of the ball, and this is a total rebuilding year. This team should get swallowed up in a very balanced Pac-12.
Colorado (+10000) –Believe it or not, there was actually a time when Colorado was relevant nationally. Now is not that time. New head coach Mike MacIntyre parlayed a solid stay in San Jose State into a Pac-12 job. He takes over a Buffs team that is just 4-21 SU and 7-18 ATS in the past two seasons. Like Cal's rebuilding project, Colorado is starting with a young core of players. And like Cal, the early returns will likely not be pretty.
2013 Pac-12 Football Predictions: Predicted Order of Finish
North Division
1. Oregon
2. Washington
3. Stanford
4. Oregon State
5. Washington State
6. California
South Division
1. USC
2. Arizona
3. Arizona State
4. UCLA
5. Utah
6. Colorado
Robert Ferringo's Big 12 Conference Preview – CLICK HERE
Robert Ferringo's ACC Conference Preview – CLICK HERE
Robert Ferringo is a lead writer for Doc's Sport and he has earned over $9,000 in football profit for his clients over the last 15 football months. He went 5-1 last week with his NFL preseason selections and will have an 8-Unit and a 5-Unit NFL futures bet released this week. Also, for the first time ever, Robert will release selections from his incredible KING College Football Betting System. (Learn more HERE.) We are so confident that you will be amazed by this moneymaking system we are going to give you a free, no-strings-attached $60 credit to use toward a purchase of Robert's football selections. CLICK HERE for $60 absolutely free !
Read more articles by Robert Ferringo