College Football Power Rankings: Ferringo 15
by Robert Ferringo - 10/23/2013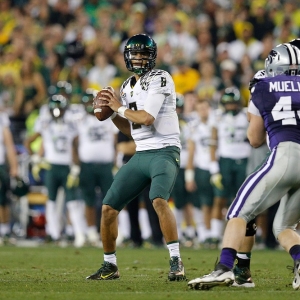 It was a nice bounce-back week for the Ferringo 15.
The F-15 went 7-6 last week to follow up on its first dud of the year. Our No. 1 team (Oregon) and our No. 2 team (Washington State) actually played one another, so the rest of the F-15 went 6-5 for a slender profit. The betting public and the oddsmakers look like they have caught up to our top teams, but we'll see if these ATS juggernauts can continue to produce.
The teams in the Ferringo 15 are hitting at a decent clip so far this season, going 53-43 ATS. Over the past two seasons, the teams in our college football betting power rankings have gone 128-86 ATS, which is good for a steady 60 percent winning rate with over 200 trials. We will see if they can keep up the pace this week.
The Ferringo 15 is my Profit-Power Rankings; a rating of the 15 teams that hold the most value in college football betting at the moment. It is a reflection of past, present, and projected future achievement against the spread in college football betting. As teams play and betting markets adjust, so to does the perceived "value" of the teams on the list. Consider the Ferringo 15 a list of stocks whose values will fluctuate based on how they perform and also how the public's expectations for them change.
Last year no college football betting system in the country (except maybe the KING System) was a better bet in the last two months than the Ferringo 15. The F-15 turned a profit in eight of the final nine weeks of the regular season, and the teams on this list went an amazing 75-43-1 against the spread. The top six teams on the Ferringo 15 were a staggering 35-11-1 ATS in the last nine weeks of the season.
Here is my 2013 Ferringo 15 College Football Rankings (all records are ATS against the closing line):
1. Oregon (6-1) – The Ducks didn't cover last week, but I'm sticking with them for another week. They have a huge game against UCLA this week and are a healthy 22.5-point favorite. But we've seen them beat these numbers before. The Bruins are coming off a 14-point loss at Stanford, and Oregon is 21-11-2 ATS in its last 34 conference games in Autzen Stadium. The Ducks are 14-3 ATS in their last 17 games overall, and they are 11-1 ATS in the last 12 times they are in the second of back-to-back home games.
2. Washington State (6-2) – It is a week off for the Cougars after a game effort at Oregon, losing by only 24. They host Arizona State next Thursday night.
3. Washington (5-2) – Things have gone sideways for the Huskies, and now we'll see if they are capable of getting things back on track or if they will continue to run off the rails. Washington hosts a terrible Cal team this week. But do the Huskies have the juice left to run away from the Bears? Washington has won four straight in this series and are 6-1 ATS in this series. But the last three meetings have been decided by an average of just 6.7 points per. Cal is 0-10 ATS in its last 10 games, 11-27 ATS in its last 38 road games, and 8-21 ATS in its last 29 conference games. They have to cover a number at some point though, right?
4. Anyone Playing Notre Dame (5-2) – The Irish have covered back-to-back games, beating Arizona State as an underdog and holding on against USC. This week they will try to avoid a letdown in a trip to Colorado to take on a bad Air Force team. Air Force has been blasted in most of its games this year and is 3-13 ATS in the last 16 games. This is Notre Dame's first road game since a disappointing effort at Purdue way back on Sept. 14. Notre Dame's front seven should smother Air Force's option attack, but the letdown factor – and the altitude – will work against the visitors.
5. Texas Tech (6-1) – The Red Raiders pulled out a fluke win last week at West Virginia. They were down 27-16 before rattling off three straight touchdowns to close the game, including a garbage TD with one minute left for the front-door cover. Texas Tech is an underdog this week at Oklahoma, and the public is split on this game. They actually won their last time in Norman, scoring a 41-38 win over the Sooners in 2011 as a 29-point underdog.
6. Bowling Green (5-2) – The Falcons had a week off to prepare for a huge conference game against Toledo. Bowling Green has lost three straight to the Rockets, who are coming off a 45-44 overtime win against Navy. The Falcons are allowing an average of just nine points per game at home this year, but this is a significant step up in class of opponent.
7. Missouri (6-1) – Another winner for the Tigers, who started this year as one of the top teams in the Ferringo 15. I have been banging the drum on Missouri all year, and I absolutely think that they can take down South Carolina – who may be without fragile starting quarterback Connor Shaw – this week. Missouri is on a rush. They are on an emotional rush right now, and I think they can ride that wave this week against the Gamecocks, who are another overrated SEC team at just 2-5 ATS this year.
8. Wisconsin (6-0-1) – The Badgers have the week off after another dominating win last week, hammering Illinois, 56-32. The Badgers have a big game at Iowa next week. But then they close the year with three of four games at home. They have to make up two games on Ohio State (because OSU owns the tiebreaker), but the Badgers are still going to push for a possible BCS bowl berth, so they are very motivated to keep winning big.
9. Baylor (5-1) – I was actually surprised that Baylor is "only" a 34.5-point favorite this week against a pathetic Kansas team. Baylor just beat Iowa State 71-7, making it five of six games this year where the Bears have scored 69 or more points. Baylor hosts Oklahoma next week and Texas Tech the week after that, so they could be looking ahead. But this is really a game where the Bears can pick their own score and cover this spread if they feel like it. But if the early portion of the season is any indication, the score they will pick is about 70-14.
10. Houston (6-0) – The Cougars have actually covered eight straight games going back to last season. They had their bubble burst a little bit last week, taking their first straight up loss of the season to BYU last week. Houston gave up a touchdown with just over a minute to play and lost a 47-46 heartbreaker, so it will be interesting to see how they rebound on the road this week against Rutgers. The Scarlet Knights are not a good team. But they have had two weeks to prepare for this game, and they did knock off Arkansas 28-24 at home already this season.
11. Florida Atlantic (6-1) – The Owls continue to be the best bet that no one knows about. But they may be running into a buzz saw this week at Auburn. The Tigers are on their own 5-2 ATS march. But Auburn is coming off a tremendous 45-41 upset win at Texas A&M, and they are primed for a letdown here. The Owls are 14-3 ATS in their last 17 games, an amazing 11-0 ATS in their last 11 road games, and 10-2 ATS in their last 12 nonconference games. This team has been one of the best bets in the sport the past two years.
12. Central Florida (5-1) – It is almost impossible for the Golden Knights not to have a letdown this week against Connecticut. They are 22-point favorites against a truly pathetic Huskies team. But the Knights are coming off one of the biggest wins in the program's history, ending Louisville's National Championship dreams with a 38-35 road win. That said, UCF is now in the driver's seat for the conference title and have their own motivation. Connecticut is also 0-2 on the road this year, losing by 29 at Buffalo and by 25 at Cincinnati.
13. Marshall (4-2) – The Thundering Herd are in a dangerous spot this week, being posted as a heavy public favorite in a Thursday night game. Underdogs have been killer on Thursday nights so far this year. Marshall is allowing less than 300 yards per game, and their defense is ranked No. 10 nationally. They should dominate the No. 107 offense in college football this week. But Marshall is 0-5 ATS in its last five Thursday games and 2-9 ATS on the road against a team with a losing home record. Will they play down to the level of their competition?
14. Ball State (6-2) – The Cardinals are facing Akron for just the second time in the last five years. The previous meeting was in 2010, and Ball State won in overtime. Akron is a dangerous team to bet on or against. They nearly beat Michigan (28-24) but were also demolished at home by Ohio (43-3). Which team is going to show up? The Cardinals are 39-14 ATS in their last 53 road games and are 20-7 ATS in their last 27 games overall.
15. Tulane (5-2) – OK, I'm going to bite with the Tulane revival. The Green Wave are at home for the third straight game, and they knocked off North Texas and East Carolina in their past two games. Tulane has actually scored three straight outright wins as an underdog and are again a home puppy against sagging Tulsa. The fact that the Wave are still dogged at home made me put them on the list. However, over 85 percent of the bets in this game are coming in on the home puppy, so be wary.
Honorable Mention: South Alabama (5-1), UCLA (5-1), Auburn (5-2), Colorado State (5-2), Ohio (5-2), Buffalo (5-2), North Texas (5-2), Duke (5-2), Florida State (5-1).
Robert Ferringo is a lead writer for Doc's Sport and he is off to a strong start to the season. Robert exploded for over $2,200 in football profit with his selections two weeks ago and is looking for a big bounce back week. Robert will have a pair of 5-Unit Plays this weekend and has posted 28 of 43 winning football months. Take advantage of our free, no-strings-attached $60 credit to use toward a purchase of Robert's football selections and get on this big game. CLICK HERE for $60 absolutely free!
Read more articles by Robert Ferringo
---
Most Recent College Football Power Rankings