College Football Power Rankings: Ferringo 15
by Robert Ferringo - 10/3/2013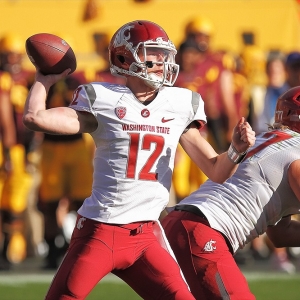 After our 9-2 eruption two weeks ago, the Ferringo 15 came back to earth a little bit last Saturday. Two of our top teams, Washington and Arizona, played one another (guaranteeing one win and one loss), but discounting that game our other clubs went 5-4 for another winning week.
After last week, The Ferringo 15 is now 37-26 ATS this season. Dating back to last year that is 11 of 14 winning weeks for my Ferringo 15 College Football Power Rankings, and our teams have gone 112-69-1 ATS during that stretch. That is a spectacular 61.9 percent success rate. This year the F-15 has been good for a 58.7 winning percentage.
The Ferringo 15 is my Profit-Power Rankings, a rating of the 15 teams that hold the most value in college football betting at the moment. It is a reflection of past, present, and projected future achievement against the spread in college football betting. As teams play and betting markets adjust, so to does the perceived "value" of the teams on the list. Consider the Ferringo 15 a list of stocks whose values will fluctuate based on how they perform and also how the public's expectations for them change.
Last year no college football betting system in the country (except maybe the KING System) was a better bet in the last two months than the Ferringo 15. The F-15 turned a profit in eight of the final nine weeks of the regular season, and the teams on this list went an amazing 75-43-1 against the spread. The top six teams on the Ferringo 15 were a staggering 35-11-1 ATS in the last nine weeks of the season.
Here is my 2013 Ferringo 15 College Football Power Rankings (all records are ATS against the closing line):
1. Washington (4-0) – The Huskies have been a pure moneymaker this season but now they face their toughest test yet. Washington is going on the road to tangle with Stanford, which has posted back-to-back blowouts. The Huskies stole a game from the Cardinal last year, scoring late to pull a home upset. Stanford has been great in revenge situations and is 4-1 ATS in the last five meetings. I thought the spread on that game would be around 10, so the Huskies are clearly getting a lot of respect from oddsmakers.
2. Washington State (4-1) – Reality slammed the Cougars in the face in the form of a Stanford beating last week. That blunted the momentum of three straight wins but wasn't altogether surprising. The Cougars lost their quarterback in that game, but my reports show Connor Halliday as probable this week. Washington State has held its value because of its defense, which is ranked in the Top 25 in total yards and No. 11 against the pass.
3. Anyone Playing Notre Dame (5-0) – Weird line for the Irish this week. Arizona State is in a bit of a letdown situation after their huge Pac-12 win over USC last week. But Notre Dame just continues to be overvalued by everyone associated with college football. And the Irish could be just as distracted by the fact that they take on those same Trojans next.
4. Wyoming (4-1) – The Cowboys fell on their faces last week at Texas State, losing by three touchdowns to a bad Bobcats team. However, I actually think that may help Wyoming's value since people will be quick to write them off. The Cowboys have a week to stew over this one. But they get three of their next four games at home and have a winnable trip to San Jose. Wyoming has a back-loaded schedule, so get while the getting is good with this group.
5. Bowling Green (4-1) – The Falcons have to avoid a letdown this week against Massachusetts. The Falcons shut out the Minutemen on the road last October, and now this is the rematch. UMass is coming off a bye and played a great game against Vanderbilt in a 24-7 loss. Now Bowling Green is being dressed up as a 25-point favorite against a team that they beat 24-0 on the road. The Falcons could cover this game. They have won by 27 and 31 already at home this year. But the value on this top MAC team may be dropping.
6. Oregon (4-0) – Someone e-mailed me this week, "Am I crazy for liking Colorado? When will Oregon let off the gas?" My response was simple: Yes. And Never. The Ducks are just wrecking everything in their path right now. And the fact that they are still No. 2 behind Alabama gives them motivation each week. You know the Ducks have a chip on their shoulder about the SEC. And, frankly, I think it is ridiculous that Oregon isn't No. 1 in the country. So do they. And they will take it out on the Buffaloes.
7. Missouri (3-1) – There are two super-intriguing SEC games going on this week. The first is Ole Miss vs. Auburn. The second is Missouri's trip to Tennessee to take on Vanderbilt. The Tigers and Commodores are two sleeper/spoiler teams in the SEC this year, and it will be interesting to see which one gets the upper hand. Missouri has not been a strong road team, and Vandy already lost to Ole Miss at home this year. This is a revenge game for the Tigers as it was this home loss that crippled their season last year since it also cost them quarterback James Franklin. Franklin is healthy and motivated, and this could be a good spot for Missouri.
8. Georgia Tech (3-1) – Tough Thursday loss to Virginia Tech, and now the Jackets are on the road against red-hot Miami. Georgia Tech and Miami played one of the wildest games of the ACC season last year. Miami scored the first 19 points of the game (19-0), then Georgia Tech scored 36 unanswered points (36-19) only to watch the Hurricanes with 23 consecutive points to close the game for a 42-36 overtime win. Georgia Tech is 7-1-1 ATS in its first underdog game of the year, and they are 6-1-1 ATS with revenge.
9. Baylor (3-0) – The Bears really aren't a team that is off the radar right now. And, truthfully, I'm not sure what their value is. They have beaten up on some horrendous teams this year en route to averaging 70 points per game. But the fact is they are averaging 70 points per game. And in a wide-open Big 12, the Bears could become the team to beat. Baylor has revenge against West Virginia this week, and they are catching the Mountaineers in a killer letdown spot after WVU beat Oklahoma State. This could just be another cameo in the F-15 for the Bears.
10. Marshall (3-1) – We will find out if the Thundering Herd used their bye week to get over their heartbreaking overtime loss at Virginia Tech or if the extra time off just let that game linger in their minds. Marshall is a healthy 14-point favorite against Texas-San Antonio this week, and UTSA has been a high-value team in its own right this year. The Roadrunners have covered spreads against high-fliers like Oklahoma State and Arizona, and they have road wins at New Mexico and at UTEP. This will be a week for Rakeem Cato to show what he is made of.
11. Maryland (4-0) – The Terps are done with their Revenge Tour, and now we will find out if the Terps are a legit player in the ACC or simply a second-tier team headed for a pre-Christmas bowl game. The Terps are on the road this week to take on a Florida State team that has won eight straight conference games. Maryland has lost six straight in this series. But this situation has always been Randy Edsall's best role, and he routinely covered large underdog spreads when he was at Connecticut. I do think Florida State is overrated. But can Maryland handle FSU's speed for 60 minutes?
12. Ohio (3-1) – I think that this is a really tough spot for the Bobcats this week. Ohio is a small road favorite against Akron this Saturday. But the Zips are playing as well as they have in four years, nearly beating Michigan in The Big House two weeks ago. This is an in-state rivalry game, and I think that this one could be a battle. Ohio has won five straight against Akron and is 4-1 ATS in the last five meetings.
13. Central Florida (4-0) – This week offers a stiff challenge for the Knights. They have to avoid the letdown from last week's grueling near miss against South Carolina. Central Florida is on the road against a familiar foe, former Conference USA rival Memphis, and the Knights are dressing up as double-digit road favorite. But this is Memphis' best team in years, and the Tigers are going to try to pound the ball on the ground. It will be difficult for the Knights to bow their back for 60 more minutes, but there is no doubt that they have a massive talent advantage in this one.
14. Texas Tech (4-0) – The Red Raiders have had two weeks to prepare for a non-threatening trip to Kansas. They are two-touchdown favorites this week, and more than one handicapper is looking for Tech to fall flat. The Red Raiders barely escaped in overtime last year against the Jayhawks, winning 31-24 despite being 24-point home favorites. Baker Mayfield is probable for this game, so I expect most of the action to come in on the road chalk. But I may want to see how Kliff Kingsbury handles the road in conference play before I dive in with Tech.
15. Arizona (2-2) – It is nice now that the rest of the country is buying into what I have been selling since the beginning of the year: the Pac-12 is really, really good. I think that top to bottom it is the best conference in the country. And I am not willing to quit on a team like Arizona, because I still think the Wildcats will have a say in the Pac-12 race this year. They have the weekend off before a Thursday night showdown at USC on Oct. 10.
Honorable Mention: Houston (4-0); Louisville (3-1); Florida State (3-1), Wisconsin (4-0), Baylor (3-0); Ohio State (3-1); Minnesota (3-1), Texas-San Antonio (4-1), Toledo (3-0-1), Ball State (3-1), Utah State (4-1), Colorado State (4-1), UCLA (3-0).
Robert Ferringo is a lead writer for Doc's Sports and a member of the Football Writer's Association of American. He has earned over $11,000 in profit for his clients over the last 17 football months. This week Robert will release selections from his incredible KING College Football Betting System. (Learn more HERE.) He also has a 6-UNIT COLLEGE FOOTBALL GAME OF THE MONTH THIS WEEKEND! We are so confident that you will be amazed by this moneymaking system we are going to give you a free, no-strings-attached $60 credit to use toward a purchase of Robert's football selections. CLICK HERE for $60 absolutely free!
Read more articles by Robert Ferringo
---
Most Recent College Football Power Rankings