MLB Betting: Angels Value at Lowest Point in Years
by Robert Ferringo - 04/29/2009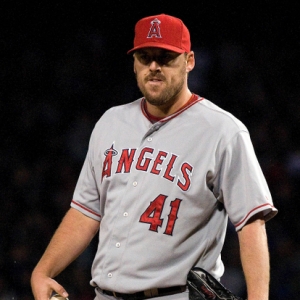 In biblical terms, the number 666 is the Number of The Beast and foreshadowing of evil. For the Los Angeles Angels it was the number 89.5 that was the harbinger of doom for their 2009 Major League season.
The number 89.5 represents the "over/under" for total team wins set by Las Vegas for the Angels prior to the season. Generally you wouldn't think anything of the projection. In fact, I'm certain that for a lot of people their first thought was "easy money". After all, the Angels were coming off a season in which they led the entire league in wins with 100 and over the past five years this club has averaged 94 victories per season. They lost a couple guys but the core was intact and in a feeble division there was no reason to think that the Halos wouldn't again work their way to 90-plus wins by October.
However, when I first saw the number 89.5 as their projected wins the red flags shot up. Why? How? What am I missing here? The Men of Vegas know Something. I'm sure of it, because The Men of Vegas always know Something. Not in a mystical sort of way. That is not the source of their knowledge. It's more in a dirty, dark, back alley sort of way. And this situation stunk.
Now, there is no way that the oddsmakers - or anyone else - could have predicted something as heinous and tragic as the death of Nick Adenhart. However, they knew that there were cracks in the foundation of this burgeoning West Coast dynasty and they knew that the Angels were in for a long year.
Currently the Angels are 9-11 after their win over Baltimore on Wednesday. They are in third place in the A.L. West and have not looked good, at all, in getting there. At this pace the Angels are set for 73 wins this year, which would be their lowest total since 1999.
Los Angeles has already endured a litany of problems since their opening-round exit from last October's playoffs. They watched as their record-setting closer, Frank Rodriguez, and their stud first baseman, Mark Teixeira, each signed lucrative long-term deals with other teams. They then could do nothing as their three best pitchers - John Lackey (elbow), Kelvim Escobar (shoulder), and Ervin Santana - were slated to miss significant time this season. That left the Angels scrambling for healthy arms to bridge the gap - one of which was Adenhart - and left this team in a state of disarray.
Things have not improved much on the injury front. Star outfielder Vladimir Guerrero tore his right pectoral muscle in mid-April and was set to miss four to six weeks.
And in between injury, tragedy, and uncertainty the Angels have had to try to soldier on and play some baseball. And they haven't looked good. They started out 3-8 and 6-11 and were one of the worst bets in the league.
So the issue now is whether or not Los Angeles will turn it around this year and make a surge to regain their top spot in the West or if they will simply continue their downward slide in this cursed season.
I think that most signs do point toward the Angels getting it together and at least competing for the division crown. The main thing that they have going for them is that each of the teams in this division is fatally flawed. Texas doesn't have any pitching. Oakland doesn't have any pitching or any hitting. And Seattle is struggling with its bullpen and with the fact that it lost 101 games last season. The next best thing that L.A. has working in its favor is manager Mike Scioscia. Scioscia is one of the best in the business and will be a steady hand that guides this ship through the storm.
Further, the Angels have enough depth on their roster to weather the loss of Guerrero. This is a team that relies heavily on speed and defense to do its damage. And while not having Vlad batting cleanup is clearly a blow this team still understands how to manufacture runs. The club is currently sixth in the Majors in batting and second in stolen bases. They are also solid at 12th in runs scored per game.
But pitching is still an issue. Santana and Lackey will be back some time in May. Their arrival will be a huge lift for the starter-starved staff. However, they still have some major issues in the bullpen. The Angels have the worst bullpen ERA in the league and as a whole the pitching staff is 24th in WHIP and just 27th in strikeouts. Having two innings eaters back - assuming that Lackey and Santana stay healthy once they return - will certainly relieve some of the pressure. But the bottom line is that their stable of relievers is nowhere up to the level that they have experienced over the last several seasons.
The bottom line is that the Angels have likely already hit rock bottom. The death of Adenhart and the injuries to three of their best players would have been too much for just about any team to overcome. And because the Angels haven't buried themselves they still stand a good chance of staying in the race in the wide-open West.
But the issue remains that Los Angeles is not going to be nearly as consistent as they have been and they will likely continue to be a poor value bet. This is still a team that is going to be treated by the oddsmakers as the club that has won 94 games per year and has won four of five division titles. They will be shackled with inflated money lines and sharp bettors may be better served by finding spots and series to fade the Angels rather than trying to ride them back to respectability. The Angels will see a deflation in their spreads as a response to their slow start. But once they start stringing even a few wins together they will be right back in the role of -170 favorites before you know it.
In fact, the best way to play the Angels moving forward may be to ride them 'over'. Last year they were one of the worst teams in the league against the total, and thus a perfect 'under' wager. This season the pitching, neither their starters nor at the back end of the 'pen, is not nearly as strong. They are 12-7 against the total thus far and I think that trend may continue.
My advice: tread lightly, friend. The Angels won't win 90 games. The oddsmakers will again rake in cash from the squares that threw down futures plays on history and heroes in L.A. And the blight that the Men in Vegas cast on this franchise will have been a success. The Angels may overcome, but there will be no winners here besides the dark forces that work against us.
For more information on Ferringo's baseball picks, check out his Insider's Page here.