MLB Handicapping: Look For Value By Fading Over-Hyped Teams
by Robert Ferringo - 05/11/2009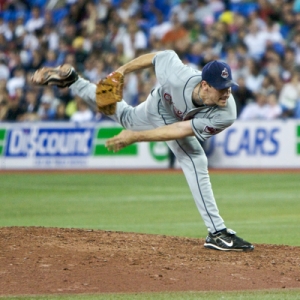 It seems as if everyone, from media bobbleheads to (mousy bettors) has spent the first six weeks of the Major League Baseball season looking for This Year's Tampa Bay Rays. Everyone wants to be the driver of the bandwagon for the next surprise team in the Majors and they want the prestige and the profit that comes from getting on that horse early.
Not me. I don't care about the Rays or finding the surprise team. So instead of chasing a handful of wannabe Cinderella's and First Half Superstars I prefer to zero in on a crop of teams that can be consistent moneymakers throughout the whole season. We'll call them This Year's Tigers.
Remember entering last year how everyone had basically conceded the American League Central to the Detroit Tigers and their "incredible" lineup? Remember how they bumbled through the first two months of the season, made a mini-push in June and then packed it in and closed the season on a pathetic 10-23 skid? Do you remember the Tigers being one of the most profitable teams in the league to bet against because of their inflated money lines? Well I do. And in my experience it's been a lot easier to find a team that is going to lose 95 games and make you a profit fading them than it is to find a "surprise" team that's going to win 95 games and not cost you -185 every other day.
Turning a profit in baseball isn't just about finding the winning teams. It is also knowing the teams, pitchers, and players that you want to be betting against in certain situations. And it's all about value. The public severely overvalued the Tigers, which drove up their prices. But by the time people realized that they couldn't pitch, catch, or manufacture runs this team's backers were already in a serious hole.
This year the teams that earned the hype but now have their backers screaming for help are the Oakland A's and the Cleveland Indians.
Now, there are always over-hyped teams that can yield a massive profit by betting against them. But before we get to the A's and Indians let's not forget about the core of the Fade Patrol. Just like every year teams like the Yankees, Red Sox and Angels are winning games and finishing around 90 wins there are also a crop of teams that, recently, you can seemingly count on for 90 losses.
Kansas City has been able to elevate itself off the scrap heap. But with teams like the Pirates, Padres, Rockies or Nationals, no bet against them is ever a bad one. Those four clubs combined to average 96 losses apiece last year and were basically sinkholes. Throw in the 101 games that Seattle lost last season and now we're looking at five of the least profitable teams to bet on but the most profitable teams to bet against in the entire league.
Seattle appears to have taken steps to right themselves. And while they aren't going to finish over .500 this season I don't know if they will be a great team to fade throughout the year because their decreased value still doesn't reflect the increase in talent that they are putting on the field every day.
But there is good news! Like the Hydra, where you cut off one head and two more grow back in its place, this season we have two new crops of underachievers in Oakland and Cleveland that look like they are ripe for fading all summer long. And, like the Tigers before them, each team was christened with a host of preseason praise, which upped their perceived value before the club upped its performance.
Cleveland Indians (11-21, -$1,100)
After some subtle but seeming solid offseason maneuvers the Indians started the year poised to ride the roller coaster back up to the top of the American League Central. They were one of the hottest teams in the league late last summer. Left for dead at 38-53 in early July, this team closed out the season on a 43-28 run - even after they traded ace pitcher C.C. Sabathia - and managed to move up to third place in the Central. A carryover was expected with some key guys coming back from injury, some young bucks ready to step in, and some pickups set to contribute.
Not so much.
Cleveland opened the year losing seven of eight and seemingly hasn't recovered. They were swept at home over the weekend by division rival Detroit and have been the biggest sinkhole in the MLB for bettors. In fact, their .344 winning percentage is worst in the league.
The main culprit for this team is their pitching. Their staff - if your name isn't Cliff Lee - is pathetic. Their 5.83 ERA is the worst in the league with neither starters (5.55) nor relievers (6.34) holding up their end of the deal. This has made the Tribe the fourth-best 'over' bet in the game. But it's doing nothing to reverse the damage of their money lines.
Cleveland has been decent at the plate, hitting .263, which is good for 13th in the league. But they simply cannot keep up with the runs that the pitching is allowing. Their defense is once again in the Top 10 in terms of fielding percentage, but that doesn't take into account the poor range and mental errors that these guys seem to make on a nightly basis.
I am not giving up on another second half surge from this team. But as long as they are trotting out piñata's like Jeremy Sowers, Anthony Reyes and Carl Pavano there is no way that this team will be a consistent wager throughout the summer. Also, they need some of their top talents - namely, Grady Sizemore (.227), Jhonny Peralta (.210) and Fausto Carmona (1-4, 5.57) to step up and play at the All-Star level that we know they can. If that doesn't happen this team is sunk.
Oakland A's (11-18, -$700)
It was believed that the injuries to Los Angeles' pitching staff and the offseason losses that the Angels incurred were going to help create a power vacuum at the top of the American League West. Fresh off the stunning signing of former MVP's Matt Holiday and Jason Giambi, as well as some other tinkering this winter and spring, it was believed that the A's would once again challenge for dominance out West.
Not so much.
Oakland is presently in last place in the muddled A.L. West. They are only five games back at the moment, but they have been the fourth-worst wager in the Majors so far this season. And much like Cleveland, if you look at the names and results from the starters that these guys are trotting out every day it's not hard to see why. Mix in one of the worst offenses and worst defenses in the league and you have a team spinning its wheels.
Oakland's team ERA is actually in the Top 10 in the league. However, that stat is incredibly misleading. Their starting pitchers are just 5-12 with a 4.71 ERA (No. 21) and the A's have gotten the least number of innings out of their starters of any club in the Majors. That will likely burn out that No. 1-rated bullpen before the All Star break.
Having made a list of questionable maneuvers to break up one of the elite pitching crops of the last decade, the A's are now without an ace. Dallas Braden (3-4, 2.79) and Trevor Cahill (1-2, 3,82) are doing what they can. But that pair isn't exactly Shields and Kazmir or Becket and Dice-K. This club has used seven starters already and I don't think they are even close to being finished.
On top of that, the A's can't score. They've scored the third-fewest runs in the league and are No. 29 in batting with a pathetic .236 team average. They can't hit lefties (.204), they can't hit during the day (.215) and they don't hit at home (.225). Other than Holiday, who hasn't been anything special, the rest of their lineup is either washed up or simply not very good. I mean, how far do you think you're going to go when you're relying on Ryan Sweeney, Travis Buck, Mark Ellis and Kurt Suzuki for .162?
This team is predicated on pitching, defense, and timely hitting. Right now they don't have the horses in the rotation to compensate for their pathetic popgun offense, and their defense is one of the weakest in the league. Again, I'm sure this team will find a way to scratch out some wins. That's what the A's do, and no one will dominate the West this year. However, if you're waiting for the light to go on and for this team to match those preseason expectations you're going to go broke before they break out.
Remember: sometimes it is better to be the first one off of a bandwagon than it is to be the first one on.
For more information on Ferringo's baseball picks, check out his Insider's Page here.