MLB Handicapping: Teams Ready To Give Up On Season
by Robert Ferringo - 07/07/2009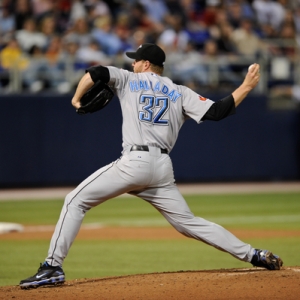 Did anyone really care that Scott Hairston was traded from the San Diego Padres to the Oakland A's last week? Anyone? In fact, did the transaction even make it out of the MLB blotter and into your local sports section? Probably not.
However, the move, in my eyes, was significant for a variety of reasons. First, it's a clear sign that the Padres are abandoning ship and are ready to mail it in on their season. Second, it's starting to look like the A's brought in another outfielder so that they could move Matt Holiday in a blockbuster deadline deal. That move, in turn, would signify to me that the A's were packing it in for the season as well.
See, when there is a trade - no matter what sport - I am much less likely to try to gauge the betting impact it will have on the team that brought in the Big Fish and landed the Big Name. Instead, I like to turn my focus to the team that traded away the Name Player and figure out how much this team is going to start giving up on the season.
The Mark DeRosa trade is a really nice example. He was dealt from Cleveland on June 27 and at the time the move was a symbolic gesture to the Tribe and its faithful that this season just wasn't working out and that the front office was going to keep building for the future. The result was a five-game losing streak by Cleveland - all five games at home - after the deal and the Tribe has gone 2-6 since dealing one of its hottest hitters.
And that's the thing in these deals: first, the front office is taking away a good player from an already shaky, suspect team. Second, they are sending a message to the team and its followers that this season is in the bag and that they're already looking ahead to next year. So teams start to pack it in, put up less of a fight, and become great teams to fade through the second half of the season. I have found that this is a much better strategy than trying to bet over the inflated numbers of the recipient in a significant deal.
Here are five teams that could be sellers in the trade market, and therefore are five teams that could pack it in over the second half of the season:
1. Toronto Blue Jays (43-41, fourth place, 7.0 games back)
The Blue Jays will really be one of the keys to baseball's trade season. In May the Jays were the surprise first place club in the A.L. East. But they have come back to earth and are now fading at seven games back. They are the clear No. 4 horse in a four-horse race. And they know it. And unlike a lot of teams they actually have some pitching - lefty pitching - to move. On top of that the Jays may be dangling All Stars Alex Rios, Vernon Wells and Roy Halladay. One move and the house of cards crumbles. But if they stand pat then that could set up a make-or-break season in 2010.
2. Houston Astros (40-41, fifth place, 3.5 games back)
The Astros have very, very quietly positioned themselves in the thick of the N.L. Central race. They are near .500 and just 3.5 games out of first place. However, do they have enough pitching and defense to stay in the race and where will this team fall in the trade rush? I feel like if this team were to make a move and bring someone in it would galvanize the veteran core and they'd make a serious push. But if this team fades a bit over the next couple weeks and then starts shipping pieces then the vets will almost assuredly mail it in and start thinking about tee times.
3. Arizona Diamondbacks (34-49, last place, 18.5 games back)
Two years ago the Baby Backs were the toast of the town. Now they are clearly going through an Awkward Phase. The bottom line is that this is one of the two or three worst teams in baseball, and even in the pathetic N.L. West I don't see them competing in the second half. Also, I'm not so sure how much worse it can get for these guys and they really don't have that much to offer in a trade. However, even dealing struggling lefty Doug Davis would be a symbolic move that signals to this team that the season is over.
4. Baltimore (36-47, last place, 13.5 games back)
The Orioles have been scrappy all season long but their pitching is absolutely pathetic. There is a glut of capable veteran bats up and down that lineup and guys like Aubrey Huff, Luke Scott, Melvin Mora and Ty Wigginton could definitely contribute for a playoff team. The problem will be that the O's need pitching in return and not many teams will be willing to give that up. However, the O's should be sellers and it will be interesting to see what it does the psyche of this young team.
5. Pittsburgh Pirates (37-46, last place, 7.5 games back)
It's become an annual rite of summer: the Pirates reach back and make a deal ranging from shipping out an insignificant middle reliever to moving All Star outfielder to a Real Team near the trade deadline. The Pirates have clearly been the farm team for the Majors for the last decade and even though they start each season with youthful promise they normally end it right around mid-July. The result is that over the last four seasons the Pirates have gone 121-170 (.415) after July 7. Over the past two years that mark has been 55-94, and that's mailing it in.
Robert Ferringo is a professional handicapper and a writer for Doc's Sports. For more information on his picks CLICK HERE.