2009 NBA Draft: Ranking the Point Guards
by Robert Ferringo - 05/22/2009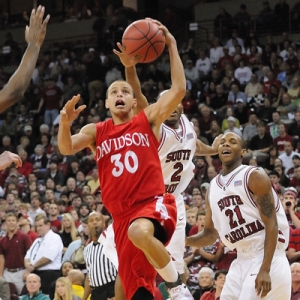 When I played organized basketball I loved being a point guard.
You're in control. You're running the show. You're doing all of the big and all of the little things to keep the Machine running. When things are going good you're pushing the tempo, getting everyone touches, and making plays either scoring or dishing. When things are going poorly, you're the guy that everyone looks at to calm things down and get things back under control.
Point guard is not as difficult of a position as a quarterback in football. However, because point men don't leave the field and have to get it done on both ends of the floor you can argue that it's an equally critical one. Basketball is a game that is all about tempo and momentum, while football can be reduced to brute physicality. So while both a quarterback and a point guard have to be able to find a rhythm and provide unparalleled leadership for their teams the two positions are very different in the totality of responsibility placed on the players.
The 2009 NBA Draft will be held on June 25. That night there is no position that will be scrutinized as much or one position that will be as heavily represented in the first round than that of the point guard. This is a PG-heavy class and how teams break down and rank the possibility of these pint-sized players is going to go a long way in determining success and failure in this draft and for certain teams for the next decade. One Chris Paul, or Steve Nash, or Jason Kidd can completely transform a franchise. And in this year's crop there is at least one of those types of difference makers available.
Below is one man's ranking of the point guards in the 2009 NBA Draft class. I've rated them based on a mixture of their current NBA readiness - in terms of stepping in and contributing right away - as well as their long-term potential to be stars at the Next Level.
Here are the best of the best in this year's point guard class:
1. Stephen Curry, Davidson
Yeah, I'm counting Curry as a point guard even though he is more known as a scorer. Why? Because he's only 6-1. And if he is going to have the impact in the NBA that he's had in college it's going to have to be with the ball in his hand. The kid has a very good feel for the game and can dish the rock. But the bottom line is that he has one of the sweetest scoring touches I've ever seen. And there is always a place for a guy like him in the NBA. He is also getting stronger and isn't nearly as wiry as he looks.
2. Ricky Rubio, Spain
I've seen him dunk. That's about all I can say about the 19-year-old Spanish point. And I know that sounds weird, but to me it's a big deal. Because if a point guard can't dunk that tells me that he's not athletic enough to play in the NBA. Jason Kidd used to be able to dunk, so don't give me that. And Steve Nash is a freak of nature. So I've seen Rubio dunk so I'm convinced he will be athletic enough to stick in the NBA. From what I hear his skill level is good, but I also know that he's not dominating over in Europe, which is a concern. But by all accounts he is as good as anyone that played in college last year.
3. Ty Lawson, North Carolina
For his first two years I was a big believer that Lawson was one of the most overrated players in college basketball. Not last year. He really worked to improve his shot from the outside. And now that he's a reliable shooter, to go along with that ridiculous quickness, Lawson can be an offensive force in the right system. The trouble is that Lawson can't defend. At all. None of the UNC guys can. And that's a big problem. He is also a little small, but there have been shorter point guards that have done more damage.
4. Jonny Flynn, Syracuse
Flynn is not nearly as accomplished as, really, anyone on this list. But he gets the jump to No. 4 partly because I'm an SU homer and partly because I think that his upside surpasses anyone else. My knock on Flynn was that while he was at Syracuse he didn't take over games and there were really just a handful of times when I felt like he was clearly the best player on the floor. But Flynn is as fast as Lawson, is as good of a passer as Rubio, and is as athletic as anyone. He also has a great attitude and his game is built for the NBA level.
5. Patty Mills, St. Mary's
People were so quick to dismiss Mills last year when he hurt his wrist. But the bottom line is that he was one of the top 10-15 players in the country last year and, as a matter of fact, he had nearly 30 points IN THE FIRST HALF of the game against Gonzaga in which he was injured. Mills has a beautiful step-back jumper, much like the one Jameer Nelson has, and is a terrific defender and rebounder. As I am contractually obligated to say, Mills also proved himself in the Olympics against the best in the world. He'll be a steal late in the first round.
6. Brandon Jennings, Europe
I don't know much about Jennings. But I do know that he was set to come in and start at Arizona, and the Wildcats have been known to produce a point guard or two.
7. Jeff Teague, Wake Forest
The thing that I love about Teague is the nastiness that he brings to the table every time out. There is not one aspect of his game that dominates, but he can score, handle, distribute and defend. He is another player that I think is going to be a steal late in the first round. He does get out of control, but I think that as he gets experience that will fade a bit. Also, he is more of a natural scorer - like Curry - that will be running the point. But I think that he has a load of potential and the attitude to be exceptional.
8. Eric Maynor, VCU
Maynor is a tough player to project at the NBA level. But it has nothing to do with the level of competition that he faced playing in the Colonial. Maynor always stepped up against the best competition and nearly single-handedly took a rag-tag bunch of ass-clowns from VCU past Darren Collison and UCLA last March. But Maynor is such a laid back, cold-blooded assassin that I wonder if he'll be assertive enough to get meaningful minutes. But don't be fooled - there is nothing this kid can't do, and I think he'll thrive playing with better competition.
9. Tyrese Rice, Boston College
Don't sleep on Mr. Rice. This guy reminds me of Jason Terry and he's going to score no matter where he plays. The kid is absolutely lethal. Once again, he's more of a scorer than a natural point guard but he did average more than five assists per game at B.C. despite not having much talent around him. Rice outplayed Ty Lawson just about every time that they met. He's not a good defender - but since he played in the ACC that goes without saying - and he needs to take care of the ball. But I would love to have a guy like this coming off the bench until he learns to run a team.
10. Jerel McNeal, Marquette
A few years ago people believed that Dominic James was the most NBA-ready of the Marquette guards. But now I think there is no doubt that McNeal will have the more fruitful pro career. He is an exceptional defender and rebounder and this tough-as-nails Chicago native has the moxie to be a difference maker. He can score, he can lead, and he can take care of the ball. He is just a pro's pro that may never be a star but certainly will be a contributor for a long time.
11. A.J. Price, Connecticut
Injury issues are the biggest hindrance to Price's potential and are why he slipped a bit. Also, Price doesn't dunk. And even though he has all of the intangibles - he's a worker, he is amazingly clutch, and he has worked hard to improve all facets of his games - that limited athletic ability is going to hold him back a bit. Still a very solid second round pick though.
12. Toney Douglas, Florida State
Don't think for one second that Douglas was a one-year wonder this season at FSU. Douglas had been toiling in obscurity for years with the Seminoles and his team was actually snubbed, twice, by the NCAA Tournament Selection Committee. Douglas is, again, more of a scorer. And he isn't the most athletic player in the draft. But I think if he finds the right situation he can stick.
12. Curtis Jerrells, Baylor
Jerrells really had a disappointing senior year with the Bears and wasn't nearly the leader nor as assertive of a player as he had been his sophomore and junior seasons. He has plus-quickness and is a much better passer than he is given credit for. He also isn't a natural shooter. But the kid has good strength, decent size, and is an adept enough scorer to hang around for a bit.
13. Darren Collison, UCLA
Collison is clearly a winner. He has one of the best resumes of any point guard to come out of college in the last 15 years. And despite his lithe build he's really one of the quicker players in this draft. He could get pushed around a bit by the bigger, stronger players in the NBA and he really is not a natural shooter or scorer. But he takes care of the ball and, unlike the large group of "shoot-first" point guards on this list, Collison understands how to run a team.
For more information on Ferringo's NBA picks, check out his Insider's Page here.