2009 NBA Draft: Ranking the Power Forwards
by Robert Ferringo - 06/01/2009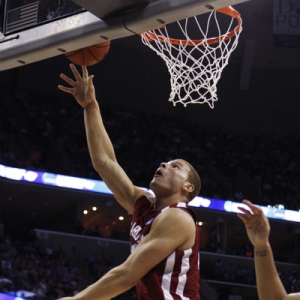 Blake Griffin will not only be carrying the banner for what is a very interesting 2009 NBA Draft class but he is also the flagship player for one of the deepest positions in the NBA Draft, power forward. And after watching the Orlando Magic and Boston Celtics take the last two Eastern Conference titles it's obvious that power ball is "in" on the hardwood. And if you want to beat the best you have to be able to overpower them near the basket.
With that in mind, here is a breakdown of the top power forwards in the 2009 NBA Draft:
1. Blake Griffin, Oklahoma
There isn't much that I can say about the consensus No. 1 pick that hasn't already been said. Griffin is a man-child. He is active and skilled on the offensive end, and is really an exceptional passer for his size. I do worry a little bit about him consistently knocking down jumpers but he has the athletic ability to step right in and make an impact. I don't think Griffin will ever be an MVP-type player in the NBA but he should have a productive and successful career.
2. Jordan Hill, Arizona
The only reason that I give Hill the nod over Ty Hansbrough and Juan Blair is a small height advantage. Hill is still very raw and he always seemed to be slowed by nagging injuries. But his athleticism makes him worth the reach; and I think him going in the Top 5 is a huge possibility. Hill has really nice touch on his short and mid-range jumpers. Also, he's not someone that's going to try to be something he's not, meaning he's not going to try to step out and knock down threes. He's going to attack the basket and try to work. I think he is a high risk, high reward pick.
3. Tyler Hansbrough, North Carolina
A lot of people are dogging Hansbrough heading into the draft and dismissing him as The Next Eric Montross. But I am actually pretty high on his potential in the NBA. I've described Psycho T as "a white Mark Madsen" but I think that Hansbrough's offensive game is much more refined. He has legitimate range out to 20 feet and is one of those "high motor" guys that puts pressure on opposing defenses. No, he's not the most athletic player and struggles to defend. But I think he could be a poor man's Zydrunas Ilgauskas. One more knock on Hansbrough - he's going to be 24 this year.
4. DeJuan Blair, Pittsburgh
On one hand I think that Blair could use an extra year at school. But then when you consider that Pitt doesn't develop NBA players and think about the beating that Blair would take through another season I suppose this makes sense. Blair has exceptional instincts and ball skills around the basket. He has a ridiculous wingspan and is a sick offensive rebounder. But he's only 6-6 and he won't be able to push people around in the NBA like he could in college. That's a lot to make up for. But if he puts in the work he could become a poor man's Charles Barkley.
5. Gani Lawal, Georgia Tech
Lawal is raw and I'm usually not a big fan of guys that have potential but a weak resume. Lawal was Tech's leading scorer last year and hit double figures in all but five of his games last season. But he was thoroughly outplayed last year in head-to-head meetings with Andrew Ogilvy, Taj Gibson, and Tyler Hansbrough. Lawal is also a little thin at 6-8 and 220 but doesn't have the ball skills to move to small forward. But he's only 20 years old and has a frame that he could grow into.
6. Taj Gibson, USC
Gibson is a guy with a lot of potential but just never seemed to put it together at USC. He appeared aloof at times and just didn't dominate the way I thought he should have in the soft Pac-10. Also, like Hansbrough, Gibson is 24 years old, which means he was playing against kids that were three or four years younger. That also limits Gibson's potential. But he's a guy that I like that could be a solid second round pick.
7. Jeff Adrien, Connecticut
Adrien is an absolute house and this kid is an animal around the basket. But to compliment his cut physique and toughness, the kid has some offensive game. He can finish with either hand around the basket and is lethal with his 15-footer. Like Blair, Adrien is a bit short at 6-7 but he has a freakish wingspan to make up for it. Adrien is another one of those guys that is who he is: a bruiser. I would love to have him on my team coming off the bench and I think he could be a poor man's Charles Oakley.
8. Jeff Pendergraph, USC
Make no mistake about it - Pendergraph played step-for-step with Jordan Hill when they stepped on the court against one another. Pendergraph isn't as physically gifted but he is much more polished on the offensive end. Pendergraph is a solid 6-10, 240 so he has the body to be an effective player. I think getting out of Arizona State's system and out from James Harden's shadow am going to be great for him and this kid could be a steal in Round 2.
9. DeMarre Carroll, Missouri
Carroll is the quintessential tweener: at 6-7 he's a little too short to be a pure power forward, but he doesn't handle the ball well enough to be a swingman. Carroll's career is all about getting on the right team. If he can find his way to an uptempo team like Golden State or Phoenix he could be an outstanding addition. But he is not built to play in the half court game. I like Carroll a lot and will be interested to see how he shakes out.
10. Jon Brockman, Washington
Brockman is a bit of a forgotten man in this group but I think he has NBA potential. He's a bit too slow to consistently defend opposing power forwards but his frame and his body control could make him a valuable second-teamer. Brockman always played well against top competition and was an exceptional four-year contributor for the Huskies. If you are looking for another second-round sleeper, here he is.
For more information on Ferringo's NBA picks, check out his Insider's Page here.