NFL Handicapping: New Important Assistants
by Robert Ferringo - 7/30/2009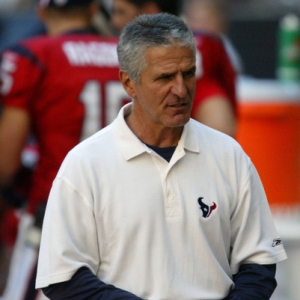 (Writer's Note: I actually finished this story Tuesday afternoon just hours before I found out that Jim Johnson had passed away. My thoughts and prayers go out to his family during this terrible time. I had mentioned in the original story that I did, in fact, realize how amazingly trivial it is to be talking about how one man's battle with cancer is having an impact on a Super Bowl contender. I still feel that way, and just wanted to get that point across.)
Philadelphia is one of the main contenders for the 2010 Super Bowl. But due to the tragic situation involving Jim Johnson and his bout with cancer the Eagles were forced to promote McDermott to the position once occupied by one of the great football minds of the last quarter-century. (And yes, I realize how trivial it is to be discussing Johnson's job situation and its impact on the Eagles when the guy is battling cancer.)
There aren't many people outside of the Keystone State or the Tri-State Area that know much about 35-year-old Sean McDermott. In fact, I'd be willing to bet that at least four of out of ever five people that just read that sentence can't even tell me what team McDermott is employed by. Yet, the new Philadelphia Eagles coordinator is at the head of the list of assistant coaches whose performance is going to have the most impact on this team this season.
Fortunately for McDermott and the Eagles, the new DC has been with the team since 1998 and he has been an assistant coach with the linebackers and secondary since 2001. McDermott is a Jim Johnson protégé, much like new St. Louis head coach and former New York Giants DC Steve Spagnuolo, so he is well versed in the Blitz, Blitz, and Blitz Again philosophy that Johnson employed.
Yet while McDermott obviously has a solid relationship with the players and coaches we still don't know how he will manage in the heat of battle on Sundays. He may be familiar with Johnson's style of game planning and prep work, but I can assure you that McDermott won't have the same instincts and the same nerves of someone as experienced as Johnson. Johnson was the defensive coordinator for the Eagles for 10 years, seven playoff runs, five NFC Championship Games and one Super Bowl so clearly McDermott has some huge holes to fill. And how he fills them will be a story to keep an eye on all season in Philly.
Coaching hiring and firings often garner front-page attention from local and national media. But coordinators often come and go with little more than a blurb on the four page of the sports section, below the fold. Yet coordinators can have a tremendous, tangible impact on a team's season and therefore it's important to keep track of which guys are going where and doing what in the offseason.
There are 11 new head coaches in the NFL this season, counting the guys who finished last year as interim headmen. A majority of those coaches are importing fresh coaching staffs, including a half-dozen unique OC-DC combinations. However, there were still several other coordinators shuffling from city to city this offseason and finding their way onto teams with otherwise stable infrastructures. I believe that I've located 10, McDermott and nine others, that will be under the most pressure this NFL season.
1. Dom Capers, DC, Green Bay
Green Bay is completely overhauling its defense this year as it switches from its traditional 4-3 base to a 3-4. Normally a transition like this would take at least two years and a big change in personnel. But the Pack is relying on the skills of Capers, the 1996 NFL Coach of the Year, to make the move run smoothly. Capers' last coordinator job was DC for the 2007 Dolphins. Yes, those 1-15 Dolphins. Before that he was in Houston as the headman from 2002 through 2005. Those are two stops he might want off of us resume, methinks.
2. Ron Meeks, DC, Carolina
Meeks was previously the defensive coordinator in Indianapolis from 2002 through 2008. During that time the Colts did win a Super Bowl, but I'd have to say that beyond that one season the defense was a perpetual liability and remarkably inconsistent. Meeks is a practitioner of the "bend-but-don't-break" philosophy that Tony Dungy employed, which means he would be a pain in the ass to play poker with. He was tossed in a staff purge by new Colts coach Jim Caldwell and now takes over a Panthers unit that, for all of its star power, was just No. 19 in the NFL last year.
3. Gregg Williams, DC, New Orleans
Williams is a pretty intense (see: dick) guy and yet another retread in a new home. He was the DC last year in Jacksonville, where he oversaw the No. 17 unit in the league, and prior to that he spent four seasons as the DC in Washington. Williams was the purveyor of three Top 10 defenses while with the 'Skins and isn't devoid of talent in New Orleans. The Saints have a solid front seven and a pathetic secondary. It will be interesting to see how Williams rectifies that.
4. Greg Knapp, OC, Seattle
Knapp, a.k.a. Randy Moss's bitch, has a full cupboard in Seattle. He has been reunited with Jim Mora, whom Knapp worked with as OC in Atlanta for three relatively successful seasons. But the X-Factor is that Knapp and Mora had Mike Vick for those three years. Will the Mora-Knapp team be better without the shaky, dog-killing signal caller or will they find the sledding much tougher without the nimble felon?
5. Jim Bates, DC, Tampa Bay
Bats is in the unenviable position of replacing one of the greatest defensive coordinators of all-time, Monte Kiffin. On top of that the Bucs lost five defensive starters, including future Hall of Fame linebacker Derrick Brooks. Bates has bounced around and has had some success with Miami in the early aughts. But he has had just one gig since 2005 and that was overseeing a Denver defense that fell from No. 9 in scoring to No. 27.
6. Clancy Pendergast, DC, Kansas City
Pendergast is somewhat of a mad scientist and has to be given kudos for his work with Arizona's defense last season. He is known around the league as being an unpredictable coach that is very difficult to game plan for because he'll throw out a five-man front on one set of downs and a two-man front on the next. Pendergast will be overseeing the transition from a 4-3 to a 3-4 for the Chiefs and it will be interesting to see if the scheme change can make up for the pathetic personnel that K.C. employs.
7. Mel Tucker, DC, Jacksonville
In 2006 the Jaguars had the No. 2 defense in the league and were straight-up nasty. In 2007 they slid to No. 12 due to injuries and then last year the wheels fell off as the Jags slid to No. 17, giving up an average of 27 points per game over the last six games. Tucker is the third DC that Jack Del Rio has had in three years and after ditching team leader Mike Peterson in the offseason the Jags are a little thin in the front seven. Tucker was previously the DC for Cleveland, where his defenses finished No. 27, No. 30 and No. 27 in total defense in each of the last three years. Oh, and he was working with a 3-4 defense before heading for Jacksonville and a 4-3. Good luck, Jags.
8. Mike Miller, OC, Arizona
Miller takes over for Todd Haley, who is the new head coach in Kansas City, and is the new coordinator for one of the most explosive units in football. Fortunately the former wide receivers coach has a good relationship with Anquan Boldin and Larry Fitzgerald, the team's two most valuable pieces. Despite his passing background Miller has to work on rebuilding the running game for this team while still keeping his star players happy.
9. Scott Linehan, OC, Detroit
Linehan was an absolutely pathetic head coach in St. Louis and now has to slink back to an OC position in a football wasteland in Motown. Linehan's claim to fame was that he was the OC of one of the best offenses of all time in Minnesota. But I contest that I could have coordinated a team with five All-Pros at QB, RB and WR and a great offensive line. Also, not a good sign when an alleged superstar OC had to relinquish play-calling duties (twice) in St. Louis. But now Linehan is back working with Dante Culpepper and holds the future of No. 1 pick Matt Stafford in his hand. Ouch.
10. Bill Sheridan, DC, N.Y. Giants
Sheridan takes over for Steve Spagnuolo and clearly has some big shoes to fill. But much like the Miller situation in Arizona, Sheridan was a position coach (linebackers) the last few years and has worked closely with the star players on the Giants defensive front seven. He's gotta just keep doing what they have been doing. But much like the Johnson/McDermott situation the biggest question is whether or not he has the same instincts as his predecessor.
Robert Ferringo is a professional handicapper and you can purchase a full season's package of his football selections for just $25 per week! Click here for details.
---
Most Recent Fall Football Preview