NFL Passing Yards Leader Betting Odds and Predictions
by Trevor Whenham - 8/19/2009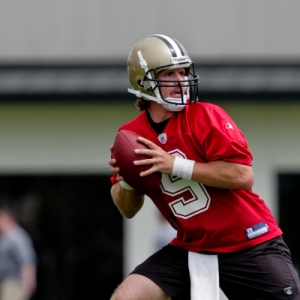 This is a tough time of year to be an NFL fan. The training camps and preseason play has raised our hunger for football to a whole new level, but the early action just isn't good enough to satisfy that hunger. That's what futures odds are for - they can distract you until the season begins. One of the more interesting futures betting pools is the one for total gross passing yards. There is nothing I love watching more than a crazy passing performance, and this bet rewards you for picking which player will be the craziest passer on the year. Here's a look at the likely contenders, with odds from Bodog:

Drew Brees (37/20) - It's not hard to figure out why Brees is the favorite in this race - he has been first twice and second once in the last three years. He didn't just win it last year, either - he dominated, throwing for 487 yards more than his nearest competitor. There is no reason to believe that Brees won't have another big year. He still has a very solid receiving corps, a line that can protect him enough to do what he does best, and a running game that, though likely not groundbreaking, is good enough to keep defenses honest. He has another added treat going for him, too - Jeremy Shockey is the healthiest he has ever been since joining the Saints. That will give Brees another outlet, and give defenses more to fear. As good as all that looks, though, it's hard to like him at this price. It's not him, it's everyone else - he had an exceptionally good year last year, and a regular year for him might not be good enough to win. He could win, but I see no value in this price.

Tom Brady (9/2) - How much do you trust Brady's knee? The last time he played he won the passing race by almost as much as Brees did last year. He still has a good set of receivers to throw to, including probably the best pure pass catcher in the league. He still has a good line, a good running game, and it's all overseen by the best football mind there is. If you think that Brady can come back well from his surgery and his year off then this is probably a pretty good price. I can't help but think, though, about how rough Peyton Manning looked at times when he was coming back from his knee problems last year, so I can't help but be a little pessimistic about Brady's chances. I think he'll be good, but I don't know if he'll be as good as he was in 2007.

Peyton Manning (21/4) - I don't like this bet at all. I am confident that Manning will be healthier and more comfortable than he was last year. There are a couple of major problems, though - I don't know how well he is going to cope with the changes in his coaching staff, and I don't know who he is going to throw the ball to. His receiving corps has some young talent, but so little is proven, and he doesn't have the Marvin Harrison safety valve he has always had. I am not bullish on Manning this year, and I think that this price is a long, long way from providing value.

Philip Rivers (6/1) - Rivers would need to add several yards to last year's total to get the win this year. He could do it - the Chargers have the chance to be very good this year, and that will certainly benefit Rivers. I also like one key stat - he led the league in yards per attempt by a significant amount last year. That means that he is accurate and effective - crucial for success here. All that being said, I won't bet on Rivers, either. The running game is too good in San Diego, so I don't think that Rivers will get enough attempts to pile up the yards he needs. Frankly, the team doesn't need him to to succeed.

Kurt Warner (15/2) - Call me sentimental, but this is where I'd put my money if I had to choose. Warner has the best receiving unit in the game, and I think it can only get better - Boldin and especially Fitzgerald will be even more focused and determined after coming so close last year. Warner clearly still has the game to compete, and he has the talent around him to help him out. He'll be helped by an improved running game, and by a defensive that could be a little better as well. He might not be the clear favorite to win, but he represents the best value for his price.

Brett Favre and Jay Cutler (15/1) - I'll throw these two together for a couple of reasons - they are at the same price, and they have an equally dismal chance of winning. I have no faith that Favre can get comfortable with his team in time, stay healthy throughout the year, or that he has enough receiving talent to win. Cutler is going to realize how good he had it in Denver with a good offensive line and a stable of stud receivers to toss to. His line is a question and his receivers are a disaster, so I wouldn't touch him here.

---
Most Recent Fall Football Preview