Sports Futures Market Offers Great Return on Investment
by Robert Ferringo - 8/24/2009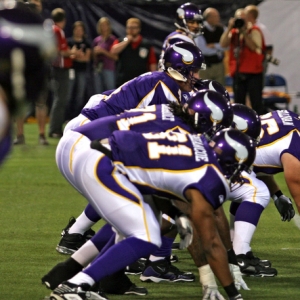 Tu Dign has a barren, cookie-cutter office at the local branch of Bank of America. His desk is relatively unimpressive and cluttered with pamphlets and literature on a variety of BOA programs ("Buy Pizza, Save Money!" is the tag line on one). There are no pictures on the wall, save for the knock-off print from The Met that's framed in glass but still about three sizes too small for the space it struggles to occupy. And the only "personal" touch in the entire space is a small, unattractive office plant cluttered near the radiator and yearning toward sunlight.
The entire space is corporately ambiguous, as if they fired him at 10:30 they could have someone plugged in by 10:45. But his nameplate caught my eye. It read: Tu Dign "Million Dollar Real Estate Lender". Now, I didn't have time to ask him how much those million-dollar homes had depreciated in the time since he made the loan because, well, I'm sure he doesn't care as long as the customers were still making payments. But the sight of that "distinction" on his desk, given the current mangled state of both the banking and real estate markets, certainly made me chuckle.
So Tu Dign, "Million Dollar Real Estate Lender", is sitting across from me trying to sell me on a new, limited-time-only, just-for-special-customers money market account that the bank is rolling out. This money market account guarantees a whopping 1.3 percent annual percentage yield. In the eyes of Tu Dign, "Million Dollar Real Estate Lender" this was a good deal.
Of course, my first thought was why in god's name am I still doing my business with these people. But my second thought was this: here this guy is, I'm sure quite full of himself because of his successful banking career and his status as a "Million Dollar Real Estate Lender", trying to sell me on a 1.3 percent gain over the next 12 months. He has no idea what I do or the fact that as I sat there I was counting in my head the number of losses that Tampa Bay and Toronto need in their final 38 games in order for me to cash my $2,000 baseball futures investment.
Apparently, I am a tout. A crook. A scam artist. A liar. A thief. A deceitful cur. Yet, I bet when Tu Dign, "Million Dollar Real Estate Lender" is at cocktail parties he doesn't have to measure up the audience and decide whether to tell people that he is a "writer" or, in a certain crowd or with a certain number of Morgan's-and-gingers, a "professional gambler". Nope. He gets to say that he is a banker and, if they ask, that he is a Million Dollar Real Estate Lender. He is more socially accepted, probably boasts a healthier liver, better blood pressure, and less suspicious relatives. This despite the fact that he represents a corporation that markets credit cards to illegal immigrants, used its federal bailout money for multi-million dollar bonuses to corrupt Merrill Lynch executives, and has spent more than $4 million lobbying on Capitol Hill over the past three years. He is an agent of a predatory lending machine that has helped bankrupt this country and cripple the lives of tens of thousands of ex-homeowners. However, he's a lot more likely to be a welcome member of the local Chamber of Commerce than I am.
But the best he can do for me is 1.3 percent over the next 12 months.
To this, I laugh. And any poor sucker that would be willing to invest his money for 1.3 percent (that is, assuming that Bank of America hasn't been liquidated before then) has no idea what they are missing.
Between April of 2008 and April of 2009 I was able to generate a 36.25 percent return on investment for someone willing to invest about $6,600. Over that 12-month stretch that investor's $6,600 has been turned in to roughly $8,950, with a net profit of roughly $2,350 over his initial bankroll.
Now, I know how that sounds. I know saying that I can earn someone 36.3 percent on their money should be accompanied by me in a sweater vest, with a tennis racket, with light piano music and a perfectly manicured yard in the background of my 4 a.m. infomercial. It should be aired right after Tu Dign's infomercial featuring testimonials from a racially diverse group of people all explaining how for just $500 he started working from home for 12 hours a week and became Million Dollar Real Estate Lenders.
But this is no infomercial. It's all true.
During that 12-month stretch I released futures wagers on Major League Baseball, NFL and NCAA Football, and the NBA. I released 21 separate wagers - any of which could be placed online or at any sportsbook in Las Vegas - and I managed to go 14-7 for a profit of $2,350. During last summer my baseball selections went 3-3 for a $450 profit on a $1,155 initial investment. That's a 37.23 percent return. My combined college and pro football selections generated $1,800 in profit on a roughly $3,700 lay out, which was good for a 48.65 percent ROI. I went 3-1 on my NBA futures investments but unfortunately dropped the biggest one so we "only" brought back about $100 on a roughly $1,500 investment, which still produced a 6.67 ROI that would be the envy of a lot of Wall Street traders these days. Kick in about $200 for daily or weekly packages for each of my sports to access the info and that's a total of $6,600 invested.
All told that is $2,350 in profit on about $6,400 of actual wager investments for $100-per-unit bettors. (If you add another zero for $1,000-per-Unit bettors the net profit sure does change, but not the percentages.) Now, the negative was that you couldn't withdraw from those investments while they were on the board. But also at no point was all $6,400 tied up at once because of the timing of the seasons.
Those are the totals for all of my futures investments. With just my top investments, my "blue chips" if you will, of 4.0 or higher I have gone 6-1 for $2,040 in profit on a layout of $3,660. That's a return on investment of 56.67 percent and that percentage is enough to make Warren Buffet blush.
Further, I am currently waiting to see the return on my 2009 MLB futures investments. I released eight separate futures predictions at the start of the season that required a lay out of around $2,200. It's going to be tight with our top play, a $660-to-win-$600 play on Tampa Bay 'under' 89.0 wins. They are on pace for 88 but that's not much of a margin for error. Even if we count that one as a 'push', we're still looking at a profit of $600 for an ROI of 27.27 on this seven-month investment. Not too shabby. Now, if we lose that Tampa Bay future we would actually be down minus-$100. However, if we win, then we will have banked $1,250 on a $2,200 layout for a 56.82 ROI over our seven-month investment.
Overall, if we add these MLB plays to our 18-month futures portfolio we're still looking incredible. If we add in the 'push' to our other three futures then you are looking at a $2,920 in total profit over $8,600 laid out (33.95 percent ROI) over the last 18 months. If we lose, then we're looking at 25.58 percent ROI. And if we win, then we are looking at a net 41.86 percent total ROI with about $3,600 in profit on an $8,600 layout over an 18-month period.
As you can tell, I am a big believer in the earning potential of the sports betting futures market. Especially in this economy, I don't believe that there is another avenue in which you can produce these types of returns on your money. This ass clown was offering me 1.3 percent. I should have been on the other side of that desk selling him on 33 percent returns.
To the best of my knowledge, I am one of the first professional sports handicappers to consistently release futures plays to their clients as part of the normal packages. I'm certainly not the first to make these plays. Not even close. But over the last two years no one has featured futures selections in even close to the same way that I have. Of course, there are plenty of imitators out there now trying to pimp their wares and "water down" the market. Don't be fooled by the Johnny-come-latelies.
Would you pay someone like ESPN's Matthew Berry $100 to give you personal advice on your fantasy football team? Most of you would say no. But what if your league was $500 or $1000 per team, putting anywhere from $5,000 to $12,000 in the pool? Then would it be a good value to enlist the opinion of an expert? What about hiring a real estate agent to help you buy a house or a stockbroker to help you invest on the market? Naturally there are going to be some liars and cheats out there. But they don't usually last very long. And if you do your due diligence leading up to employing them then you should be able to avoid those types of scum.
I feel that the sports wagering futures market is an incredible way to generate revenue and boost your bankroll. I think that it provides a legitimate investment opportunity and I believe that I am proving that I am one of the top analysts in the country in regards to them. You should think long and hard about where futures betting fits into your investment plans and I don't think you should hesitate to get in with the action that I will be having this fall and winter. My football futures are currently posted and I feel really good about where we're putting our money.
Or you can go visit Tu Dign and get your 1.3 percent.
Robert Ferringo is a professional handicapper and you can purchase a full season's package of his football selections for just $25 per week! Click here for details.