Betting Repercussions Of Tiger Wood's Hiatus From Golf
by Trevor Whenham - 12/18/2009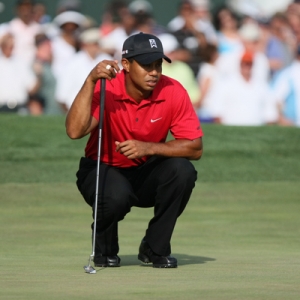 Stunning. Ridiculous. There are a million words you could use to describe the Tiger Woods situation. None of them are positive. You have probably heard dozens of jokes about Woods and his dilemma since the tree got in the way. If you're like me then the jokes don't hold much interest anymore because the truth is ridiculous enough by itself.
The situation is a disaster for many people - besides Woods and his family, of course - the PGA Tour, his sponsors, and so on. It might not be quite a disaster for sports bettors, but it is definitely going to be an issue. Here's a look at the issues that it could raise for bettors, and what we will have to consider as we try to handicap the PGA going forward:

Significantly lower betting volumes - There are two kinds of tournaments in the PGA - those with Tiger in them, and those that no one cares about. The TV viewership is dramatically higher when Tiger tees off, and so are the betting volumes. The higher the betting volume on a game or tournament, the more likely that the inaccuracies will be bet out of the lines and the real risks of the situation will be reflected in the price. Lower volume, then, could mean that there is less care put into setting the line and less monetary force behind correcting any mistakes in those lines.

Money will be smarter - As a general rule, the people who bet on Tiger are members of the general public. Woods stands a good chance of winning any time he tees off, but that chance is usually less than the odds on him will suggest. That means that smart bettors aren't often drawn to betting on Woods and his low odds.
No Woods means little public interest in the sport, and little public interest means that the public won't be blindly dumping their money on the star. So what does that mean? Well, for starters, it means that there won't be as much value in other strong golfers as there has been over the last few years. When one golfer draws a disproportionate amount of the money bet on an event that means that a lower than reasonable portion is bet on other golfers, and as a result the odds offered on them will be higher than they probably should be.
That's the definition of value, and value is what smart bettors dream of. If Woods doesn't play for a significant amount of time then the odds we will see on elite players will be lower than we are used to. That's not necessarily a bad thing, of course - the absence of Tiger means that there are more chances for other players to win tournaments. The trick will be deciding if the lower odds are still high enough to exceed the risk of betting on the player.

Bad news for Phil fans - Those members of the public who don't blindly bet on Tiger Woods in an event are quite likely to bet on Phil Mickelson - the world's second most popular golfer. Betting on Phil is already a lousy proposition because he doesn't win nearly enough to justify the low prices he faces. With the absence of Tiger, though, Phil will automatically become the favorite in any tournament he plays, and his odds will be lower than those he typically faces up to this point. It would make sense that Phil could win at a higher rate than he previously did if Tiger is gone, but I am personally dubious that he will win at a high enough rate to make him even remotely attractive to bet on.

How long will the break actually be? - At this point all we know is that Tiger has decided to take an indefinite leave from the game in an attempt to get his family and personal life in order. If you believe the tabloids then there doesn't appear to be any family life left to save. What we don't know is what 'indefinite' means in this case. There has been all sorts of speculation on that front. Some media sources have guessed that he'll be back in time for the Masters, and even for a warmup tournament before that. Others have speculated that most or all of 2010 will be a write-off. The longer Woods is gone the more significant the impact of his loss will be on golf betting. It also seems likely that the longer Woods is gone the rustier he will be upon his return, and therefore the more significant the challenges of handicapping him will be even upon his return.