Expert Golf Handicapping: How to Wager on Tiger Woods Return to the Links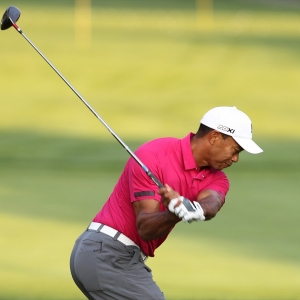 Tiger Woods is back in action. After a seemingly endless string of surgeries, false starts, and a stink of scandal that can't be washed off, he made it back to the golf course last week for the Hero World Challenge. And for three of the four rounds he looked pretty good. He blew up in the third round but then got right back on track in the final found to finish right in the middle of the pack in the small field. For bettors, our job now is to figure out what that means, and how to deal with him going forward. Even after all he has gone through and all that is working against him - his age and everything else - the public is going to throw money in his direction when he plays. We have to decide, then, if that's the right move or if they are creating value elsewhere by their loyalty to the idea of Tiger's eternal greatness. Here are four factors to consider when pondering what the future could hold for Eldrick:
Public craziness: Tiger Woods sits at +1800 to win the Masters at BetOnline . That's just crazy. That makes him the eighth choice, tied with studs Justin Rose and Jon Rahm and ahead of guys like Sergio Garcia, Adam Scott, Bubba Watson and many others. The guy is about to turn 42-years-old, he's coming off multiple back surgeries, and hasn't played at a top level in a very long time. Finishing that tournament last weekend marked just the second time in 833 days that he had completed a 72-hole affair. Yet he is in the elite ranks of futures bets on the strength of one tournament appearance? People who would make that bet obviously don't like money. That +1800 is the price, though, tells us that the public is willing to bet on him because of who he is and what he has been and not because of where he is at right now.
Age: I am not crazy about writing this section because I am a few months older than Woods - I'm already 42, and he doesn't turn 42 until the end of the month. But the fact is that even if he were perfectly healthy and perfectly sharp he would be facing an uphill battle when it comes to winning another major. Fourty-two is old in golf terms. He hasn't won one since he was 32. Sam Snead last won at 41. Ben Hogan at 40. Arnold Palmer 34. Tom Watson 33. There have been obvious exceptions - like Jack Nicklaus winning his last title at 46 - but odds are stacked against him historically. And that's not even taking into consideration how young the game is right now, with so many top stars in their 20s.
The swing: Woods famously has had as many different swings as he has had mistresses over the last decade when he has really been struggling. He comes back with yet another overhauled swing this time around. The good news for fans of the Woods, though, is that people who know a heck of a lot more about golf than I do suggest that it's a very good swing. He's swinging without pain and without having to compensate for the potential pain he could feel. This swing relies on his natural athleticism and isn't as forced as what we have seen. For so long he seemed to want to work against his natural strengths, but he seems to be working with them again. And this swing doesn't seem to put as much strain and pressure on his fragile body. And most significantly, he has got his incredible clubhead speed back and seems to be focused on playing golf again instead of worrying about his swing. It's early and we need to see how the swing, and his body, hold up, but early returns are certainly positive.
Mental game: What made Tiger great as much as his ridiculous skill was his swagger. He was Tiger Freaking Woods, and everyone knew it. As things got tense down the stretch in tournaments he was contending in he tightened up his game, and the opponents got scared. They knew they couldn't beat him, so they couldn't even try. As his game deteriorated, though, his sense of invincibility disappeared, and no one feared him anymore. They knew he could be beat. More significantly, he clearly knew that he could be beat. The myth had been defeated. If Tiger can't get that swagger back - at least to some degree - then he's just another guy who is good at golf - and there is no shortage of those. Until we see him with his back against the wall and see how he responds then we really have no way of knowing what this return means.
Want free sports betting picks? Doc's Sports has you covered - get $60 worth of picks free from any of Doc's Sports expert handicappers. Click here for free picks (new clients only) .
Read more articles by Trevor Whenham